Ciena Networks the Ocean Floor

Ciena (NYSE: CIEN) has powered 400-Gb/s connectivity across 9,843 miles of submarine cable recently lit for service by Southern Cross Cables Ltd., illuminating an area of growing demand among cloud hyperscalers.

Southern Cross is an independent firm supplying carriers and ISPs with capacity, much of it undersea, in Australia, New Zealand, and the Asia-Pacific region. Its shareholders are New Zealand's Spark carrier, Australia's Singtel Optus, Verizon (NYSE: VZ), and Telstra.
One of Southern Cross's key projects has been the NEXT cable, the one just unveiled. It runs between Sydney, Auckland, and Los Angeles with fiber links to the islands of Tokelau, Kiribati, and Fiji. NEXT has taken two years to complete and is one of three cable systems that form a Southern Cross ecosystem in the Asia-Pacific region.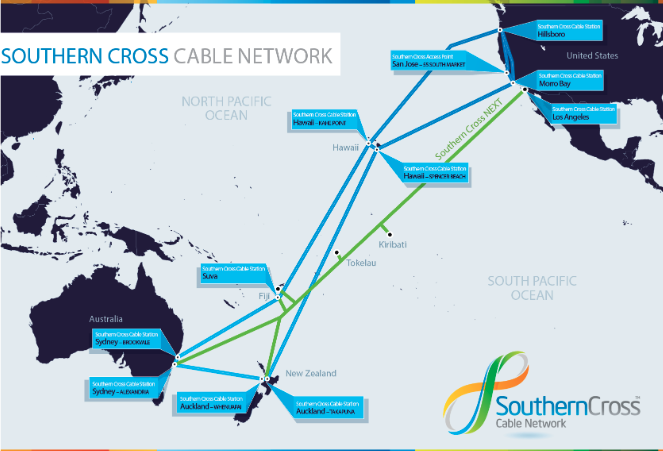 Source: Southern Cross
NEXT adds 500% more capacity to that ecosystem. Links from Australia and New Zealand to the U.S. will operate at roughly 100 Tb/s, more than double their present performance.
NEXT gets 800 Gb/s
Optical networking powerhouse Ciena supplied the subsea switching technology underlying NEXT. The switches it implemented were WaveLogic 5 Extreme (WL5e) models featuring coherent optics, meaning lasers designed to send large amounts of data over long distances. WL5e connections run at rates to 800 Gb/s and are used in networks from Comcast, Deutsche Telekom, Spark, Sparkle, Telus, Verizon, Vodafone New Zealand, and Windstream, to name a few.
Ciena's WL5e was the platform for running the vendor's GeoMesh Extreme technology, which connects the rest of Southern Cross's ecosystem cables to NEXT. As the name implies, GeoMesh creates a mesh among terrestrial and submarine connections. This is harder than it seems; light signals must be directed across submarine connections not from huts on the beach but from inland terrestrial points of presence (PoPs) that support the kind of packet switching used on land with techniques deployed under the waves.
GeoMesh uses artificial intelligence (AI), monitoring and telemetry, software-defined networking (SDN), integral testing, and other means to track performance of the network and correct the inevitable faults that occur when fiber is cut by passing ships, tsunamis, and other ocean threats.
"Intelligent mesh networks, empowered by analytics, autonomously reroute traffic around one of more network faults, so that end users always remain connected," said Darwin Evans, director submarine product line management at Ciena, in a video.
Undersea Growing in Importance
The Southern Cross/Ciena news is significant on several fronts. First, it demonstrates the growing demand for submarine infrastructure. This is key, because 99% of the world's Internet traffic spans undersea cables, a market set to grow by roughly 40% annually for the foreseeable future, according to Ciena.
Indeed, submarine cable is an area increasingly sponsored by hyperscalers. Google, Amazon Web Services, Microsoft (Nasdaq: MSFT) and Facebook/Meta Platforms (Nasdaq: META) are among the biggest sponsors of undersea cable projects around the globe.
The Ciena project also demonstrates the growing list of requirements for advanced optical switching. Intelligence, mesh networking, and advanced coherent optics are prerequisites for the high-speed networks that will carry Internet traffic into the future.
Ciena's work with Southern Cross NEXT is a move toward owning a piece of that future. It represents a win for the company against rivals such as Ericsson (Nasdaq: ERIC) and Nokia (NYSE: NOK). Interestingly, it looks like Ciena beat out Nokia's Alcatel Submarine Networks (ASN) in the NEXT job. In 2019, ASN was chosen to begin constructing the cable system, but apparently was either displaced or augmented by Ciena's network. As of this writing, ASN had not responded to an inquiry.
Submarine cable is an essential element of digital transformation. And as capacity demand increases, so will the need for new projects. The Southern Cross NEXT network – and Ciena's contribution to it – are part of a trend worth watching.