Big Cloud Surprise for 2022: No Big Deal for Cisco

This week we took look at some of the biggest cloud surprises from 2022. We'll have another post with the rest – but let's start with number one: Cisco didn't make a single meaningful acquisition.
Yes, Cisco did in fact buy privately held Opsani in January of 2022 and listed it on its website as the only deal of the year. But has anybody even heard of Opsani? It was not listed as a material acquisition in Cisco's public filings, meaning it had little to no financial impact.

And then there's the description from the Cisco website, which describes it as an acqui-hire type deal to help AppDynamics:
Opsani is a privately held enterprise software company based in Redwood City, California. The acquisition will further enable Cisco AppDynamics to grow its product and engineering team, expand our platform's capabilities to better observe enterprise-scale, cloud-native environments, and accelerate our path to availability and the delivery of the performance and optimization our customers' demand.
Meanwhile, throughout the year, Cisco was rumored to be chasing the big one – including a possible deal for Splunk in the $20+ billion range (that was before Splunk lost almost half its market value in the tech correction -- and could now be had for closer to $14 billion). There is a big gulf between Opsani and billions of dollars for Splunk.
But nothing happened. Let's dive into why this is such a big surprise.

M&A Drives Cisco's Innovation
Cisco is known to power its growth and new technology through mergers and acquisitions (M&A). It has acquired dozens of companies over the years. Like many larger technology companies, Cisco has largely depended on M&A to build up innovation and new product lines in its portfolio.
From both our reader and analyst perspectives, the fact that networking giant Cisco came up with zero meaningful acquisitions comes as a big surprise. Cisco is still a very powerful and influential company in the networking and cloud infrastructure market, with a large base of alumni following the company's every move. Our article on Cisco's acquisition strategy received more than 14,000 page views in just a few months -- indicating the high level of interest in Cisco's deals.

In fact, some of Cisco's most important new product lines were developed with this strategy, including its Acacia Communications components unit, AppDynamics monitoring software, Duo Security, ThousandEyes observability platform, Insieme for Applications Centric Infrastructure, Meraki for cloud networking, and Viptela in software-defined wide-area networking (SD-WAN).
Is Cash a Concern?
As we have detailed, Acacia accounted for the bulk of Cisco's growth and contributed immensely to profitability in 2021. Once that deal was digested, Cisco flatlined and had some difficult quarters. With no big deals at hand, growth has slowed to a crawl. More recently, it reported 3% year-on-year growth as supply-chain concerns eased.
Curiously, this cements a new trend for Cisco -- dwindling deals:
2019: Six deals
2020: Nine deals
2021: Six deals
2022: One deal
This is a remarkable slowdown in M&A for a company that used to make 10+ acquisitions per year.
It's possible that one concern is that Cisco has less cash to make these deals happen. In recent years, to appease an increasingly conservative investor base, Cisco has chose to allocate its considerable cash flow to paying dividends and buying back its own shares, leaving it less cash to make deals. An examination of its balance sheet, in fact, shows that the company has less cash on its balance sheet than recent years -- dwindling from $70 billion in cash in 2017 to $19 billion as of the fiscal year closing this past July.
According to public financial statements, here are Cisco's cash and short-term investments for the past four quarters: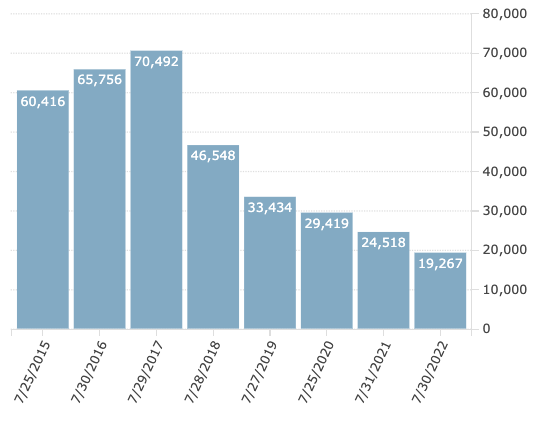 (Source: Finviz.com)
What will 2023 have in store? Will Cisco finally make the big one happen? It may soon have to do something because M&A is the engine of growth for Cisco. Without deals, Cisco's growth and development has typically stalled.
(Note: Typically we reach out to Cisco's analyst relations team for comment, but given that they haven't responded to dozens of inquiries in five years, we have officially given up.)