Inside Cisco's No Good, Horrible Quarter

(Note: This article includes some analyst opinion. The author has no position in CSCO stock.)
Cisco (CSCO) shares are getting walloped by 13% in the market today (unlucky number) as the company fell short on revenue projections. Cisco attributed the shortfall to a number of factors, including the COVID-19 lockdown in China and the war in Ukraine.
Cisco reported third-quarter adjusted profit of 87 cents on revenue of $12.8 billion, compared with expectations of 86 cents on revenue of $13.87 billion, according to analyst consensus estimates collected by Refinitiv.
More importantly, Cisco lowered revenue and profit estimates for the year. The company projects a fourth-quarter revenue decline of 1%-5.5% year-over-year, while analysts had been looking for revenue growth of roughly 6%.
Cisco CEO Chuck Robbins said the guidance range is wider than usual because of the complex environment. For the year, Cisco now expects an adjusted profit of between $3.29 and $3.37 per share, down from $3.41 to $3.46 per share earlier.
Cisco shares were down $6.34, or 13%, in Thursday morning trading. They are down 8% over the past year.
Cisco executives painted a picture of external factors beyond their control. But in fact, if you look at the trend over the past two years -- a period in which Cisco's shares have gone down -- there are greater forces at work. Cisco is still in existential crisis, as I have pointed out for years, as its hardware business model still dominates its sales culture, preventing any real growth in the areas it promotes, such as software and cybersecurity.
The Blame Game
Cisco executives, usually prone to ebullience and hype on earnings calls, pulled out a number of excuses, including supply-chain disruptions and the war in Ukraine. Cisco has lost revenue from Russia and Belarus due to an embargo related to the Ukraine war, where Cisco's exposure was about $300 million. More importantly, the company cited supply-chain issues related to the lockdown in China, which is shutting off the supply of components.
As Cisco CEO Chuck Robbins said on the earnings call:
"These lockdowns resulted in an even more severe shortage of certain critical components. This in turn prevented us from shipping products to customers at the levels we originally anticipated heading into Q3. Our Q4 guidance incorporates a wider than usual range, taking into account the revenue impact of the war in Ukraine and the continuing uncertainty related to the China COVID lockdowns. Given this uncertainty, we're being practical about the current environment and erring on the side of caution in terms of our outlook, taking it one quarter at a time."
Robbins pointed out that customer demand is still strong, but the company's results are constrained by the capability to deliver product:
"I want to reiterate what I said earlier. The fundamental drivers across our business are strong. While we are facing some short-term challenges, it does not change our long-term outlook, our alignment to our customers' most critical challenges or our belief in the tremendous opportunities in front of us. Last week, we hosted our global customer advisory board meeting where we met with close to 100 customers."
On the earnings call, Cisco executives were repetitive in mentioning they don't have clarity about how or when the recovery will begin. Robbins pointed out that it's still unclear when China will reopen, and when it does, "[T]here is going to be lots of competition for ports capacity, airport capacity."
More Beneath the Surface?
Despite Cisco's assurance that revenue can ramp if and when supply-chain disruptions are solved, investors sold shares now and they'll ask questions later. They are right to do so.
Overall, product segment growth is sluggish, whether it's related to hardware you get from China or not. See the chart below.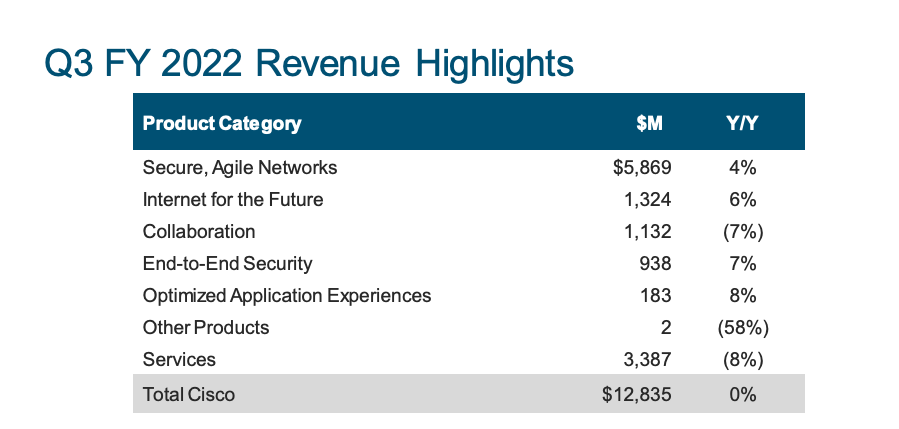 Let's compare this to the segment growth it reported two quarters ago (a quarter in which it also warned and its stock went down).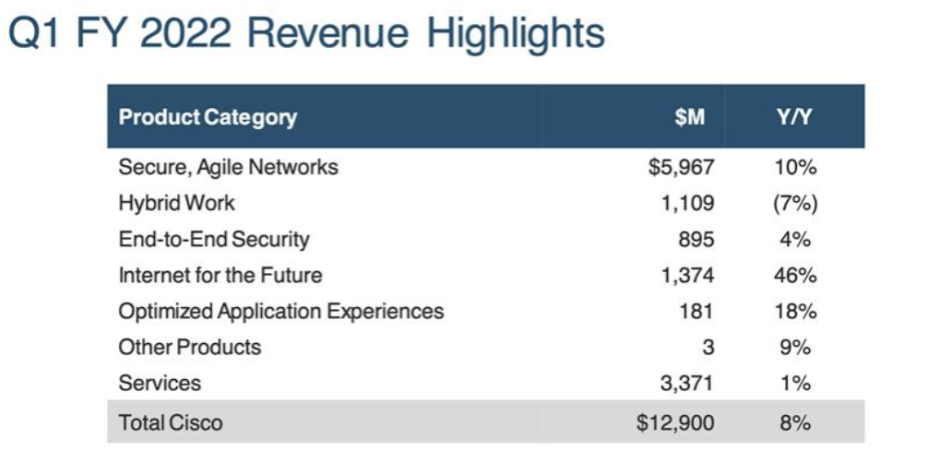 To start, there are clearly issues in these trends. Hybrid Work and/or Collaboration are still shrinking (need to inquire with Cisco as to when and how the report of the segments changed). Security is growing well below the industry trend. The growth in Optimized Applications Experiences is slowing. These are all segments that wouldn't haven any issues related to the Chinese supply chain.
So, there are plenty of questions. Let's dig deeper into a few of the big ones that investors should be asking:
How much of the revenue shortage was a result of Ukraine and China, versus slowing software sales as well as a sales pull forward last year? As you can read in our analysis of the Q1 FY2022 results (Cloud Tracker Pro subscription required), it was known that Cisco was aggressively at work selling at the end of the last year before Cisco raised prices across the board to compensate for component inflation. As we pointed out here, that could have resulted in a demand pull-forward as customers locked up before prices went up. It's now apparent that there was substantial pull forward. Component shortages explain some of the revenue shortfall, but not all of it.
Is the Acacia honeymoon over? Much of Cisco's revenue growth last year can be attributed to acquisition of Acacia Communications, one of Cisco's major optical components suppliers. This was a savvy deal, as it enabled Cisco to shore up its margins by bringing components in-house. But now that the deal is done, it can't print year-over-year improvements in profit and revenue related to the deal. Before it was acquired, Acacia was booking about $600 million in annual revenue. Rewind to November, 2021, the first quarter after Acacia closed. Cisco reported 46% revenue growth in its "Internet for the Future" division, which includes Acacia. In the most recent quarter, that growth shrunk to 6% (see below). if you back out the Acacia acquisition, Cisco's revenue shrinkage looks even worse. Acacia was a strategic acquisition designed to shore up revenue losses and shore up margins by controlling the component supply.
Where is the growth in security and software? Cisco seems to be talking out of two sides of its mouth, as it brags about software growth but then complains about components shortages. Software revenue fell 3% y/y. Software subscription as a % of total revenue fell by 1%. If the company really had made as much progress in software and annual recurring revenue, hardware components wouldn't be this big of a story. It only highlights how much of Cisco's business is still tied to hardware sales – while at the same time its software revenue is not growing as Cisco executives would lead you to believe.
The bottom line is that Cisco has just reported a quarter in which its growth has been completely flat year-over-year, and revenue will decline substantially in the next quarter. It has blamed a number of global challenges for its bad quarter, including a war and supply-chain disruption.
But if investors look below the surface they will find that Cisco's problems are more structural in nature and have been going on a long time. All of these trends have been in place for a number of quarters, as we pointed out in the last few results (Cloud Tracker Pro subscription required).
On the software side, Cisco's being beaten by more nimble competitors. On the hardware side, it's essentially shrinking and still losing market share to competitors such as Arista Networks (ANET). On the financial side, many of the gains last year can be attributed to the acquisition of Acacia.