HashiCorp's Licensing Move Under the Spotlight

HashiCorp (Nasdaq: HCP) started a brushfire of comments and criticism last week when it shifted its product availability from free open source licensing to Business Source Licensing (BSL). And while the change may prove effective in the short term, it may not be sufficient on its own to substantially boost the company's fortunes over time.
Here's the background: HashiCorp, the creator of popular open-source development tools such as Terraform for infrastructure-as-code management and Vault for security, has offered its products under a Mozilla Public License 2.0, enabling partner companies to incorporate Terraform and other HashiCorp coding into products that are sold commercially, even ones that compete with HashiCorp. The change to a BSL 1.1 license puts a stop to that.

The move comes as Hashicorp has been under business pressure, as its business has not met expectations and its stock has collapsed. But the sudden move to remove the open-source license has infuriated some partners and developers and may leave a bad taste in people's mouths -- before any business results can be realized. Will burned partners be ready to pay? Or will they look for other solutions?

While HashiCorp will continue to post all source code and updates to GitHub, the code will only be available for free to users creating non-commercial applications or ones that don't compete with HashiCorp products. Companies that have built competitive products based on HashiCorp software are now cut off from future releases, bug fixes, or security patches, HashiCorp said.
A Necessary Step?
HashiCorp's shift follows a period when the company's shares have lost substantial value since the IPO in 2021: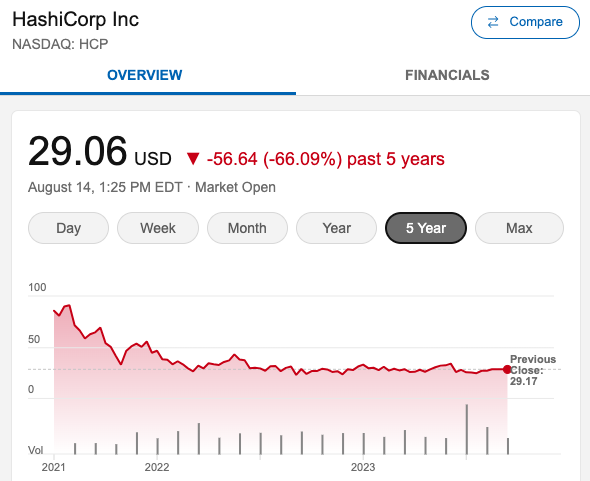 Source: MSN Money
HashiCorp's last earnings report revealed that the company expects a significant slowdown in customer spending that forced HashiCorp to plan an 8% layoff. While actual quarterly results were solid, the prediction and layoff sent HashiCorp's shares tumbling. And the fallout may have convinced management to pull the trigger on the licensing policy. HashiCorp co-founder and CTO Armon Dadgar put it this way in a blog post:
"We invest tens of millions of dollars in research and development in our open source products annually, and our commercial efforts enable us to continue to support, and sponsor, our vibrant community of users.
"Our approach has enabled us to partner closely with the cloud providers to enable tight integration for our joint users and customers, as well as hundreds of other technology partners we work closely with. However, there are other vendors who take advantage of pure OSS models, and the community work on OSS projects, for their own commercial goals, without providing material contributions back. We don't believe this is in the spirit of open source."
A Mixed Response
Reaction to the licensing move is mixed. Some developers seem to understand HashiCorp's move from a business standpoint, but others (including a few we spoke with), are furious. Critics believe the company is mistaken in thinking there have been no contributions from competing software providers.
Joe Duffy, founder and CEO of infrastructure-as-code startup Pulumi, had this to say in a post on Hacker News:
"The blog post is disingenuous. We tried many times to contribute upstream fixes to Terraform providers, but HashiCorp would never accept them. So we've had to maintain forks. They lost their OSS DNA a long time ago, and this move just puts the final nail in the coffin."
Others believe HashiCorp has other drawbacks that have led to the BSL move. As one Reddit commenter put it:
"Hashicorp is probably in this predicament because they haven't done an effective job of converting terraform users into full adopters of the Hashicorp ecosystem. You have a lot of people out there who write terraform but don't convert to paying customers of any product. Amazon and Microsoft do that better to varying degrees"
Others were less kind, stating on Reddit that shortcomings of Terraform Cloud (TFC) were the reason for competing products in the first place.
Others were even less kind. "This is such a pathetic move," said one partner.
Of course, it remains to be seen whether HashiCorp's move will enable it to recoup some costs and move toward greater profitability. And the vendor's woes could raise the specter of acquisition. After all, Cisco (Nasdaq: CSCO) was said to be eyeing HashiCorp on and off for years. If the company's value is further reduced, that effort may be back on the table.
Futuriom Take: HashiCorp's move to protect its code is a business decision designed to accelerate profitability. But from a communications perspective, the company has done a poor job communicating the shift to the community and it will have to further address the issues with developers and partners to restore confidence in its ecosystem.