Aviatix Valuation Soars on New Funding

Multi-cloud networking (MCN) pioneer Aviatrix has scored a fresh round of $200 million in Series E funding on a valuation of $2 billion.
The move is yet another indication of a massive shift to virtualized technology that is not-so-gradually moving enterprise networks off legacy hardware- and premises-based approaches and into cloud networks.
The deal comes just six months after Aviatrix's $75 million Series D round on a $700 million valuation. The round will be used to scale global sales and operations, the vendor said. The money also should bring the late-stage startup closer to IPO, a goal that CEO Steve Mullaney expressed to Futuriom in February, along with his observations about the momentum behind the enterprise move to cloud networking.
"This is not a minor transition," said Mullaney at the time. "It's going to be all new. It's not going to be Arista, Cisco, or Juniper. They're not even in the conversation. They're with the last-thirty-year model. This is a computing model transformation."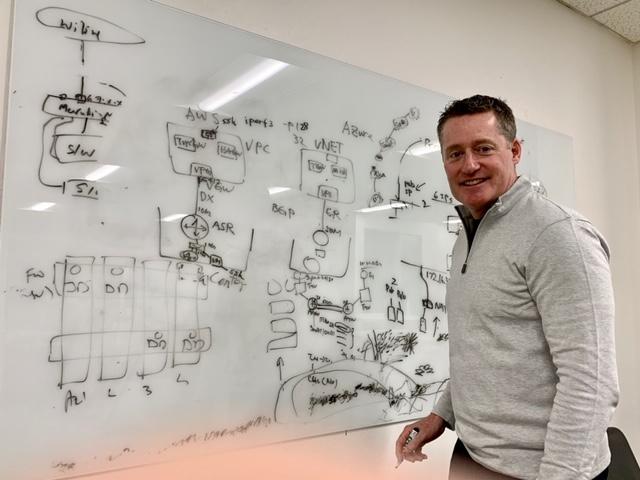 Aviatrix CEO Steve Mullaney. Source: Futuriom.
The intervening months haven't altered Mullaney's approach, nor his scorn for incumbent networking players. "I haven't changed my story. I was right," he told Futuriom in an interview about this funding just last week. "They [competitors such as Cisco] don't understand the cloud," he said. "Their architectures support only one cloud. Enterprises manage their infrastructure across multiple clouds. The business is driving it."
Aviatrix on the Rise
Despite Mullaney's confidence, competition in MCN-driven software and services abounds. Alkira, Aviatrix' primary competitor, provides a networking-oriented solutions to the MCN challenge. This underscores the trend described by Mullaney toward virtualized, software-driven solutions that securely connect, unify, and manage networks spread across multiple infrastructure-as-a-service (IaaS) providers, such as Amazon Web Services (AWS), Microsoft, Google, and Oracle. According to Futuriom's research, the market opportunity here ranges in the tens of billions of dollars.
Indeed, Futuriom's end-user research supports the view that MCN is the predominant trend among enterprise customers. A survey last year (2020) revealed that multi-cloud networking is being driven by the need to consolidate hybrid cloud resources, including public cloud services and on-premises networks. Futuriom is preparing the results of another survey to be released next month.
The Outlook for Aviatrix – and Others
Of course, nothing in cloud networking is guaranteed. Contrary to Mullaney's premise, companies such as Cisco (Nasdaq: CSCO), Juniper (NYSE: JNPR), IBM (NYSE: IBM), and VMware (NYSE: VMW) aren't sitting still for the transition to cloud. These firms are particularly aggressive about their support for hybrid cloud, which will doubtless be the mode of service for most enterprises for a long time to come.
These firms also focus intently on security. Juniper, for example, recently announced a SASE strategy that integrates its networking solutions with cloud-based management and security. And Cisco and VMware have shown recent growth in their security revenues. Still, like moving tectonic plates, the shift to multi-cloud is inevitable and profound. And Aviatrix, which now has 300 employees and about 550 customers, appears to be out front of the networking wave. What comes next for the firm will be part of an ongoing move to cloud services that represents one of the most significant technological migrations in history.

Aviatrix' latest round was led by TCV with participation from new investors Insight Partners and Tiger Global, along with existing contributors CRV, Formation 8, General Catalyst, Greenspring Associates, Ignition, Liberty Global Ventures, Meritech Capital, and TrueBridge Capital Partners.
Aviatrix has now raised $351 million in financing.