Startup Profile: What's Up with Orca Security?

It's been a busy six months for Orca Security. The cloud-native application protection platform (CNAPP) vendor and Futuriom 50 pick has scored a patent for a fundamental element of its technology; added data security posture management (DSPM) to its platform; integrated its software with ThreatOptix workload protection; got its government FedRAMP credentials; and switched out its CEO. And all that's for starters.
At this rate, and with $625 million scored in funding from a range of prominent investors, Orca could be one to watch when IPOs seem feasible again.
Patent and Progress
Let's unpack some of Orca's news:
The Patent. In November 2022, Orca was awarded a patent for its SideScanning technique, which gathers data from the block storage and metadata associated with cloud workloads – no need to install agents on a network.
ThreatOptix integration. While Orca remains committed to its agentless approach, the company has integrated its platform with an agent-based runtime protection solution for cloud-native applications made by ThreatOptix. This protection of virtual machines, containers, and Kubernetes environments is built into the Orca platform; there's no separate purchase of ThreatOptix.
New DSPM. Orca in February introduced new DSPM functions for its platform. This involves securing data as well as infrastructure to, as the vendor says, "continuously [detect] sensitive data at risk in managed and self-hosted cloud data stores, as well as in files on virtual machines, containers and cloud storage buckets across multi-cloud environments." Even if users inadvertently copy data from one cloud source to another, Orca detects this "shadow data."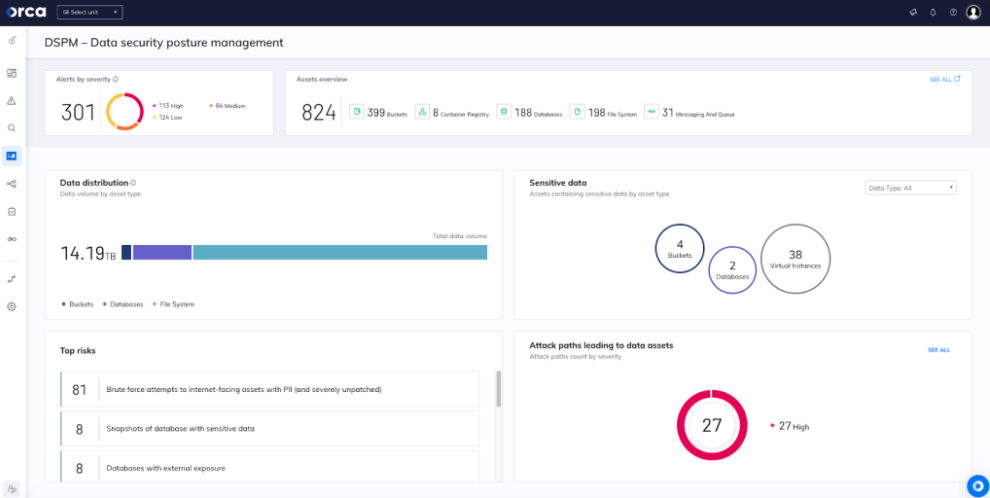 Orca DSPM screen. Source: Orca Security
FedRAMP Readiness. In October 2022, Orca's products were qualified as ready for use in the U.S. Federal Risk and Authorization Management Program (FedRAMP). This opens significant opportunities to sell to government agencies and contractors.
ChatGPT and Shift Left. It's also worth mentioning that Orca has added ChatGPT to its platform to help customers remediate problems. And last year the vendor also added "shift left" capabilities to identify problems in developer environments. "We have the ability to do infrastructure as code scanning," said Orca VP of product Ido Geffen in a recent interview with Futuriom.
A Not-New CEO
The latest news from Orca is that CEO and co-founder Avi Shua is ceding his job to co-founder and former chief product officer Gil Geron. Shua is taking on a newly created post as chief innovation officer. He remains on the company's board. The change appears to be an adjustment to fit the preferences of both men. Geron said in a press release:
"From day one at Orca, my passion has always been solving real-world cloud security problems for customers and enabling their success. At the same time, a core part of our DNA has been to push the boundaries of how cloud security should look, which is Avi's passion – as proven by his SideScanning patent achievement. Aligning our strengths with our roles in the company ensures that Orca not only is the best cloud security platform in the world but also the most loved.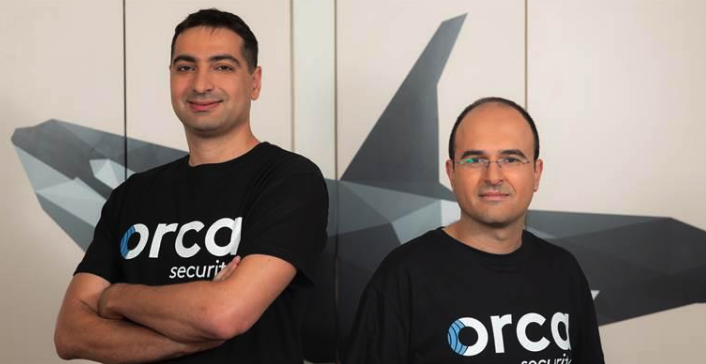 Orca CEO Gil Geron (L) and chief innovation officer Avi Shua (R). Source: Orca Security
So What's Next for Orca?
All signs are pointing forward for Orca. The startup's widely publicized Series C funding in 2021 brought its total raised to $625 million and helped fuel the addition of over 300 employees since that round. The company now has 430 employees, including 200 people in R&D and technical support in Israel.
While Orca has had a meteoric rise since its founding in 2019, there is no clear sign of an IPO anytime soon. Still, this company's one to watch in a hot market that's spawning a range of startups, some with their own takes on agentless CNAPP. But Orca is confident of its first-mover advantage. "Customers are really struggling today with cybersolutions," said Ido Geffen. "Every one of them is focused on a niche. One thing [we've] brought to the table is to connect everything in one platform."
Startup Profile: Orca Security
Founded: 2019
HQ location: Portland, Oregon
CEO: Gil Geron (ex-Check Point Software Technologies)
Target market: cloud-native application protection platform (CNAPP), cloud security posture management (CSPM), data security posture management (DSPM)
Prominent investors: Adams Street Partners, CapitalG, GGV, ICONIQ, Lone Pine Capital, Redpoint Ventures, SAIC, Stripes, Temasek, SAIC, others
Funding raised to date: $625 million (through Series C)