VA Featured in 5G Healthcare Trial

A hospital in the U.S. Department of Veterans Affairs (VA) network claims to be among the first in the nation to deploy 5G-enabled virtual reality (VR). Indeed, the trial is one of a small but growing series worldwide designed to spur interest in 5G as the enabler of a potentially lucrative healthcare market.
"What we're working on is really cutting edge. It's far advanced—beyond what most people are doing or even thinking about, as far as I know," said Thomas Osborne, M.D., in a podcast interview with web publication Nextgov.
Dr. Osborne is director of VA's National Center for Collaborative Healthcare Innovation (NCCHI), an advanced technologies group based in Palo Alto, Calif., that was launched by VA in 2019. The group, located on the campus of the VA Palo Alto Health Care System, where Osborne is also chief medical informatics officer, aims to work with private-sector companies in Silicon Valley on healthcare solutions for veterans – and others. "What we do at VA has the potential to help the rest of the country and perhaps the world," Osborne said.
A 5G Healthcare Project Team
To facilitate the 5G project, NCCHI formed a cooperative research and development agreement (CRADA) dubbed Project Convergence that includes Verizon (NYSE: VZ), Microsoft (Nasdaq: MSFT), and Medivis, a Brooklyn, N.Y.-based medical imaging and visualization startup specializing in augmented reality (AR). Verizon is providing the private 5G network, Microsoft its HoloLens 2 smart headsets and engineering expertise, and Medivis the AR and mixed reality (MR) software. Project Convergence services are implemented as edge-compute solutions.
So far, VA has deployed Project Convergence wireless service within its associated VA Palo Alto Health Care System hospital for what it terms "augmented reality for clinical training, presurgical planning and operative guidance." Using a technique called perfect registration, in which a virtual model of a medical image is superimposed exactly over a physical anatomical part or a video of one, surgeons get more detailed information prior to operating. This let them avoid so-called blind procedures, in which surgeons must operate in order to locate a tumor or diseased body part. With more precise information, surgeons also can work with smaller incisions and take less time to operate, improving surgical outcomes.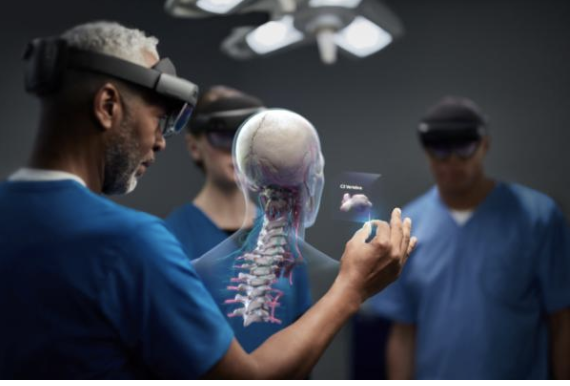 Source: VA Innovation Ecosystem
Other VA Efforts Underway
Palo Alto isn't the only place where VA hospitals are adopting 5G. Early in 2021, VA announced plans to install 5G services at healthcare facilities in Seattle, Washington, and Miami, Florida. In Miami, the agency is working with T-Mobile US (Nasdaq: TMUS) to add 5G radios for 2.5-GHz spectrum services. Download speeds are anticipated to be 300 Mbit/s to 1 Gbit/s.
At the VA's Puget Sound Health Care System in Seattle, AT&T (NYSE: T) has provided 5G services and multi-access edge compute (MEC) for at least one facility on campus, with more to be added. VA hopes the service streamlines the provision of remote consultations with patients.
"Effective telemedicine requires a network that can support near real-time high-quality video without slowing down the facility's network," Daniel Mesimer, an engineering director at VA, told the web publication GCN. "Adding a high-speed 5G network to existing architectures can support near real-time video for video-based medical consultations to improve access to care, quality of care and care outcomes."
5G Healthcare Trials Elsewhere
The VA trials are relatively uncommon but not unique. Carriers and their telecom suppliers are evangelizing 5G solutions in specific vertical markets such as healthcare that they view as potentially profitable, while skeptical customers don't yet see adequate return on investment (ROI).
Earlier this month, for instance, Vodafone Idea (NSE: IDEA) and Ericsson (Nasdaq: ERIC) publicized a trial in India that reportedly enables medical procedures such as ultrasound tests to be performed on patients remotely. The trial is based on Vodafone's 3.5-GHz mid-band spectrum and 28-GHz mmWave services in Pune, coupled with Ericsson radios and cloud-native core technology supporting 5G standalone, non-standalone, and 4G LTE.
Remote ultrasounds feature in another trial announced this week at the Radiology Institute of the Hospital das Clínicas of the University of São Paulo in Brazil. Deloitte has collaborated with NEC and several Brazilian agencies to conduct the trial over a private 5G network using open radio access network (RAN) technology and data center space donated by a banking firm.
These and the VA trials could, if reasonably successful, open the way for further 5G inroads in healthcare. Carriers and their suppliers are confident this will happen, and for VA and other participants, the future could depend on it.