Verizon 5G Healthcare Network Spotlighted in VA Hospital

A U.S. Department of Veterans Affairs (VA) hospital in California has become a proving ground for 5G services in healthcare, starting with medical centers in the VA network.
Verizon Business announced this week the deployment of a complex suite of 5G-enabled services at the VA Palo Alto Health Care System in Palo Alto, California. The setup involves 5G public and private services along with the carrier's mobile edge computing (MEC) technology. The project also draws on solutions from Medivis, a company specializing in medical imagery and augmented reality (AR) for medical use, and Microsoft's HoloLens 2 headset and Azure cloud services.
As a result of the integration of all these technologies and more, VA Palo Alto Health Care System now offers the following services:
Presurgical and surgical guidance based on virtual imagery that combines virtual 3D X-ray vision with CT and MRI scans;
Medical training featuring holographic human organs;
Interactive "teleportation" for remote patient consultations serving 80,000 veterans;
Drones for security and emergency response;
Digital twinning for monitoring and isolating areas needing maintenance and operational improvement.
VA's Bigger Picture
The VA Palo Alto project is part of a broader plan that includes a complex ecosystem of organizations involved in a mission to "advance healthcare innovation in service to our Veterans." For example, the VA Palo Alto project, dubbed Project Convergence for its unification of public/private partnerships, is overseen by the VA's Veterans Health Administration Innovation Ecosystem (VHA IE). Actual implementation has been the responsibility of the National Center for Collaborative Healthcare Innovation (NCCHI), which is also based in Palo Alto and has ties to Stanford University.
The NCCHI is just one of three so-called VHA National Centers for Innovation to Impact (NCI2I) in the U.S. The other two are the VA New England Center for Innovation Excellence in Bedford, Mass., and the Richmond VA Medical Center in Richmond, Va. These locations, like Palo Alto, should become prototypes for spreading technological advancements throughout the VA network of hospitals.
The VA ecosystem may seem complicated to the point of byzantine, but it signals the seriousness of VA's efforts toward modernizing its facilities. In the past, VA has been criticized for neglecting (or screwing up) healthcare IT. Now it aims to become a bellwether for progress.
"The capabilities and solutions we are deploying are designed to dramatically improve patient outcomes, and in doing so, will revolutionize care for our Veterans and around the world," said Thomas Osborne, M.D., director of the NCCHI, in the press release. And he cites the Palo Alto prototype: "5G solutions enhance our current capabilities while giving us new opportunities to be forward-thinking with pioneering tools."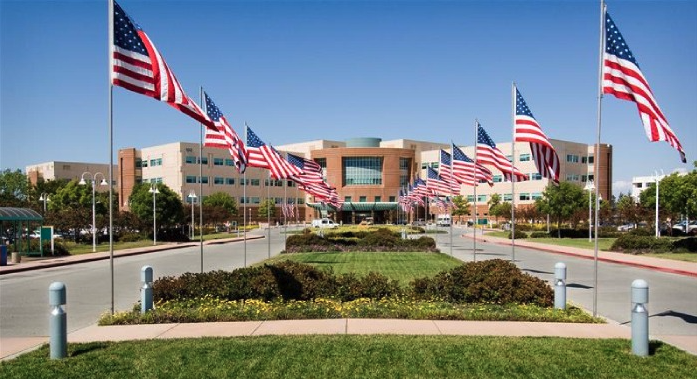 VA Palo Alto Health Care System in Palo Alto, California. Source: Verizon
Verizon's Relationship with VA
The Palo Alto project isn't the only one Verizon's involved in with VA. It's part of a larger, $448.3 million contract that extends over nine years and calls for Verizon to supply VA facilities nationwide with mobile technology and services, including ones incorporating MEC and SD-WAN. The contract also involves Verizon providing Verizon Frontline emergency response services for VA use.
Verizon also isn't alone in providing telecom services to VA. In 2021, AT&T signed a $725 million, 12-year contract to overhaul VA's data communications systems. The scope of the work will include AT&T providing WAN, VPN, and managed services to the agency.
T-Mobile also has been awarded a $235.4 million contract with VA to supply communications gear.
Futuriom Take: The 5G network at the VA Palo Alto Health Care System in Palo Alto, Calif., is one of several large-scale government projects worth watching. The successful implementation of technologies will serve as a prototype for the vast VA network of hospitals and clinics as well as for the private sector.