The Futuriom Q&A: Amir Khan

Amir Khan, the co-founder and CEO of Alkira, has decades of experience in the networking industry, having built startups, business lines, and iconic networking products in both the enterprise and service provider markets.
Amir founded Alkira in 2018 with his brother, Atif. Alkira is a high-powered networking startup funding by Sequoia. It is putting routing in the cloud and giving enterprise end-users the power to design their own networks using cloud infrastructure. Prior to founding Alkira, Khan was the co-founder and CEO of Viptela, a pioneer in software-defined wide-area networking (SD-WAN) that was sold to Cisco for $610 million in cash in 2017. Prior to Viptela, Amir was the senior director of product management at Juniper Networks, with P&L responsibility for Juniper's enterprise routing portfolio, comprised of the M and MX Series. While Khan was leading this division, Juniper grew its enterprise business to multiple hundreds of millions of dollars in three years. Prior to Juniper, Amir was at Cisco and led their IOS routing software, desktop switching, and wiring closet strategy. Amir has also held multiple leadership positions in product management and marketing at Procket (core routing), Nortel (Accelar and Passport), and Bay Networks.
According to a blog on the site of Sequoia Capital, the top-tier venture capital (VC) firm: "Amir and Khalid [Raza, another Viptela co-founder] were masters of the incumbent technology. They identified the key area to innovate: building on extensions to existing routing protocols compatible with the current Internet infrastructure, separating the centralized control plane from the distributed data plane, and securing the overall network infrastructure - a first in networking."

Khan has a longtime partnership with his brother, Atif, who has worked alongside Amir on many teams – including Viptela's -- and is also a co-founder and the CTO of Alkira. Amir told us that he prefers the visionary role, while he views his brother as the more technical and savvy engineer.
Amir has an MS degree in computer engineering from the University of Colorado at Boulder [Edit note : Go Buffs!}. He is an avid squash player and has completed a triathlon. Futuriom founder and principal analyst R. Scott Raynovich interviewed Amir a couple months ago as Alkira was launching out of stealth, unveiling the Alkira Cloud Services Exchange (CSX). Sorry it took so long to transcribe and edit this interesting interview!

Futuriom: Amir, good to finally meet you and talk to you. Tell us about where you grew up and how you got interested in networking.

Khan: I grew up in Pakistan. I was twenty-one when I came here in 1984. I did undergrad in electrical engineering at the University of Mississippi – Ole Miss. And I did my masters in electrical engineering and computer engineering at the University of Colorado, Boulder. Then I joined Ford Motor Company right after that, in Flint, Michigan. I was deploying Cisco routers at the time for what was called the Ford Internet. Nobody knew what routers were at that time. Cisco really liked me. They called and said, "Why don't you join us?" I said, "California – I'm coming."

When I was there [at Cisco] in 1991 there were about three hundred people. I became a customer support analyst, which was one of the highest positions you could get in customer support at the time. I was reporting into the CTO's organization under Gary Kunis. There were about eight of us across the globe designing the largest networks at the time. We did a lot of cool stuff for Cisco, making sure the customers were happy. That's the attitude we still have - we work for the customer, we make sure they win, and that's what makes us win. That was the original Cisco where we were one hundred percent focused on customer success.

I went on to join product management at Cisco and led the IOS product management for routing and switches. I left Cisco and did three startups – Xylan, the ATM company in Calabasas, I was flying out there every week. I moved to Rapid City Communications. From Rapid City I went to Nortel through acquisition. And do you remember Tony Li, the superstar of the 1990s?


Amir Khan.
Futuriom: Yes. He's still around. He's at Arista.

Khan: Yes. Famous guy. I love that guy. Tony is one of the most knowledgeable guys I know and we are still in touch. He was an advisor at Viptela – he reviewed all of our technology. Tony started Procket and he called me when he needed a product management guy. We raised $300 million, and even though the company didn't go anywhere we developed very strong technology. It was acquired by Cisco. At one point the valuation in Series C was $1.1B.

Unfortunately, the timing was bad -- there was downturn in 2001. I left before that, I joined Cisco IOS again. I led the majority of the technologies in IOS. I was also on the desktop switching business unit – what we called next-generation wiring closet. It was a $10 billion impact and I was leading the architecture on that – it was wired and wireless and called IP Everywhere.

And then Juniper called me, they wanted me to run their enterprise business for routing [M and MX Series]. We took it from $60 million to over $300 million in three years with only a few people.

Futuriom: Next was Viptela.

Khan: Yes, I decided to start up Viptela. We saw a bigger opportunity, the bigger guys were not doing much. Cisco was doing what they called iWAN at the time, and we said this was not going to cut it. The Internet is growing, MPLS is slow, it's expensive. LTE and wireless is growing. So we need to create a fabric across multiple types of transport which is ubiquitous and secure and can span anywhere to anywhere without worrying about the underlying transport. You seamlessly integrate that into the campus, data centers, and branches with existing routing protocols because you have to play with the existing players. So, it became a beautiful solution.

Our first deployment was GAP -- 1,300 stores. The second one was PNC. Within three or four years we were winning against the largest players like Cisco. PNC was very challenging because it was 5,500 nodes, centrally managed and controlled – nobody had done that in the past. Everything else was ad hoc, with many routers. It became very complex very quickly and we saw better ways to solve it. All of our learning from the computer networking over the last 30 years we applied to Viptela.

The solution was so strong. At the high level, one of the biggest innovations we did was the routing key distribution. IPsec is point-to-point. I was struggling with how to architect a full mesh of connectivity between branches, campuses, and data centers because people used to tie the tunnels to the interface, and the moment you did that you had to run routing protocols on top of that and you ran into scalability problems. There are beautiful technologies, with one called SSL, which we used for key distribution. We made the control plane truly independent of the data plane, in the solution, not in routing – and made it scalable like routing. We distributed the keys through the control plane to all the other routers. That was an amazing innovation because you could create thousands and thousands of tunnels.

Futuriom: You lost us on a couple technical details there. But we believe you. What do you think of what's happened with Viptela at Cisco?

Khan: You know, I would say that Cisco's technology [Viptela] is still the strongest for large enterprises. Customers are still telling us, even if we talk to our previous employees, Cisco is still the leader in that space. I think what happens when companies acquire smaller companies, they slow down because of internal integration issues. But they did a decent job carrying it forward. But my view is from the outside. I've heard of 10,000 router deals happening. Customers are deploying it at a large scale. In a complex environment I don't think there's anybody else that can solve complex problems in routing. In simpler environments, you will see more competition.

Futuriom: So tell us about your relationship with your brother, Atif. Who's older?

Khan: I'm older and he has less hair.

Futuriom [laughing]: Did you guys come to America at the same time?

Khan: I came in 1984 and he joined me later in Boulder and we were roommates.

Futuriom: I'm a Boulder alumnus. I graduated 1989 so it sounds like were we were there at the same time.

Khan: Yes, we overlapped 'cause I was there from 1987 to 1989. Atif came in I think 1988 to undergrad, to study computer science. He was one of the smartest guys, but a quiet guy that did things in the background. Tony Li had a lot of respect for him. We all worked together at Procket. We worked together at Cisco, Juniper, and Procket. I worked on Basil's team at Rapid City and Atif worked on Basil's team at Timetra. [Editor's note: Basil Alwan is a longtime executive in the networking industry who is currently co-president of IP/Optical Networks at Nokia.] And at Viptela, we were together.

We play squash together. We work out together. We have common friends. Our families hang out together. We live two minutes from each other. We take vacations and travel together. I have three daughters, he has three daughters. So it's a lovely relationship.

Futuriom: Excellent. But you are brothers – you must argue.

Khan: In the culture we have, I'm older so I can kick his butt ... just kidding. The relationship has always been very respectful. We argue once in awhile, but it's always a heated discussion of technology aspects. I will say something visionary and he will say it's crazy and then he will think about it and say it's right, he's thought about it and he can solve it. So I think we team up very well together. I come up with high-level vision and he's the deep technical guy who can solve the problems.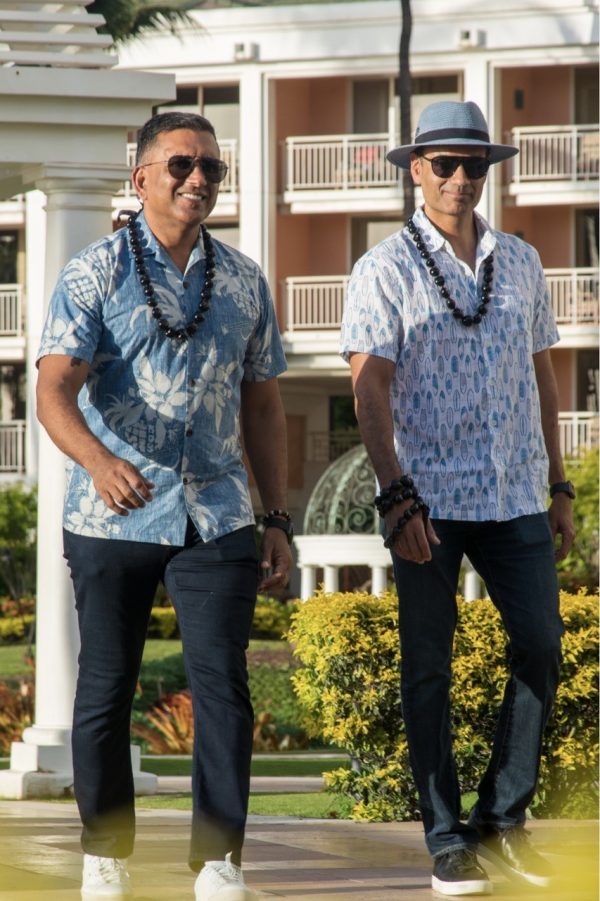 Above: Amir and Atif Khan on vacation in Hawaii
Futuriom: Do you think SD-WAN is a long-lasting market? Some people say its transitory.
Khan: I look at things from a different perspective. I have seen things evolve over 30 years. Remember, we went from X.25 to ATM to Frame Relay on the WAN side. We used to design networks up to 50,000 nodes. The speeds were slow, but the number of branches were even more [than today]. We used to create a hierarchy of partial meshes and meshes terminated by routers, interconnected by these virtual point-to-point links. Now SD-WAN solved one problem. If you remember MPLS – we took the control to solve those problems and handed it over to the service provider. We created one spigot to each branch and we said, We're going to run BGP over that, here are the routes, service provider.

Futuriom: You're talking about MPLS.

Khan: Yes, MPLS. We went from ATM to frame relay to MPLS. They were point-to-point so you had to run routing protocols to converge. A full mesh of routing became very challenging. You had to break it up to multiple levels of routes and create a hierarchy to solve that scale problem. We did that beautifully at Cisco in the early 90s, nobody else could solve that.

Atif and I were in consulting engineering, we were managing some of the largest networks in the world. With MPLS, we were handing the problem to the service providers, so the service provider had to solve the problem with many more routes. The scalability issues were there with MPLS at the beginning, where they ran out of routes in routers and had to deploy more routers because mostly it was the forwarding plane function where you ran out of capacity on the routing table. You had to buy bigger and bigger routers.

At Viptela we extracted all those routes and gave control back to the enterprise. The moment you have a mix of underlying transport, the decision has to be made at the branch itself. People that say SD-WAN is gone -- it's not gone, because that will be required no matter what. You have the cloud network, Internet, LTE – you have to make those decisions there.
Futuriom: So what is going to happen to the service providers – all the traffic is moving to the cloud, and the cloud providers are carrying more of the traffic.

Khan: Yes. That will be interesting over time. Cloud providers are investing more money into their networks than anybody else right now. The pure capacity from compute, storage, and bandwidth is so enormous that it will be challenging for the service providers to keep pace with that, unless they become more relevant by putting intelligent services on top of their infrastructure. But cloud providers still get pipes from service providers. They may not have right of way. They will be paying some money to service providers.

But all the intelligence is going to be in the cloud. That's why we decided to build in the cloud instead of building big routers, because the compute capacity is so enormous in the cloud. Even pure bandwidth is enormous. There are hundreds of POPs and tens of regions across the globe. Until the service providers offer higher-level services to enterprises, their ARPU [average revenue per user] will drop. That's why I think it's more important for them to work with us to become cloud relevant.
Futuriom: Tell us about Alkira. What is different about this company?

Khan: It's a new market. Think of it as a blue ocean. There are a lot of unknowns. In our experience, this is the biggest opportunity that networking has seen so far. The transition to the cloud is accelerating and for the foreseeable future everything is going to be hybrid. So whoever solves that connectivity services, control and data plane problem and creates a ubiquitous environment for multiple clouds to play has a lot of potential. It's a huge market.

That's what we saw when we were starting Alkira. Nobody is solving the problem properly. You can spin up instances like virtual routers in the cloud, but you still interconnect them through tunnels and do inline services – it's pretty much all done manually to stitch things together. Nobody was coming in and taking a fresh look and saying, Hey, I need to create this infrastructure which allows to you connect between any cloud. That's what we have built – you have one way of dealing with connectivity across clouds. You don't even have to know the underlying technologies that the providers are running. It's run as an overlay infrastructure and it's a very comprehensive connectivity, a marketplace of services and visibility, analytics, and governance built into the solution which nobody else can do.

The other thing, this market is going to evolve. This is the way connectivity will be performed in the future. It will be virtual. The days of building big iron will be limited to very few customers. From the enterprise perspective, you will create networks in the cloud that are horizontally scalable. And you need to create services like security in the cloud that are horizontally scalable up and down. So all aspects of the network, you need to have elasticity in the network. If we had tried to do something like this ten years ago it would be a multibillion-dollar investment. Now other people have the infrastructure we can use. It's a software-only company and that's what I love about it.

We are providing it as any application in the SaaS [software-as-a-service] world. That is an absolute first in the networking industry. Nobody else has done that. We took out control, we put it in the cloud. This is a technology born in the cloud for the cloud. It's got a lot of potential.

Futuriom: Usually when these opportunities pop up there are a lot of companies. So far one of the few that's close to you that I've seen is -- Aviatrix. [Editor's note: Futuriom interviewed Aviatrix CEO Steve Mullaney, which you can see here. Mullaney has recently made public statements that Alkira is "behind" Aviatrix in technology.]

Khan: There's not much overlap. [Aviatrix] is more orchestration focused. It doesn't abstract the underlying clouds. You still have to understand the nitty gritty of how each cloud works.

Futuriom: So will you target mid-market or larger companies -- like you explained Viptela scaling for larger customers?

Khan: I want to correct that right now. At Viptela, we made a similar solution – it was a one-off solution for enterprise. It wasn't multi-tenant. So we don't want to get stuck in that. This has to be applicable to the largest enterprises as well as small as you can go. This is from ground up a multi-tenant solution. Anybody can come to our portal and use our service. It's very different.

Because we have dealt with the largest service providers and the largest enterprises, there are very few people that have been on both ends. Atif is one of those unique guys who has built some of the largest service-provider networks in the world. They want to become a channel for us.

Futuriom: Thank you Amir.

Khan: Thank you.