Tech Firms Praise China While Tiptoeing Out of It

The Economic Summit of China Development Forum held this weekend in Beijing highlighted the concerns and strategies of tech companies such as Apple (Nasdaq: AAPL) and Qualcomm (Nasdaq: QCOM) that rely on Chinese business amid growing hostility between China and the U.S.
The annual conference was held at the Diaoyutai State Guesthouse and took place solely in person – contrasting with past conferences held online and in person during China's massive "Covid zero" lockdowns, which ended late in 2022. The agenda included talks from Apple CEO Tim Cook as well as Qualcomm CEO Cristiano Amon. Both men were openly friendly regarding their business in China.
QCOM's Subtext
According to reporting by the China Daily, CEO Amon said: "Qualcomm has a long history in China that spans nearly three decades. We are proud of the deep relationships we have built over the past 30 years, and the new partnerships we are building today."
He also vowed to provide China's automakers and other industrial customers with "the most comprehensive and advanced solutions to enable a thriving digital economy."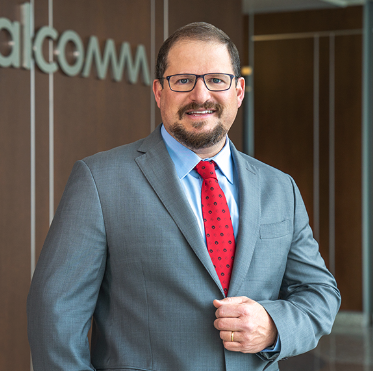 Qualcomm CEO Cristiano Amon. Source: Qualcomm
The solutions Amon refers to don't necessarily include chips made in China. Qualcomm has been subtly increasing its activities in Taiwan and reportedly has moved a substantial amount of its component orders there from China's Semiconductor Manufacturing International (SMIC). Dell (NYSE: DELL), Apple, and Hewlett Packard Enterprise (NYSE: HPE) are said to have made similar moves.
Apple Brings Fond Greetings
Like Qualcomm's Amon, Apple CEO Tim Cook was effusive to his Chinese hosts. As reported by the Wall Street Journal, he began his talk by saying, "I am thrilled to be back in China. It means the world to me and I feel really privileged to be here."
Cook also pledged about $14.6 million from Apple in support of education in China through the China Development Research Foundation, which sponsors the annual forum.
Meanwhile, Apple has been pursuing its options for obtaining chips outside China. This includes support for TSMC's planned facilities in Phoenix, Arizona.
Notably, while Cook was likely preparing his visit to China, TikTok CEO Shou Zi Chew was being grilled in the U.S. House of Representatives about the potential risks to U.S. security fostered by Chinese ownership of the popular social media platform. For more than five hours, Chew was questioned severely about his company's potential ties to the Chinese government. The situation illustrated the growing fears and hostilities between the U.S. and China – sentiments that were exacerbated by China president Xi Jinping's recent visit with Vladimir Putin.
Companies Tread Carefully
Both Qualcomm and Apple's CEOs will likely take criticism from hardliners about this weekend's visit to a country at odds with U.S. policies. Still, it appears that both Amon and Cook are speaking the language of diplomacy while hedging their bets by shifting a certain amount of business out of China. It's a practical strategy that leaves the door to Chinese business cracked open, while shoring up production alternatives for sensitive components.
Whether tech firms can sustain this eggshell-tiptoeing remains to be seen. They may not have time or the ability to replace all their Chinese assets, and Taiwan has its own share of risk. But for the moment, the companies are taking the only way forward that can protect their business interests.