Tax Impact on IT Still Unclear: Raymond James

A Raymond James survey of Information Technology (IT) resellers and distributors reveals subdued optimism for 2018, as the technology channel awaits the impact of the U.S. tax cuts.

Survey respondents indicated that "overall growth rates that were consistent with what we saw in 3Q on a y/y basis," according to a research note from Raymond James issued this morning. Some respondents indicated that the typical year-end "budget flush" was not as robust as usually, perhaps resulting in a somewhat weak fourth quarter as firms held back spending plans to await the result of tax-cut legislation, which passed U.S. Congress and was signed by the President at the end of the year.
The tax-cut legislation is expected to be a net positive for technology suppliers, as the cut in the corporate tax rate from 35% to 21% could boost corporate profits and provide for more capital spending. Additional funds are also expected to come back to North American as the tax bill incentivizes repatriation of offshore cash.
In fact, as the chart below shows, capital spending (capex) on technology has generally tracked corporate profits.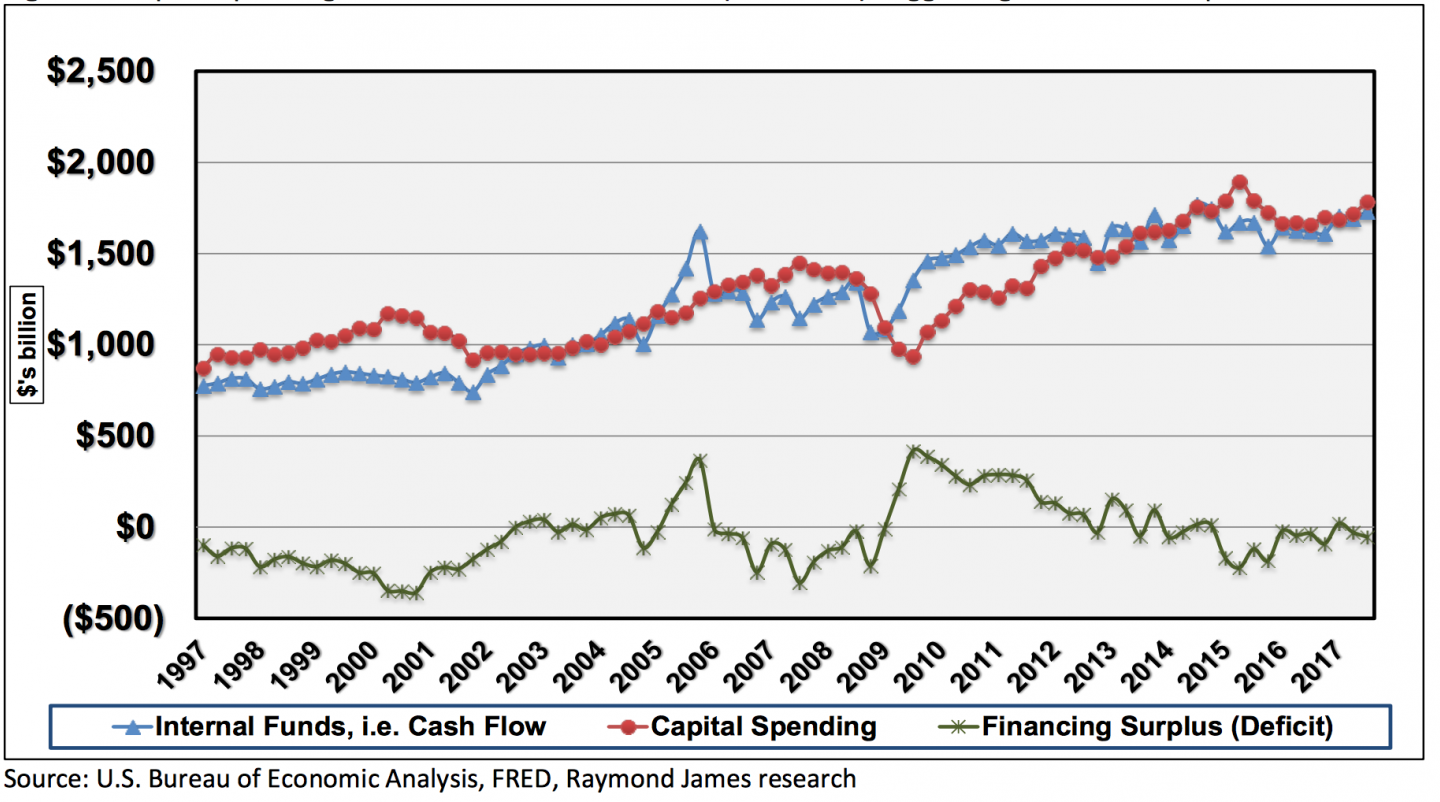 However, the Raymond James survey, conducted annually, found uncertainty. The Raymond team relates the findings in report on its IT Supply Chain Survey, this morning:
"As we asked about budgeting for 2018, we anticipated more optimism than we heard. The consensus view seemed to be that while there may be more optimism in soft indicators, there has not been a material increase in IT budgets in 2018 at this time. Most respondents are targeting similar y/y growth goals as they did entering 2017, and think any acceleration in IT spending is unlikely to materialize in 1Q based on what they are seeing in pipelines and backlog. While we did not detect any material impact from the Intel security flaw, it would make sense to us for the combination of this issue, and companies still sifting through tax reform implications to force IT spending to be a bit more 2H-weighted than previous years."
In other words, it's too early for tech companies to count on a big boost to capex yet, as the Raymond James survey indicate that lots of people are taking a wait-and-see approach.
If the tax reform does boost corporate profits and cash flow, as is expected, managers may respond by boosting technology budgets. Raymond James notes that IT is on pace to represent the majority of capital expenditures for the first year since 2010.