Cisco's Supply Issues Loom Large Ahead of Earnings

With Cisco set to announce earnings on Wednesday, expect supply-chain issues to be a critical factor in the earnings report and discussion, as chatter throughout the industry indicates the company is struggling to deliver goods -- more so than some of its major competitors such as Arista Networks, Juniper Networks, and Palo Alto Networks.

The company has already set expectations low, but shares could still take a big hit on any continuing supply-chain issues. In its last quarterly earnings release, the company guided for a year-over-year (y/y) revenue decline of between 1-5%, in the range of $12.40-$13 billion. Earnings per share are expected to come in at $0.82, based on Reuters consensus data.
Supply Chain Chatter Is Everywhere
Supply chain issues persist throughout multiple industries, but they have been impacting the network industry particularly hard. In the past week, references to supply-chain gripes have popped up everywhere, including Wall St. research, Twitter, and in conversations with industry sources.

This Twitter thread reflects the current challenges across the networking supply chain, where several customers have complained that things are getting worse, not better, and that delays can stretch out to months:
How's everyone feeling about the gear shortage these days?

Better? Worse? About the same?

— Kevin Myers (@stubarea51) August 10, 2022
According to industry insiders on that thread, Cisco is having worse-than-average supply issues, while Arista and Palo Alto Networks are above the norm.
Cisco gear is a particular focus because it is one of the largest networking suppliers in the industry. Several Wall St. analysts have backed up the supply-chain shortage story, adjusting earnings and revenue estimates to reflect continued delay. For example, Citi analyst Jim Suva has slapped Cisco with a "Sell" rating and recently told Barron's that Cisco is having a harder time delivering than its competitors.
Investors Look for Software Growth
Supply-chain issues have dominated the discussion among business-to-business technology players with heavy hardware businesses such as Cisco. In theory, Cisco could offset that with increased software sales, for example, in cybersecurity or in products such as AppDynamics and ThousandEyes. But its track record there hasn't been good. Cisco's shift to a software-based business model has been slow and disappointing. For example, see what Raymond James analyst Simon Leopold said in a recent note:
"We think Cisco's pivot to software is the right strategy, but execution has been disappointing. The shift is synonymous with a shift to providing customer solutions as opposed to product. The combination of AppDynamics, Intersight and ThousandEyes into a full-stack observability solution is a great example Cisco's ongoing innovation, but we wonder if it is enough. Software has hovered around 30% of total revenue for the last 6 quarters, and declined below this level in April. We argue that Cisco should disclose on-box vs. off-box software to assist analysts."
Supply issues or not, Cisco simply isn't growing that fast. The consensus is for Cisco to grow about 3% in this fiscal year (Cisco's fiscal year ended in July and it's just starting a new year.) The whispers about worse-than-average supply issues mean that growth could slow even further.
Is Vertical Integration a Problem?
Cisco's supply-chain woes may be exacerbated by its recent moves to become more of a vertically integrated supplier with its own components. Cisco bought Acacia Communications in 2021 to take control of its own supply of optical modules. In addition, it has a proprietary chip with Silicon One, which has been both an advantage and a disadvantage.
The benefit of integration of its own components means Cisco can boost margins and maintain a competitive edge. The tradeoff is that it has concentrated its supply channel, possibly alienating alternative suppliers and giving it less flexibility to acquire components.
The supply issue is crucial because it's becoming increasingly evident that Cisco's recent order bubble in late 2022 was a mirage – it's possible that it was plagued by customers double-ordering to avert a supply gap. In fact, the delta between last year's orders and this year's orders appears to demonstrate just that, as documented by the chart below from Raymond James.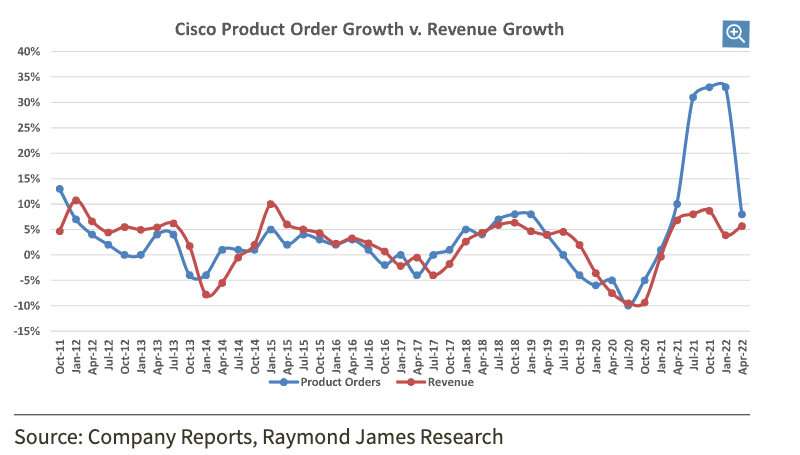 Based on the recent disappointments, Cisco investors would be wise to be skeptical of any hyped up "pent-up demand" stories, because that story is simply not backed up by the recent trends in the industry in general, where chip sales have been slowing and cloud infrastructure growth has been slowing down. Cisco shares are currently down about 27% for the year.