Silver Peak: Expanding Use Cases Driving SD-WAN

Software-defined wide-area networking (SD-WAN) pioneer Silver Peak yesterday announced it had signed its 1,500th customer. That makes it an interesting time to catch up with the company and find out what's driving the business.
As Futuriom has pointed out year-after-year, the SD-WAN market continues to surprise folks with its growth, mostly because it's been misunderstood. Now the entire communications services and technology world is piling on, including global service providers, firewall vendors, and various networking technology companies that hadn't previously paid any attention to SD-WAN, including ADTRAN. (For our most recent SD-WAN Growth report, go here.)
Silver Peak, a 15-year-old San Jose-based company that began as a venture-backed startup, was early in the game. The company's first products were in WAN optimization but it quickly expanded the functionality to SD-WAN. The company saw the potential to reduce the costs of operating branches by using commercial off-the-shelf (COTS) hardware and using it to optimize WAN connections to save on bandwidth costs.
The features, functionality, and use cases of its Unity EdgeConnect SD-WAN product line have expanded over the years -- and they continue to expand, according to John Vincenzo, Senior Vice President, Chief Marketing Officer with Silver Peak. This is one of the dynamics that continues to fuel growth in the market.
"SD-WAN has evolved from cost savings to more sophisticated use uses," said Vincenzo on a phone call. "Some of the [uses cases] gaining interest including using it to improve UCAAS (unified communications as-a-service) for voice and video over broadband, as well as security. Security is often a follow-up to the SD-WAN conversation."
Indeed, Futuriom research of end-user demand consistently indicates that security is one of the most sought after features of SD-WAN. When a combination of 136 enterprise and service-provider IT and network managers where asked to name the strongest drivers to deploying SD-WAN, 32% picked "Better Security," the top choice (see chart below).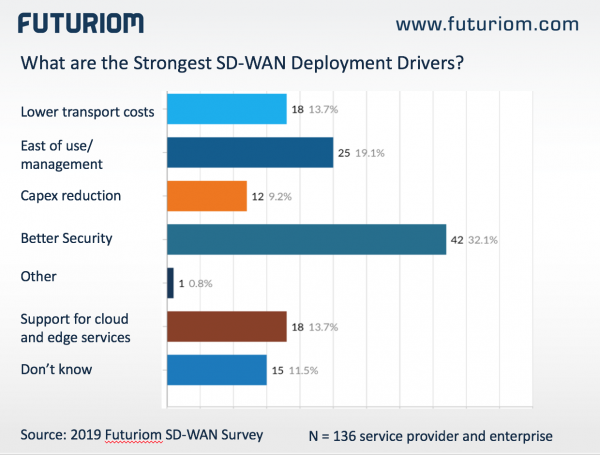 Another key to Silver Peak's success, according to Vincenzo, is that the technology can be used to automate deployment across hundreds of sites in a month -- and that the technology doesn't break. "We've proven that ours works," says Vincenzo.
Some recent examples of large Silver Peak customer installments including Builders First Source, which has 450 sites. Other customers that Silver Peak has referenced include Farrer & Co, one of the oldest law firms in the world, based in London; St. Louis-based First Bank; Australian law firm MinterEllison; and imaging market specialist Vitec, based in the UK.
But of course, given that Silver Peak announced that it now has 1,500 customers -- there are many others. My personal favorite is the SD-WAN-enabled telemedicine backpack.