Did Ciena Win OFC? Wall Street Says Yes
Let's do some housekeeping. I was unable to attend the Optical Fiber Conference (OFC) -- an important conference for producers and buyers of optical networking technology -- in San Diego last week. But after reading over a number of news and analyst reports, you might conclude that the prospects for a rebound in optical technology are good and that Ciena (CIEN) in particular is well positioned for a better 2018 in optical.
"We came away from the trade show feeling even better about Ciena's positioning relative to their competitors, particularly through the end of 2018 (and likely beyond)," wrote George Notter, analyst with Jeffries, in a research note released on Monday. "Of course, the company is the only vendor currently shipping a 400G/wavelength coherent product right now."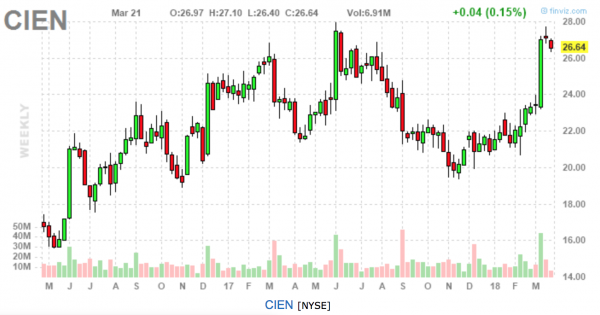 Notter has recently become "bullish" on optical, because it is so beaten down. Last year, a lot of the air was let out of optical vendors, many of which got slammed. The market suffered many financial missteps as optical providers overstepped their expectations, prices fell, and inventory piled up. As Notter summarizes in a recent report he wrote, titled "Will the 'Real' Optical Please Stand Up?"
"It's remarkable how awful 2017 was for the Optical names. The group – as a whole – has underperformed NASDAQ by a dramatic 54% since the start of 2017. A litany of bad news, missed quarters, and reduced guidance drove the underperformance. The group now trades at a significant discount to long term average valuations. The component suppliers trade at 10.0x forward EPS estimates versus a 14.2x average over the past 3 years. Systems vendors similarly trade at a discount. The discounts are even more glaring considering the general rise in equity valuations."
Optical Market Applications
Optical networking has, of course, seen its ups and downs. I've followed the market since the optical bubble days, when companies such as Corvis (now defunct) went public to receive multi-billion dollar valuations with no revenues. But in recent years, optical has proven to be crucial in so many areas, due to the demand for high bandwidth links and also thanks to innovation which has shrunk the size of optics, made them more flexible, and found applications in the data center where all of those server boxes need to be connected and networked.
Markets such as data center networks, core service provider networks, access networks, and even 3D sensing technology for smartphones will continue to supply demand for optical, despite the recent letdowns.
In Notter's view, here are the reasons to be optimistic:
China – An Eventual Recovery. The government would need to step up on its pledged investment in broadband and 5G and inventory needs to be depleted, but optical should come back in China.
400G on the Horizon. A new product cycle could refresh demand for optical components against a backdrop of price declines and commoditization. But real volume is not expected until 2019.
3D Sensing – a $3 Billion TAM? There is continued enthusiasm for Finisar and Lumentum in the 3D Sensing market. Notter thinks 3D Sensing (both VCSEL- and Edge Emitter-based) will get integrated into a large percentage of the global smartphone market and other applications.
Simon Leopold, an analyst with Raymond James, also attended OFC and came away with the idea that themes such as 3D sensing and 400G will propel the industry forward and that Ciena is well positioned to be a winner. "Within our coverage, we left most encouraged regarding the prospects of Lumentum [LITE] and Ciena," wrote Leopold.
Leopold believes that North America could provide a tailwind, with service providers ramping spending again. The telco market needs to make more investments in long-haul optical and 400G is coming to market. "We continue to believe that Verizon metro deployments will ramp meaningfully in 2018, benefiting exposed system vendors Ciena and Cisco as well as suppliers of next generation optical components Lumentum, Nistica (ROADMs), and Oclaro (ACO)," wrote Leopold.
So if you are looking for an excuse to get bullish on optical -- there you go -- there are many reasons to be optimistic, with the usual cast of characters to choose from.