Cradlepoint Shifts to Software Model for Wireless SD-WAN

Cradlepoint today announced a major shift to a cloud software model for offering wireless software-defined wide area network (SD-WAN), with new pricing and a series of dedicated wireless access points that extend the reach of its SD-WAN to businesses using LTE wireless access. The news was announced at the National Retail Federation (NRF) 2018 conference.
The goal is to simplify access to broadband networks for businesses, using wireless access points as the connection points. The company now makes it possible to consolidate multiple routers in the branch office with the launch of an all-in-one AER Series that supports 10 switched Ethernet ports to provide either WAN or LAN connectivity in addition to an integrated LTE Advanced modem capable of speeds up to 600Mbps (maximum download), an expansion slot for a second LTE modem, and a guest portal to a 802.11ac WiFi network.
Subscription SD-WAN Model
Cradlepoint will ship the new routers as part of a monthly service, converting its entire business to a subscription-based software approach to bundling its software and hardware, versus selling a hardware appliance for a fixed price that required IT organizations to navigate multiple pricing SKUs.
Subscription cloud software models are becoming popular for technology companies, primarily because recurring software business generally has better margins and more predictable revenue than selling hardware. One of the major players in the networking market, Cisco (CSCO), is gradually transitioning its product line to subscription software, and other hardware companies such as Nutanix (NTNX) have announced similar moves.
By packaging its hardware as part of a cloud software offering, Cradlepoint will make its business more appealing to both investors and customers, say company officials. A subscription-based approach will make it simpler for more organizations to implement SD-WANs in multiple branch offices based on an LTE wireless network, says Todd Krautkremer, chief marketing officer for Cradlepoint.

The subscription offering includes the NetCloud management platform that Cradlepoint makes available as a cloud service to manage both its routers and now the Cradlepoint AP22 Branch Access Point. Previously, Cradlepoint only provided a router that came with a built-in wireless access point. The AP22 Branch Access Point makes use of Power of Ethernet (PoE) technology to make it possible to extend the reach of the wireless network in a branch office without having to deploy additional routers, says Krautkremer.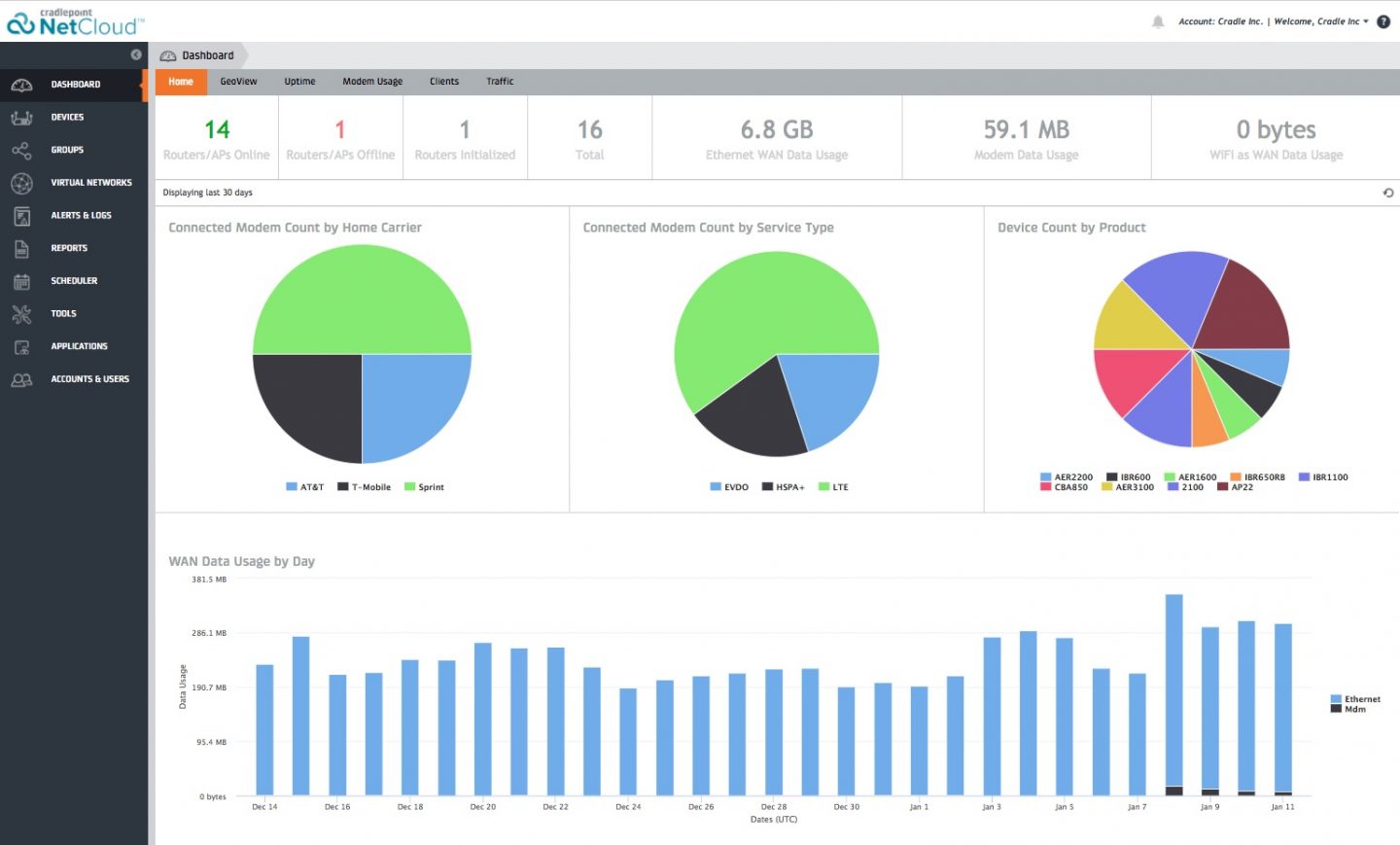 LTE Wireless for SD-WAN
Another big trend that Cradlepoint is taking advantage of is the expanding use of cellular technology for broadband access. Cradlepoint is making a bet that with 5G arriving in the next few years, wireless broadband will begin to displace wired broadband for business connectivity. Cradlepoint already targets a customer base that has a heavy reliance on cellular connections, such as retail outlets that want to connect branches and Internet of Things (IoT) devices such as Redbox movie kiosks.
Krautkremer says reliance on 4G wireless networks to provide IT services as alternative to traditional wired networking technologies is increasing rapidly. Cradlepoint already has 50,000 customers and has deployed over two million units worldwide, says Krautkremer. Much of that success, says Krautkremer, can be attributed to the fact that IT organizations don't have to dispatch IT staff to a remote location to deploy a router. Instead, the local office manager just plugs the Cradlepoint router in.
"It's a zero-touch deployment," says Krautkremer.
Krautkremer says adoption of an LTE-based approach to SD-WANs will only accelerate as 5G networking becomes more accessible over the next two years.
There's no doubt at this point that the management plane for SD-WANs is moving into the cloud. The only debate now is to what degree wired networks will be needed, at all, to deliver next-generation networking services to branch offices.