T-Mobile, Cisco Point to Emerging Converged Core Trend

Recent news that T-Mobile (Nasdaq: TMUS) and Cisco (Nasdaq: CSCO) launched a converged core for the "Un-carrier's" 4G and 5G traffic spotlighted a growing trend among carriers and their vendors worldwide.
The announcement touted performance improvements of 10% in speed and latency after T-Mobile implemented the Cisco-based solution, which unifies 4G LTE, 5G NSA, and 5G SA traffic in a unified core within T-Mobile's Standalone 5G network.
T-Mobile said the cloud-based converged core gateway is based on Cisco 8000 Series routers, 5G and 4G packet core gateways, Cisco Unified Computing System (UCS), and Cisco Nexus 9000 Series Switches with Cisco Network Services Orchestrator. It deploys what T-Mobile terms Cisco's "cloud native control plane, optimized with Kubernetes orchestrated containers on bare metal," thereby freeing up over 20% of the CPUs in the converged core platform, according to the telco.
Cisco's technology has been adopted in 5G core networks for DISH Network, Rakuten Mobile, and Zain Kuwait, to name a few. So far, though, only T-Mobile has announced the use of a Cisco 5G converged network gateway.
Part of an Overall Trend
Other vendors besides Cisco have launched converged core solutions for telcos. Mavenir, for example, announced in September 2022 that Deutsche Telekom is using its Converged Packet Core for its 5G SA network. In its press release, Mavenir said the converged architecture "[s]upports 4G, 5G non-standalone (NSA), and 5G standalone (SA) modes and enables all access technologies to run on a common cloud-native platform by Deutsche Telekom."
Like T-Mobile, Deutsche Telekom will use a converged core to support all types of traffic on its 5G network, including voice, data, video, and messaging. And like T-Mobile, Deutsche Telekom is looking to the newly automated converged network to support network slicing.
Other vendors are claiming converged core technology. In a December 11, 2022, release, VMware (NYSE: VMW) and NEC announced NEC's 4G/5G Converged Core based on VMware Telco Cloud Platform. The result is a complex but efficient series of cloud-native, virtualized modules governing the automated control and orchestration of 4G and 5G services in a common domain.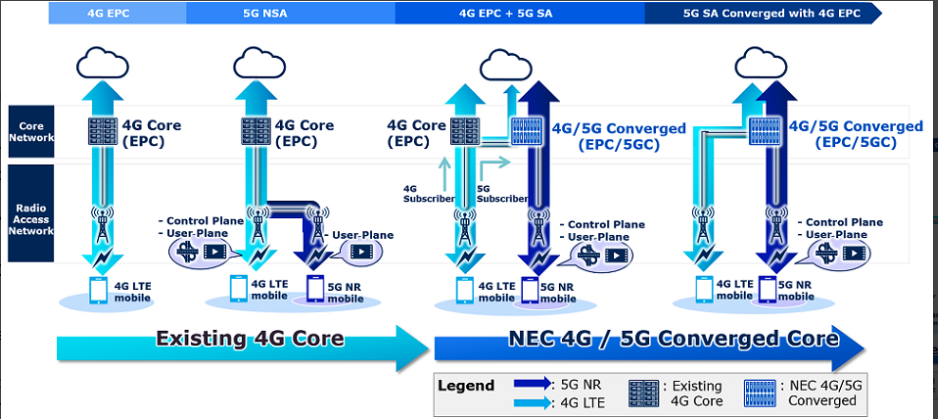 NEC Converged Core. Source: NEC
NEC claims its converged core has been "commercially proven by dozens of MNOs, having tens of millions of subscribers, and local 5G providers."
An Ongoing Trend
The ability to create a common platform for managing 4G and 5G services is an attractive goal for many telcos and their suppliers. But a prerequisite for this technology appears to be the establishment of a 5G Standalone (SA) network. According to Futuriom's research, roughly 12% of 5G services worldwide are based on 5G SA, though the race to get to that foundation is accelerating. Notably, private wireless business services, seen as key to the future of 5G profitability, require 5G SA in many instances.
Clearly, converged core is a tough technology to wrangle, requiring expertise available from the top companies in the market. Still, we can expect to see much action in this space as telcos look to build profitability into their 5G equations.