Arrcus Gets Flexible on MCN

Cloud networking startup Arrcus on Wednesday rolled out FlexMCN, a new portfolio of multicloud networking (MCN) software, designed to help CSPs, colocation providers, and telcos build managed MCN services.
Network-as-a-Service (NaaS) and MCN products that help enterprises and operators connect disparate cloud networks are expected to grow into the billions of dollars of revenue annually, according to Futuriom research. Some of these services will include features such as cloud-based routing and networking, direct connectivity to cloud points of presence (PoPs) using NaaS, and management of cloud-based security and applications performance.

Arrcus Targets All CSPs With FlexMCN

Earlier this year, Arrcus launched Arrcus Connected Edge (ACE), a software-based networking platform targeting datacenters, edge networking (including 5G), and MCN. ACE consists of a native network operating system (NOS), cloud-based orchestration and management, and analytics.
Arrcus has already had some big customer wins, most notably the multibillion-dollar datacenter and colocation provider CoreSite. In working with CoreSite, Arrcus learned that service providers might have specific deployments that require the flexibility of purchasing MCN components for a variety of needs. For example, in the case of CoreSite, they use a custom orchestrator, so they were interested in using Arrcus MCN functionality via application programming interfaces (APIs) that could be directed by the existing orchestrator.

"FlexMCN enables customers to use different components of the edge platform to deliver end-to-end secure connectivity," Arrcus CEO Shekar Ayyar told me in an interview this week. "CoreSite was able to leverage the [Arrcus] interfaces as well as Terraform scripts and integrate it into their own orchestrator. This is great for the do-it-yourself (DIY) customer."

The FlexMCN solution consists of ArcEdge as a secure data plane software, coupled with ArcOrchestrator, now available on premises and off premises, to help simplify and expedite the setup of cloud operations. FlexMCN makes all the components of the ACE platform available in any form factor -- in containers, on virtual machines, as software on white-box hardware, or as a cloud service -- so that customers can pick the parts they need to build services.
Another key element of FlexMCN is multi-tenancy that enables service providers to host segmented networks for multiple customers. FlexMCN's orchestration provides role-based access control, allowing granular access to network infrastructure. Multi-tenancy also enables managed service providers to share the FlexMCN ArcOrchestrator with multiple tenants and allows each tenant to have its own view of its network infrastructure.
Edge MCN Arms Dealer?
This sets up Arrcus for the interesting position as an edge networking and MCN arms dealer. Futuriom research indicates that a surge in interest in edge services such as 5G is coming, backed by a wide range of new use cases. These include retail analytics, drone management, computer vision, artificial intelligence/machine learning (AI/ML), broadband, virtual reality/augmented reality (AR/VR), and smart manufacturing -- just to name a few. See the chart below for our realtime tracking of use cases from our Cloud Tracker Pro research services: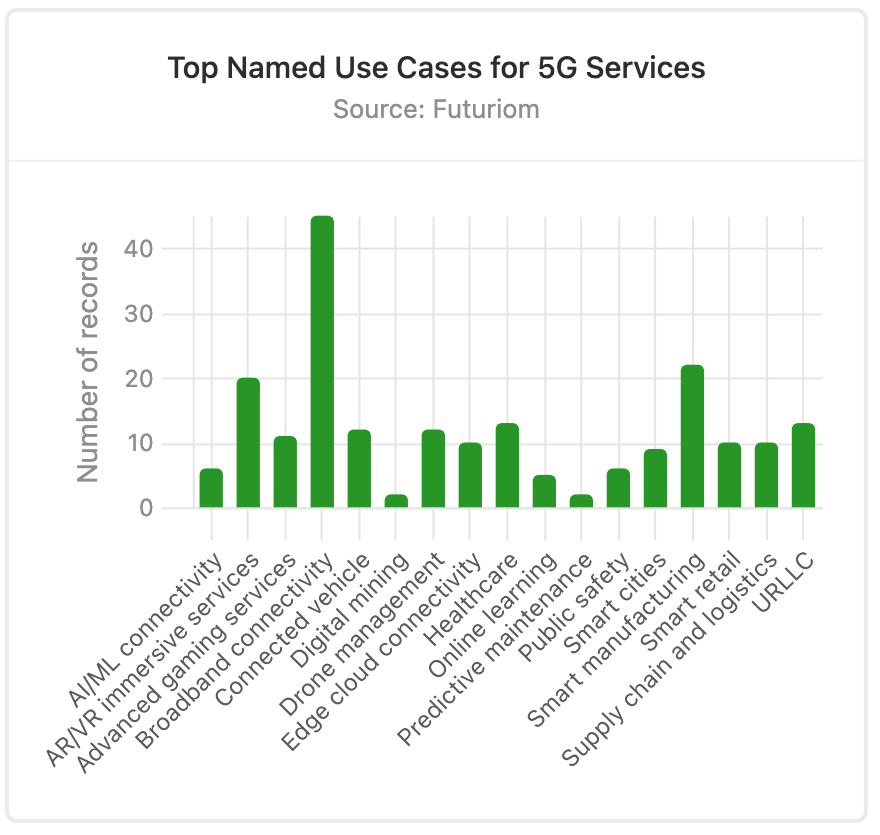 These use cases will spur the need for rapid and easy network connectivity to compute resources whether they reside in the cloud or at the edge. Colocation providers such as CoreSite will become especially interesting as a market for MCN, as they have been increasing investment in their networking infrastructure to enable both enterprise and service provider customers to leverage direct connections into cloud services.

Arrcus doesn't see this flexibility as limited to colocation providers. In fact, it's becoming clear that MCN will become key functionality for service providers, cloud providers, and colocation providers as the network becomes a key asset for acquiring customers. This trend has been clearly in place with cloud providers such as Amazon, Google, and Microsoft beefing up their network connectivity infrastructure and tools.
Arrcus's latest moves show that MCN software and products are evolving into a more sophisticated market. All of these developments will be be covered in Futuriom's forthcoming Security MCN and NaaS report, to be released in early October.