Digital Realty Intros Multicloud Networking Service

Digital Realty (NYSE: DLR) is the latest datacenter service provider to release a multicloud networking (MCN) platform, highlighting a trend among datacenter real estate investment trusts (REITs).
Digital Realty's ServiceFabric Connect couples the provider's physical interconnection services with an overlay of virtual routing and switching. At the physical layer, the vendor has constructed new 10-Gb/s and 100-Gb/s backbone networks in selected datacenter facilities in North America, Europe, and the Asia Pacific region.
To this physical infrastructure, ServiceFabric Connect adds virtual links based on the services of Australian network-as-a-service provider Megaport, a company in which Digital Realty has a stake. The virtual connections operate over 1-Gb/s, 10-Gb/s, or 100-Gb/s physical ports.
The ServiceFabric Connect setup enables high-speed virtual private connections to cloud services from AWS, Microsoft Azure, and Google Cloud Platform (GCP), along with other services from partners that include IBM (NYSE: IBM), HPE (NYSE: HPE), NVIDIA (Nasdaq: NVDA), and Oracle (NYSE: ORCL). Customers can orchestrate and manage their service connections through Digital Realty's fabric interface.
Other REITs Have Fabrics
Other datacenter service providers are joining the MCN fray. In June, Arrcus allied with datacenter service provider CoreSite to add Arrcus' Connected Edge Multi-Cloud Networking (ACE MCN) platform to the CoreSite Open Cloud Exchange (OCX) service, which offers interconnection speeds of 1Gb/s, 10 Gb/s, and 100 Gb/s, depending on location. Like Digital Realty's ServiceFabric Connect, the goal is to add high-speed virtual multicloud networking (MCN) capabilities to datacenter interconnection facilities.
So far, however, CoreSite's service supports just AWS and Azure. Other connections are set for later release.
The leading datacenter services REIT, Equinix (Nasdaq: EQIX), has its own multicloud switching strategy. Dubbed Equinix Fabric, the service supports all major public cloud providers and is available worldwide at speeds of 1 Gb/s, 10 Gb/s, and 100 Gb/s. Like Digital Realty's ServiceFabric Connect, Equinix's solution addresses Layer 2 and Layer 3 connectivity for managing virtual private connections across the vendor's high-speed backbone.
But Is There Enough Control?
Digital Realty's announcement is aimed at supporting demand by large enterprises for greater control over hybrid and multicloud networks – demand that was clearly stated by respondents to Futuriom's 2021 Multi-Cloud Networking Survey. The question is, What level of MCN control is needed?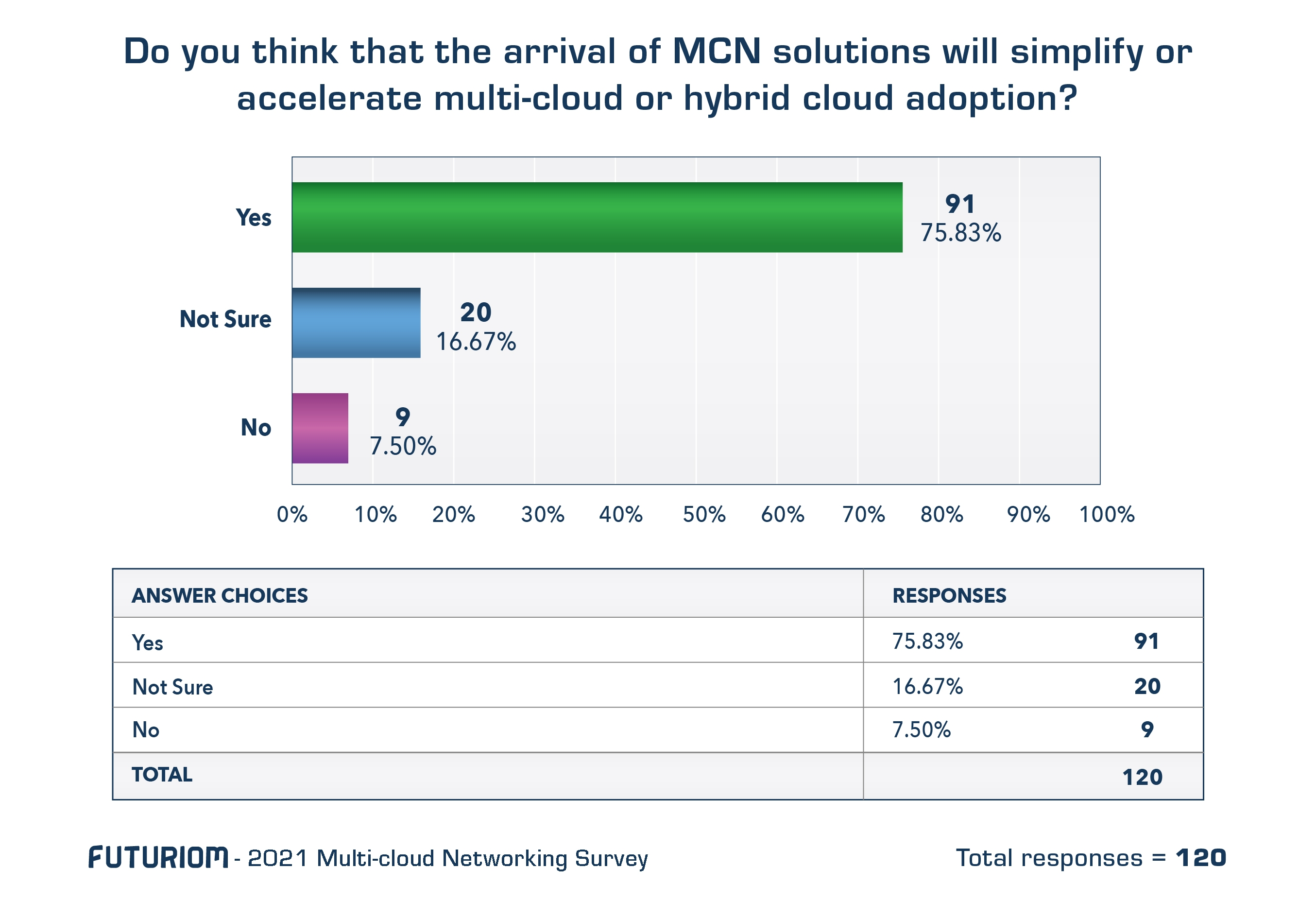 Megaport, for instance, specializes in Layer 2 and Layer 3 connectivity across cloud services, bypassing the public Internet. This can improve performance and security, but it may not provide the particular level of control touted by some other multicloud solutions.
Multicloud software platform vendors such as Aviatrix point out that connecting to a cloud is one thing -- but connecting and gaining visibility of networking inside of a public cloud is another. For example, you may need to not only connect to the public cloud infrastructure, but manage firewalls, routing, and headaches such as IP addresses for virtualized services that you are accessing. Many public cloud networks are completely opaque to users, and Aviatrix has focused on solving this problem by delivering visibility and control inside of public cloud.
Alkira is also focusing on hybrid and multicloud management, which it is trying to define as cloud area networking (CAN). The goal is to create, manage, and operate a network from the branch-office level through to the inner workings of the public cloud – in other words, to provide end-to-end network visibility. Alkira claims its approach allows for functions such as detailed policy definition and inspection; enhanced network segmentation; automated network address translation; and extra security and disaster recovery provisions.
A Complex Picture Emerges
All these announcements show increasing demand for MCN solutions. But not all solutions are created equal.
For some enterprises, bypassing the public Internet is paramount. For these, the REIT fabrics may prove ideal. Other companies will require the kind of detailed segmentation capabilities offered by Alkira or Aviatrix. Still others will look to vendors such as Arrcus or DriveNets for entirely cloud-native routing – a kind of massive network operating system for cloud services.
A picture emerges that will probably become a lot more complex as MCN strategies proliferate. As that happens, REIT services will likely progress and foster permutations of partnerships and technologies to keep pace. This space is going to see lots of activity.