Arm Reveals Good and Not-So-Good in IPO Document

Chip design firm Arm Holdings Ltd. has released a prospectus in advance of a September road show and initial public offering (IPO) of shares. The move signals one of the most-anticipated IPOs this year and one of the most closely watched in terms of its bellwether status in the technology markets.
Arm, which is owned by Japan's SoftBank, is expected to post a valuation between $60 billion and $70 billion, a range estimated by analysts after SoftBank's purchase of the remaining 25% of outstanding shares it didn't yet own from its Vision Fund subsidiary for $64 billion earlier this month. Arm is anticipated to float about 10% of its holdings in the IPO.
The planned IPO represents the culmination of a series of moves by SoftBank and Arm to advance the chip firm to its next level. The biggest of these was SoftBank's plan to sell Arm to NVIDIA (Nasdaq: NVDA) back in 2020 for $40 billion. Facing numerous regulatory hurdles and industry outcries, in February 2022, SoftBank and NVIDIA abandoned the plan.
Market Revelations
In its prospectus, Arm reveals that its financial position has been adversely affected by declining growth in the smartphone market, where Arm has held more than a 99% market share for years. For the most recent quarter ended June 30, 2023, Arm posted revenues of $675 million, down 2.45% from $692 million for last year's quarter. Worse, net income from continuing operations came in at $105 million for the quarter, a year-over-year decline of 53%.
Still, Arm estimates its market opportunities to be vast in areas it sees as key to industry growth, including artificial intelligence and machine learning (AI/ML). "As the world moves increasingly towards AI- and ML-enabled computing, Arm will be central to this transition," the prospectus states. "Arm CPUs already run AI and ML workloads in billions of devices, including smartphones, cameras, digital TVs, cars and cloud data centers…. We are working with leading companies such as Alphabet, Cruise LLC, Mercedes-Benz, Meta and NVIDIA to deploy Arm technology to run AI workloads."
The chip giant also sees opportunities in key growth areas, including cloud computing, networking equipment, automotive chips, and consumer electronics. Below is the company's estimate of its total addressable market in each of several sectors: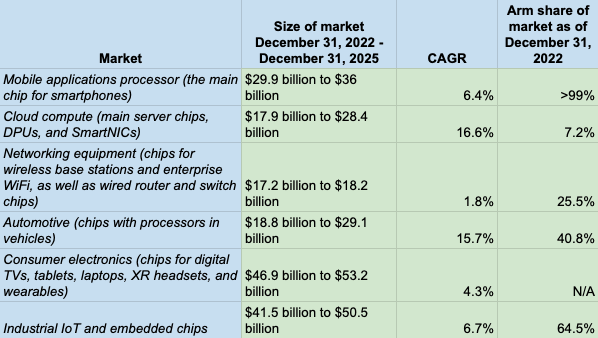 Source: Arm Holdings
Challenges Abound
Despite high hopes, Arm faces challenges in going public. First off is the IPO market itself: Worsening economic conditions over the past couple of years, including high interest rates, have cooled the IPO plans of many firms. Arm's debut will be a test of how investors view the current risk climate overall.
Arm also faces its own set of risks, outlined in depth in the prospectus. Following are some of the top ones:
Arm China. Back in March 2022, Arm sold its interest in problematic subsidiary Arm China for about $930 million to Acetone Limited, which is also owned by SoftBank. Arm China remains a top customer and accounted for about 18% and 24% of Arm's total revenue during the fiscal years ended March 31, 2022, and March 31, 2023, respectively. Arm China is also the gateway to all of Arm's dealings in the PRC, so anything affecting that entity, be it geopolitical factors, sanctions from the U.S. or Europe, or internal issues, could threaten Arm's China sales.
RISC-V. This refers to an open-source standard instruction set architecture (ISA) based on the reduced instruction set computer (RISC) processing methods that simplify software instructions on a CPU. "If RISC-V-related technology continues to be developed and market support for RISC-V increases, our customers may choose to utilize this free, open-source architecture instead of our products," stated Arm in its prospectus.
SoftBank. Arm's owners will still control the board of directors and therefore hold sway in company decisions. This means that, as the prospectus states, "SoftBank Group may cause us to take corporate actions, including engaging in transactions with SoftBank Group or affiliates of SoftBank Group, that members of our management or other shareholders do not view as beneficial, or that provide SoftBank Group with benefits at our expense. Such actions could have a material and adverse effect on our business, results of operations and the trading price of our ADSs [American depositary shares]."
There are many other risks outlined in the prospectus – pages that take up nearly a quarter of the document. All that said, Arm and SoftBank are optimistic that the company's strengths and influence in the key growth areas of technology will push it toward perhaps the biggest public debut in recent years.
Futuriom Take: The Arm IPO will test both the IPO market in general and Arm's assessment of the growth areas of the technology industry.