Cloud Edge Tracker: All In on 5G Enterprise Services

We've been busy analyzing 5G network services for our quarterly Cloud Tracker Pro report -- the Cloud Edge Tracker -- but we thought we'd share some of these findings with our broader audience.
5G services are much hyped, of course. But after a careful analysis of more than 60 service launches in the last year, some key trends are shaping up. 5G networks are proliferating worldwide, with enterprise applications targeting digital transformation taking the lead, including private wireless.
According to Futuriom data gathered on 64 services from 52 providers of 5G, a variety of service types, including private wireless services and those aimed at the Internet of Things (IoT), are emerging from providers around the world: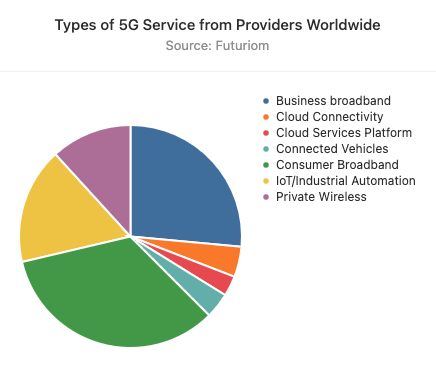 Futuriom's Cloud Tracker Pro is also diving deeper into specific 5G use cases. In addition to general applications such as broadband connectivity, manufacturing was reported as the next most popular service on offer, with ultra reliable low latency communications (URLLC) coming in third. URLLC services are particularly useful in edge datacenter applications for financial services, healthcare, vehicle communications, and industrial automation, where data must be processed in near real time.

Another interesting development is the popularity of drone management services using 5G, as well as 5G use for augmented reality/virtual reality applications. In this vein, Rudsak, a vendor of leather apparel, has worked with Bell Canada and AWS to implement an Odience immersive shopping platform from Summit Tech for use in pop-up stores associated with events. Customers choose products via virtual reality headsets or smartphones.
Who's Offering 5G
Presently, the vast majority of 5G services are provided by telcos. But all of the major public cloud providers are intent on providing cloud-native core and RAN services for use with telecom networks or, as in the case of AWS, on the Citizens Broadband Radio Service (CBRS). Futuriom also sees a major increase in capital spending among cloud providers looking to extend their cloud environments in 5G services. Indeed, cloud providers are spending at a more aggressive rate than telcos – and since 2020 their actual monetary capex levels have been greater than those of the telcos we've tracked.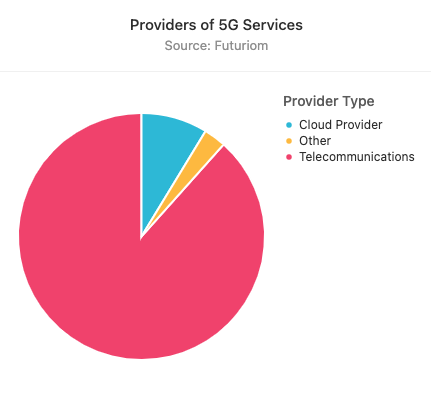 Regional Data
5G services are well established in China and the rest of the Asia-Pacific region, where subscriber numbers -- and download speeds -- are the highest in the world. An exception is India, where Reliance Jio and Bharti Airtel plan rollouts starting in October. While 5G in the U.S. is also widely available, upload and download speeds typically match 4G LTE. Europe is distinguished by the sheer number of services on the go; in every country, telecom providers are provisioning 5G, with a focus on IoT.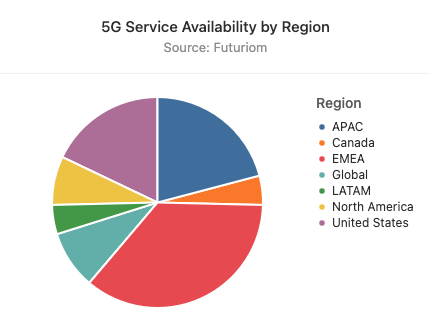 Private Wireless on the Rise
Suppliers of 5G services for business are intent on offering private wireless networks, which support advanced security and management functions. Examples include Rogers Communications in Canada, which along with vendors Ericsson and Dell is using its 5G SA network to furnish private IoT services to Kirkland Lake Gold's Detour Lake Mine. Elsewhere, Norway's Telenor is supplying private 5G IoT services to Yeti Move, which manufactures autonomous snow plows and is planning to use the system to clear runways at Oslo Airport.
In addition to multiple industries, several vertical industries are targeted by private wireless suppliers tracked by Futuriom. These include manufacturing, transportation, healthcare, media and entertainment, and retail.
More Is on the Way

The growth of 5G enterprise applications will be boosted by the availability of 5G Standalone (SA), which permits sophisticated functionality such as network slicing, the ability to support multiple virtual links on a single physical 5G connection. Today, according to our research, just a handful of providers, including KDDI, Rogers, Singtel, and Vodafone (to name a few) claim to have standalone core 5G. In India, Reliance Jio says it will be offering SA as part of its 5G rollout next month.
Since most 5G services today rely on non-standalone (NSA) 5G, which is built on the 4G LTE network, companies will need to invest in SA networks in order to provide the kinds of sophisticated, multifunctional applications envisioned for enterprise 5G.
Futuriom will address 5G trends and the progress of capital spending that will spur their growth in an upcoming Edge Cloud Tracker report (part of our premium Cloud Tracker Pro service). Stay tuned!