When Will the Tech Sector Rebound?
Economic uncertainty has hit the tech sector hard, with telcos, cloud providers, equipment suppliers, and enterprise customers looking for some direction amid high interest rates and geopolitical crises. And it looks as though everyone will have to wait until mid-2024 to get back on the upward track.
Let's start with the telcos. It's no secret that carrier spending is down, with the near future still foggy. "We believe telco operators have prioritized cash flow goals, and continue to defer some network investments," wrote Simon Leopold and partners with financial firm Raymond James in a recent investor note.
Indeed, telco revenues remain muted while customers face high interest rates and carriers digest their own heavy investments in 5G, which has failed to be as lucrative as the operators had hoped. All three of the top U.S. carriers have projected capital spending (capex) to be flat to significantly reduced for the foreseeable future, and the Raymond James analysts estimate that telco capex growth for 2023 will dip 16% below what it was for 2022.
That said, an examination of telco supplier inventories has the analysts anticipating that telco spending could tick up next year. "[T]he general consensus of OEMs suggests that telco order patterns improve in early to mid-2024," they wrote. "Optical component suppliers may see telco related orders improve a bit later."
Hyperscalers Hopeful
The leading cloud providers aren't showing the sizable reduction in capex that's haunting the telcos, but there has been a reduction in webscaler capex during the first two quarters of 2023 compared with similar timeframes in the past.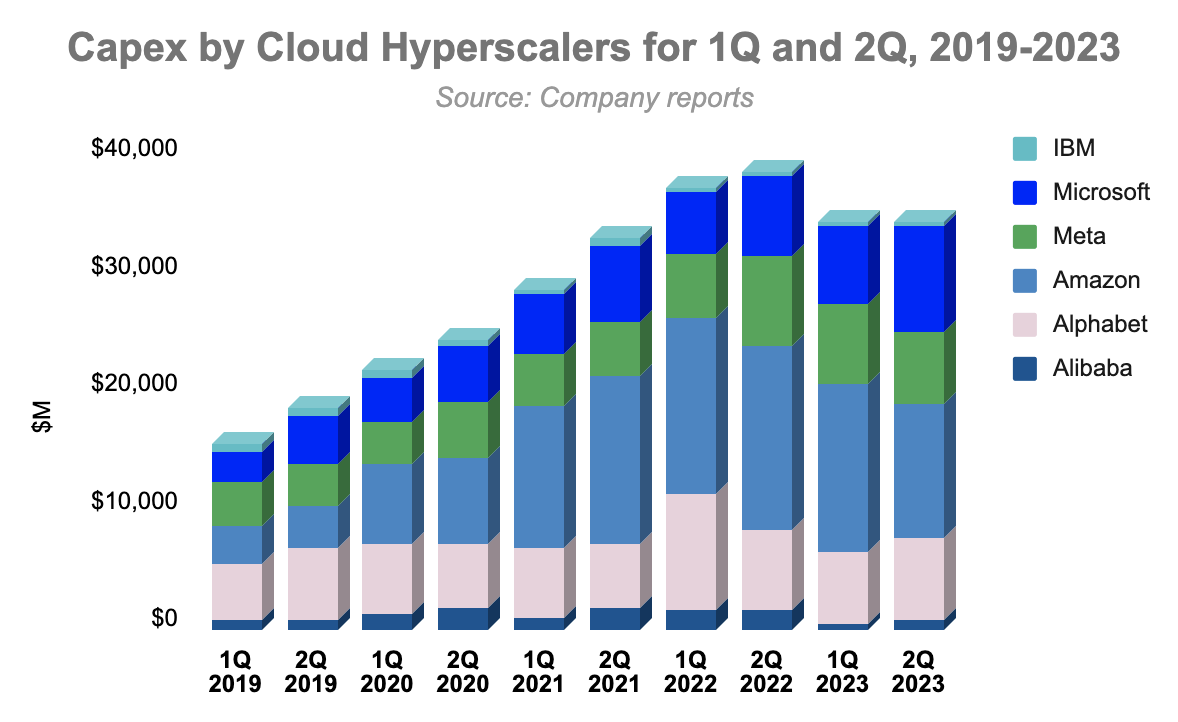 Overall, cloud spending, while on a larger scale than that of the telcos, reflects the overall economic slump: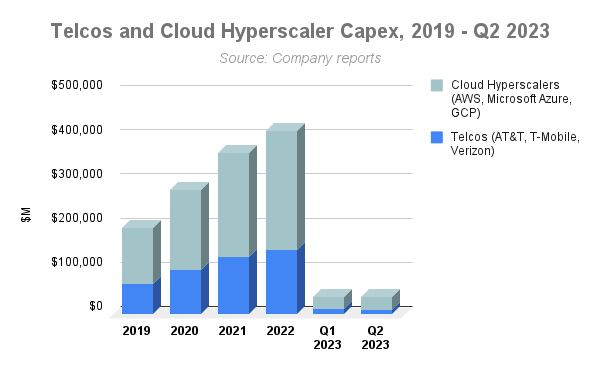 Despite the pullbacks, the RJ team estimates that year-over-year growth in cloud capex for 2023 will be 8%.
Equipment Providers Will Benefit
Part of the reason for optimism about the hyperscalers' prospects is their push into generative AI. While spending may be cautious, over time the shift to greater AI should have a positive effect not only on the cloud providers themselves but on their suppliers. The Raymond James analysts state:
"AI excitement has abated somewhat following the hype surrounding 1Q23 earnings. The fundamental cycle is just getting started and should last for years…. Constructing an AI platform resembles any data center; however, these systems are on steroids. In the near-term, AI initiatives and GPUs in particular may cause budget shifts, but GPUs and AI are dependent on the network because of the distributed nature of AI workloads; ultimately, we expect a knock-on effect benefits much of networking."
Among equipment providers that stand to benefit from the move to AI workloads is Arista Networks (NYSE: ANET). That vendor's support of high-speed Ethernet over InfiniBand could be a bellwether to future earnings. "[W]e believe the timing of a shift from InfiniBand in favor of Ethernet solutions is meaningful for Arista's prospects," wrote the RJ analysts.
Arista rival Juniper (NYSE: JNPR), which has suffered from the downturn in telco spending, should also start to benefit from hyperscaler AI buildouts. The RJ analysts state: "We envision upside to both sales and margin estimates beginning with 2Q24. We see the shares as inexpensive, with a 2023 P/E near 11x, with upward revisions and earnings growth as catalysts for multiple expansion and stock appreciation." Nice!
Components Dwindling
At the bottom of the food chain, components required by equipment providers for use in telco and hyperscaler networks are seeing an evening out of orders following post-pandemic inventory issues. "Supply chains have improved but are not fully recovered," the RJ analysts wrote. Companies are still working through the glut of inventory they garnered during the pandemic and after. But the analysts don't see this as reflective of a decline in demand:
"Operators are drawing down system inventory, and in turn, OEMs are drawing down component inventory. As long as cancellation rates remain low and vendors do not resort to discounting, we believe fundamental demand remains resilient."
Bottom line: The upcoming earnings season could reflect doubts about the immediate future of the tech markets, but there seems reason to hope that AI and accompanying demand for networking gear will lead to better news this time next year.