TSMC: Big Growth, Big Plans

Taiwan Semiconductor Manufacturing Company (TSMC, NYSE: TSM) wowed Wall Street today with its fourth-quarter 2021 earnings report, showing again that global pandemic conditions are only a plus for the world's most powerful chip firm.
For the quarter ending December 31, 2021, TSMC revenue was US$15.74 billion, beating analyst expectations and representing growth of 24.1% year-over-year and 5.8% sequentially. Net income and diluted earnings per share (EPS) both grew 16.4% year-over-year in Taiwan dollars, again exceeding expectations. Quarterly gross margin was 52.7%; operating margin, 41.7%. Net profit margin was 37.9%.
For the year, revenues of US$56.8 billion were up 25% from US$45.5 billion in 2020. In U.S. dollar terms, net income was US$21.37 billion, up 21% year-over-year. Diluted EPS for the year was US$0.82, up from US$0.65 last year. Since 2019, TSMC revenues have grown 64% in U.S. dollar terms.
Advanced Technologies In High Demand
Chips for 5G-compatible smartphones, high-performance computing (HPC) components, Internet of Things (IoT) devices, and automotive systems accounted for the lion's share of growth in 2021 sales, said TSMC execs on today's earnings call. The charts below illustrate this growth: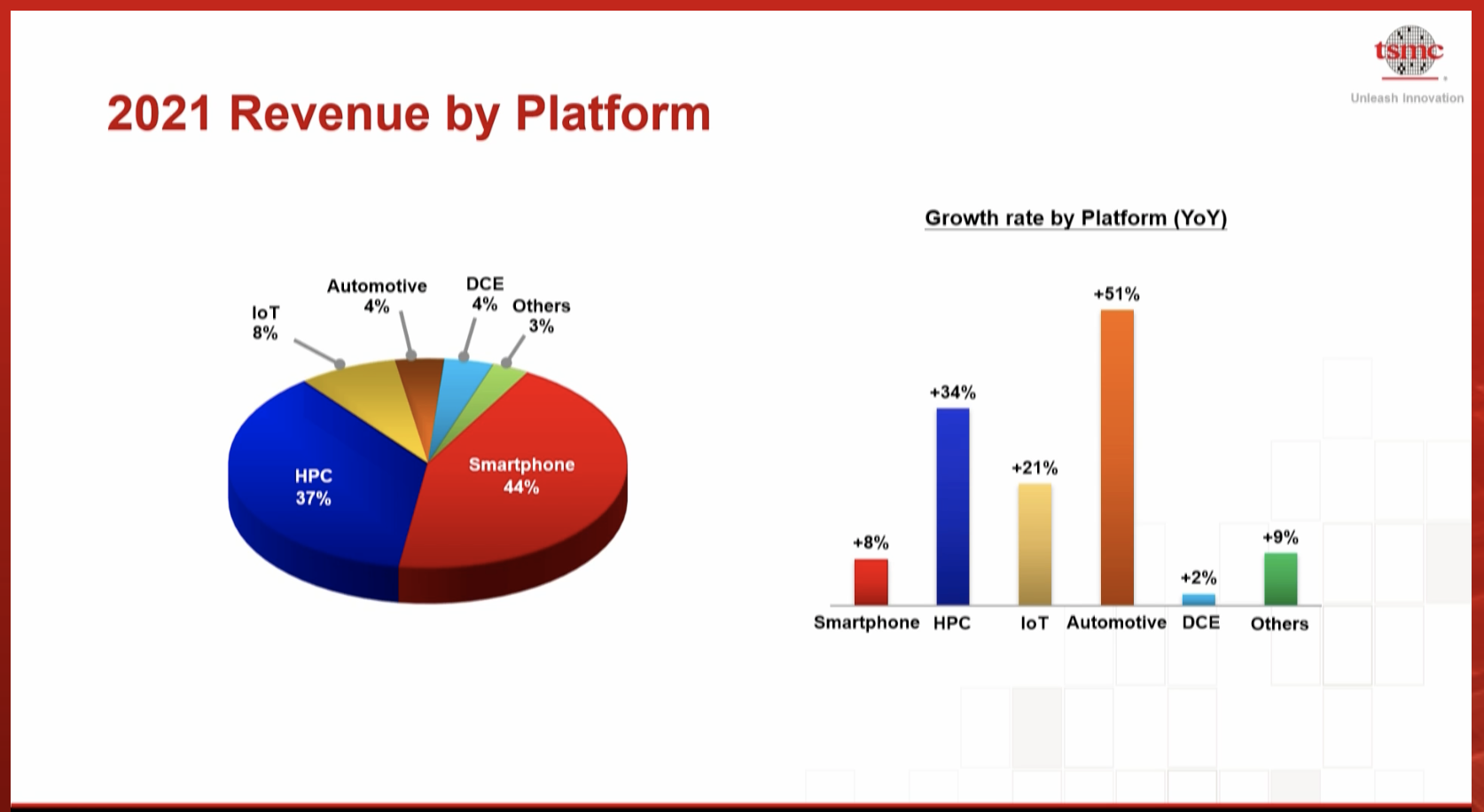 Source: TSMC
In highest demand were thin-wafer chips in the 5- and 7-nanometer (nm) categories, which TSMC refers to as its advanced technology segment. In 2021, these chips accounted for 50% of TSMC's revenues, up from 41% in 2020.
TSMC and Samsung are the only suppliers worldwide that can make these chips at scale. And these are the chips urgently needed by makers of other components, including Advanced Micro Devices (Nasdaq: AMD), Intel (Nasdaq: INTC), and NVIDIA (Nasdaq: NVDA), as well as by device vendors such as Apple (Nasdaq: AAPL), which is TSMC's largest customer.
A Rosy Outlook
TSMC says demand is so strong for these components that the company has decided to increase its capex budget from US$30 billion in 2021 to between US$40 billion to US$44 billion for 2022. Of that money, 70% to 80% will go to not only 5- and 7-nm technologies but to as-yet-unreleased 2- and 3-nm wafers as well, execs said. Remaining capex will likely go to what execs term specialty components.
TSMC expects to grow faster than the semiconductor foundry market in 2022. Overall, that market is expected to grow 20% next year, but TSMC says demand from all of its leading markets – smartphone, HPC, IoT, and automotive – will allow it to reach foundry growth in the mid- to high 20s percentage-wise.
Financial guidance yielded further good news: Revenue for the first quarter 2022 is expected to fall between US$16.6 billion and US$17.2 billion, representing sequential growth from 5% to 9%. Gross margin is expected to fall between 53% and 55%.
What Could Possibly Go Wrong?
Despite the good news, TSMC faces challenges. One of these is that supply-chain woes are causing customers to stockpile inventory, which could lead to a surplus later on.
TSMC CEO C.C. Wei maintained today that ongoing demand will supersede any negative effects of an inventory glut. "While short-term imbalance may or may not persist, we continue to observe the structural increases in long-term semiconductor demand underpinned by the industry megatrends of 5G and HPC-related applications," Wei said.
There is also the issue of unrest surrounding China's drive to annex Taiwan, which could affect TSMC's position in the global economy. TSMC is, however, looking to expand its foundries globally, which might help to offset political disruptions. In November 2021, for example, TSMC announced a rare joint venture with Sony Semiconductor Solutions Corp. in Japan to build a $7 billion fabrication facility for specialty chips in that country. Plans are being floated for a half-dozen U.S. foundries, on top of a $10 billion - $12 billion plant already planned for Arizona.
TSMC is a powerhouse, and even with its challenges, it's likely to come out ahead one way or another. The next twenty-four months will be telling.
At the close of trading today, TSMC shares were selling for $139.19, +6.96 (5.26%).