Capex Trend Down for AT&T, Telefonica, Verizon

Telecom companies worldwide cut capital spending during the first half of 2020, not just stalling network build-outs but forcing a reevaluation of where available funds are spent.
A scan of financial results across a handful of the world's largest telcos shows that most have reduced capex in the wake of the COVID-19 crisis by at least 9% over the last few months, as shown in the chart below: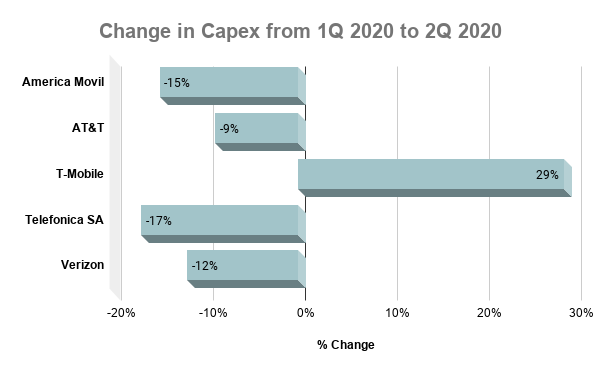 Notably, T-Mobile (TMUS) was a big exception. Thanks to its merger with Sprint in April 2020, the carrier has grown revenues and customer counts and is happily pushing to expand its 5G network.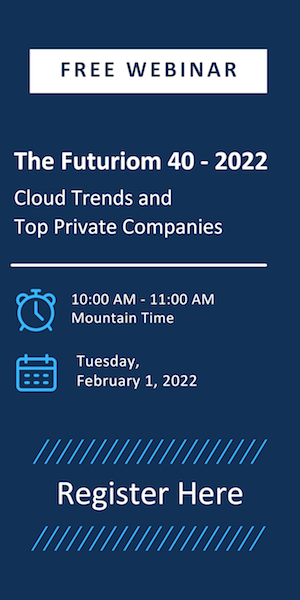 But other carriers are backing off and reconsidering where to spend most effectively. While some, particularly in China, are also focusing on 5G, others are looking at improving fixed broadband and fiber services to support enterprise remote work. Still others are pushing to digitize network services in order to cut their own costs and help enterprise customers save too.
Telcos Regroup Around Digital Transformation
While the world's telcos aren't following a uniform pattern, all of them have had to re-examine their goals. In most cases, this seems to have forced companies to make strategic decisions about their direction a bit sooner than expected. Instead of generalizing about network improvements, many are being more specific about their near-term goals.
Following is a short summary of how each carrier cited above is approaching capex.

América Móvil (AMX, AMOV). Latin America's leading carrier reduced its original capex budget for this year substantially. But even as it was forced to disconnect millions of prepaid wireless customers due to financial hardships brought on by COVID-19, the telco still added 450 thousand new broadband access lines across all locations. So capex may be reduced, but fixed broadband has become a priority. At the same time, execs say América Móvil will probably reduce its 5G rollouts in Brazil and Mexico for the time being.
AT&T (T). Already pressured early this year by shareholders to reduce spending, AT&T stayed the course once the pandemic hit, keeping its capex target of $20 billion for 2020. While AT&T's priorities seem to be the same, they are now more specifically articulated. Major areas of investment include broadband, fiber, the FirstNet government network for first responders, and 5G mobile. Interestingly, some analysts believe that in the near term many telcos will pull back on 5G and focus on technologies with more immediate gains, such as broadband and digitized services. AT&T may be one to watch in this regard.
Telefónica S.A. (TEF). In its most recent financial report in July, the Madrid-based multinational carrier acknowledged capex slowdown but said demand has grown for digital services, which is now a focal point of spending. In Spain, for example, Telefónica spent 51% of its second-quarter capex on disaggregated, virtualized next-generation networking (NGN). "We also believe that the COVID-19 crisis is likely to significantly accelerate the digitalisation shift, and we are already registering an increase in underlying demand for Cloud, Cyber, IoT, and eHealth services," the carrier noted in prepared remarks. On a conference call with analysts, executives reiterated plans to focus on making "ultra-broadband development" a near-term priority.
Verizon (VZ). The carrier lowered it capex during Q2, but it's maintaining momentum on 5G. "Capital expenditures support the capacity for traffic growth across Verizon's networks and the deployment of additional fiber and cell sites to expand the company's 5G Ultra Wideband rollout," stated the carrier's Q2 press release. Apparently, the telco sees its best future in high-speed wireless services.
Other Carriers Show Similar Trends
While specific numbers may be unavailable, there's evidence that other global carriers also are trending toward reduced capex but increased focus on network areas that may have been a bit lower on the priority list before the pandemic.
For instance, Vodafone (VOD), Britain's multinational carrier, suffered from reduced roaming revenue (since people weren't traveling) during the pandemic. Also, projects were delayed and prepaid mobile contracts weren't renewed. Still, the carrier says it will continue to focus on what it terms "next-generation fixed line and mobile technologies," particularly for government, education, and e-health applications. These are areas where immediate cost savings could offset the cost of technology improvements.
Back in August, NTT Docomo announced it would keep full-year 2020 capex commensurate with 2019's amount (no increase) and would continue to expand its 5G network. Now those plans are up in the air, as parent company Nippon Telegraph & Telephone (NTT) announced this week a plan to pay nearly $38 billion to buy up the remaining one-third or so of Docomo it does not own. While it's not clear how much the pandemic affected NTT's decision to step in and take over, it certainly must have been a factor. Docomo was underperforming in a number of areas, including capex. NTT seems to be focused less on network expansion right now, however, than on reducing mobile prices in response to government demands. How these changes will shift the company's strategy remains to be seen.
Future Capex Becomes Less Predictable
It is not clear how soon capex will return to growth for the world's biggest carriers. The next year will likely see them continually re-evaluating their strategies, taking stock again and again as geopolitical and macroeconomic conditions continue to morph.
But one thing seems clear: The worldwide COVID crisis has forced telcos to think hard about their infrastructure spending, and those considerations seem to be causing an accelerated move to digital transformation, however piecemeal the progress may be.
(For more detailed information on Capex Trends, you can subscribe to our Cloud Tracker services, which is part of Cloud Tracker Pro subscription -- delivering dozens of thoughtful, independent research reports and briefs on cloud technology and capex throughout the year.)