Striim Offers SaaS Version of Data Integration Platform

Striim Inc. announced the general availability of Striim Cloud, a fully managed software-as-a-service (SaaS) version of its real-time data streaming and integration platform. Striim says the solution, now billed according to usage, offers ease of use and economies of scale.
In the world of multicloud computing, Striim solves a tough problem – namely, how to get data to work across databases, data warehouses, and data lakes in real-time mode in data- and event-driven applications. A customer service app, for instance, must be able to immediately respond to a user's indicated preference. If I look to reserve a seat on an airplane via mobile phone, it's in the airline's best interest to serve me my window seat. If I'm tracking a package, the delivery service must be able to give me the location of my order.
Cloud-Borne Intermediary

Striim is one of a several firms aiming to tackle the problem of data delivery across hybrid cloud data stores. The roster includes established players such as AWS, IBM (NYSE: IBM), Informatica (NYSE: INFA), Microsoft (Nasdaq: MSFT), and Oracle (NYSE: ORCL), as well as newer companies such as Fivetran and Stitch, a subsidiary of Talend (Nasdaq: TLND), to name just a few.

Each of these players has its own take on the data store-to-data store process traditionally called extract, transform, and load (ETL), but most claim to have left the original ETL behind. "The old ways of ETL are morphing," said Alok Pareek, cofounder and EVP, Products, at Striim. "Today you have to do multiple things all at once."
What Striim offers that's different, he says, is the combination of analytics and operations in one system. The cloud-based service transfers data from database management systems (DBMSs) such as Microsoft SQL Server, or from queuing systems such as Kafka, to cloud services such as AWS, Azure, and Google Cloud, as well as to cloud storage services and other DBMSs. While the data moves in real time, Striim can apply artificial intelligence (AI) to analyze it and make any changes needed for use in the target system. Striim has a long list of sources and targets, and its process is summarized in the following diagram: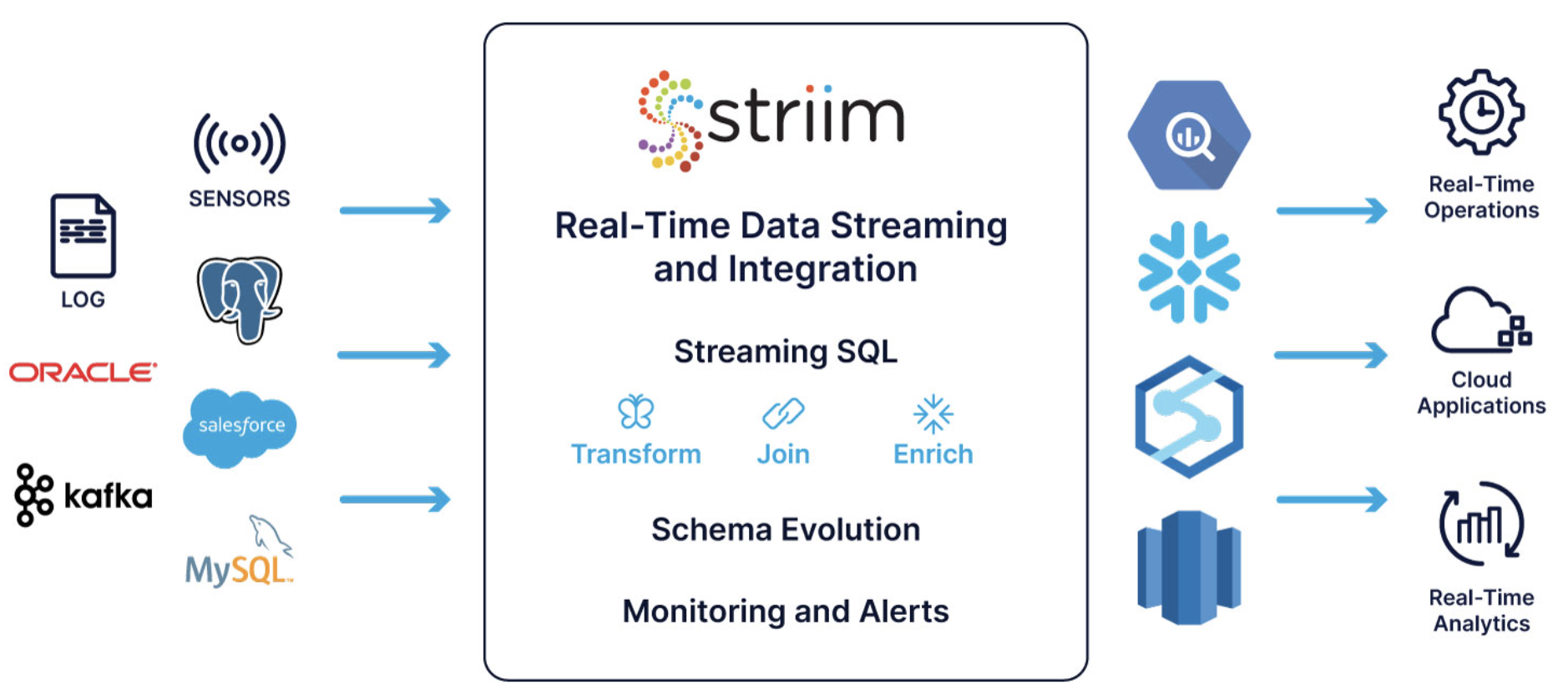 Source: Striim
Puzzling Partnerships
Striim includes among its technology partners a variety of data management companies, including Hewlett Packard Enterprise (NYSE: HPE), Dell (NYSE: DELL), Fujitsu, and Intel (Nasdaq: INTC). Also included is Hazelcast, which combines in-memory computing with real-time stream processing to support ultra-fast, distributed applications. Notably, Striim cofounder and CEO Ali Kutay serves on Hazelcast's board.
The permutations of Striim integrations can be confusing. Striim Cloud, for example, works on the Microsoft Azure platform, and the vendor says it will soon run on Google Cloud Platform (GCP) and AWS. But the vendor's licensed product is integrated with Azure and GCP DBMSs.
Striim's Background
Striim was founded in 2012 by Ali Kutay and Alok Pareek. It is headquartered in Palo Alto, California. It has about $108.5 million in funding, according to Crunchbase. Last March, the company landed $50 million in a Series C round led by Goldman Sachs Growth Equity. Other investors include Summit Partners, Atlantic Bridge Ventures, Dell Ventures, and Bosch Ventures.
Striim claims to have realized over 100% growth year-over-year for the past couple of years. The company has about 240 employees, and about 200 customers, including Macy's, Albertsons, Google, Gartner, and Orange.
The move to cloud isn't coming a moment too soon. While Striim says it will continue to support its licensed version, the general market trend is toward cloud-based services, which enterprises find more economical and less operationally intensive. Striim has taken its place in a significant segment.