Private 5G Interest Surges

Private 5G growth seems to have taken an upturn, according to a spate of recent announcements. And partnerships among telcos, integrators, and cloud hyperscalers are helping to home in on the hottest areas of market demand.
Case in point: last week's news that Hewlett Packard Enterprise (NYSE: HPE) had closed the purchase of Athonet, an 18-year-old company founded in Italy that makes core software for private 4G and 5G networks (acquisition pricetag not disclosed). In a blog celebrating the event, Tom Craig, general manager, Communications Technology Group at HPE, said the market is eager for private 5G. He wrote:
"I fundamentally believe that the true value of 5G lies with enterprises rather than consumers. The billions of dollars spent on acquiring spectrum and deploying 5G networks will not be covered by consumer customers, instead the opportunity lies with enterprise use cases."
Athonet, Craig noted, has over 450 enterprise customers with private wireless networks for a range of applications in healthcare, transport and logistics, utilities, and government. (Besides those, Athonet's website mentions manufacturing, mining, airports, ports, automotive, and public safety.) But HPE's goal will extend in another direction: Craig sees HPE leveraging Athonet's technology along with HPE's own offerings to bring telcos the private 5G elements they require to create "new revenue-generating services" for enterprises. Craig wrote:
"HPE is setting the stage for tremendous growth and innovation in the private networking portfolio by integrating Athonet's expertise into our existing telco and HPE Aruba Networking enterprise offerings, and leveraging HPE's global sales and partner ecosystem."
This makes sense. Enterprises are looking to telcos for the 5G spectrum-based services they need. But telcos haven't yet mastered the software required to package services for specific applications. It's the old "dumb pipe" syndrome, and HPE intends to give service providers a way past it.
Google Cloud Teams with T-Mobile
HPE's news dovetails with a trend among cloud providers to tap into carrier networks to provide private 5G to enterprise customers. Last week, T-Mobile (Nasdaq: TMUS) announced a partnership with Google Cloud in which the carrier will connect its 5G Advanced Network Solutions (ANS) series of public, private, and hybrid 5G services with Google Distributed Cloud Edge (GDC Edge) to fuel enterprise services.
In a similar vein, AWS offers Integrated Private Wireless, a portal-style service that combines private 5G and 4G LTE networks from carriers that include Deutsche Telekom, KDDI, Orange, T-Mobile, and Telefonica Tech with AWS cloud services. And Microsoft's Azure Operator Nexus platform allows telcos to more easily bring network functions into the Azure cloud. Microsoft also has made its Azure Private MEC and Azure Private 5G Core services generally available to service providers in an effort to boost sales of private services. So far, BT Group, Deutsche Telekom, Elisa, Etisalat, Tampnet, TIM Brasil, and AT&T have been selling private 5G services incorporating Azure Private MEC.
Nokia and DXC Join for Private Wireless
There's more news on the private 5G front. On June 15, Nokia (NYSE: NOK) announced a partnership with tech integrator DXC Technology (NYSE: DXC) to offer a private wireless network to "industrial enterprises." The DXC Signal Private LTE and 5G service uses Nokia's MX Industrial Edge (MXIE) and Nokia Digital Automation Cloud (DAC) cellular network elements for Citizens Broadband Radio Service (CBRS) in the U.S. (with plans to adapt to other spectrum elsewhere). In addition, DXC brings to the service its Platform X security, analytics, and management system, which is based on an AI-equipped NOC.
This too makes sense. Instead of selling private 5G kit directly to enterprises that may not have the expertise to create a private network on top of it, Nokia is enlisting a partner with extensive capabilities in the integration services arena. In a press release, Raghav Sahgal, president of cloud and network services at Nokia, said:
"At Nokia, we believe building out a robust partner ecosystem is essential for enterprises to fully embrace Industry 4.0. Our go-to-market partnership with global system integrator, DXC, will be key to helping enterprises succeed in the digital economy…"
Nokia and DXC are also taking a sensible step in initially offering a solution fit to one of the top private 5G segments. The manufacturing sector consistently comes out in Futuriom's research as the leading market opportunity for 5G in general. There is plenty of business to focus on there before aiming for another complex slice of the private 5G pie.
Futuriom Sees Private 5G On the Rise
Over the past several months, it's become clear that private 5G is growing. Back in Q4 2022, we reported that private wireless accounted for 11% of services in our 5G Services Tracker database. Just three months later, that percentage had risen to 18%. And in our latest report due out this month, the percentage of services is 19%.
Private 5G services continue to show demand in the areas of manufacturing, retail, transportation (including logistics), media and entertainment, and healthcare. Following is a comparison of the leading vertical industries named by private 5G service providers in our database for Q4 2022 and Q2 2023. Note the growth in energy, education, and government within the six-month period:
Q4 2022: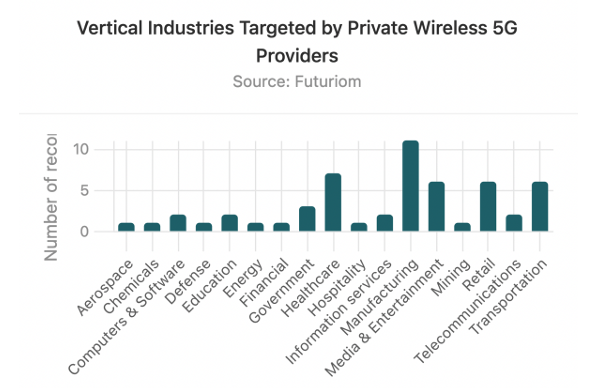 Q2 2023: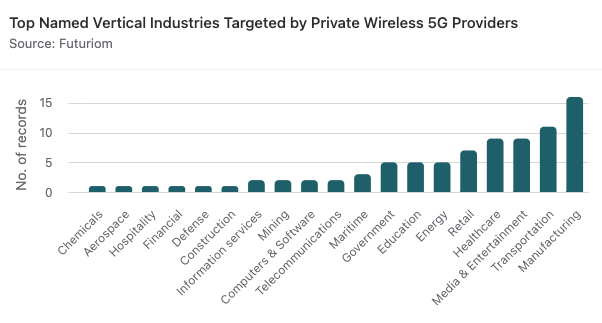 Private 5G is also spreading globally, with particular traction in the U.S. and Europe, and shown in the following chart. Note that we recently broke Middle East and Africa out separately from Europe. If we had kept those regions together, they would account for 45% of the private wireless services in our database.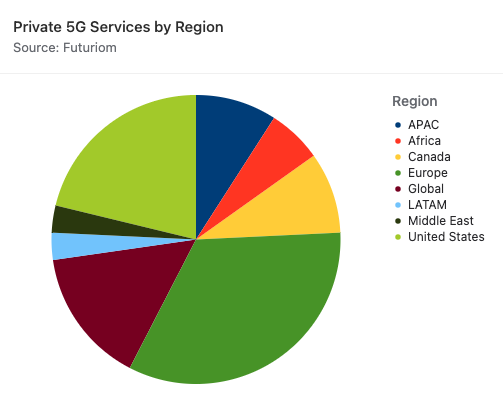 It appears that private 5G is steadily on the rise and will likely continue to grow in specific industries. Expect to see more specialized services pop up from partnerships among telcos, integrators, and 5G hardware and software suppliers.