KubeCon Katchup: Managing Sprawl, Observability, and Cost

CHICAGO – KubeCon – A few things stuck out here at the KubeCon conference for cloud tech pros. Cloud-native technology has clearly taken the world by storm – but the explosion of cloud-native tools, technologies, and gizmos is a bit overwhelming, and we have probably entered a digestion phase.
At KubeCon we saw an explosion of "observability" tools, lots of Kubernetes edge nonsense, and the emergence of a coherent platform engineering trend. But a lot of the people I spoke to said that most users are coming to the realization that the chaos must be contained (pun intended), and adoption of cloud-native will now proceed more cautiously.
In the meantime, economic conditions and more tight-fisted CFOs are looking to cut wanton spending on cloud data and services, so the cloud pushback will continue. It's an era of rationalization and optimization. Cloud pros need to work more efficiently. And the bosses want more accountability.
AI technology, which can be expensive and compute-intensive, will only accelerate this trend. With AI's massive thirst for power and a shortage of chips, companies will need to do more with less – and they will have to monitor and manage cloud consumption.
Time to Corral the Sprawl
Joe Duffy, the CEO of infrastructure-as-code company Pulumi, summed it up well: "There was a Cambrian explosion of cloud-native technologies and maybe eighty percent has to die," said Duffy. "There is so much sprawl. it's not working any more. We need to be more prescriptive for enterprises. Cloud management with best practices."
The sprawl has taken deep hold among developers and infrastructure managers, who are using dozens of tools and services to manage applications and services. Some of these might not be he best way to do things.
At KubeCon, dozens of companies purported to do similar things, and frankly it's hard to differentiate many of them. One only needs to start with the observability meme.
How Much Observability Is There Really?
The cloud-native world has become awash with observability tools.
My informal scan revealed that 30% of the KubeCon booths mentioned "observability." See the mosaic of observability I cooked up below from the booths. If you think about it, this is a bit of a silly and general word.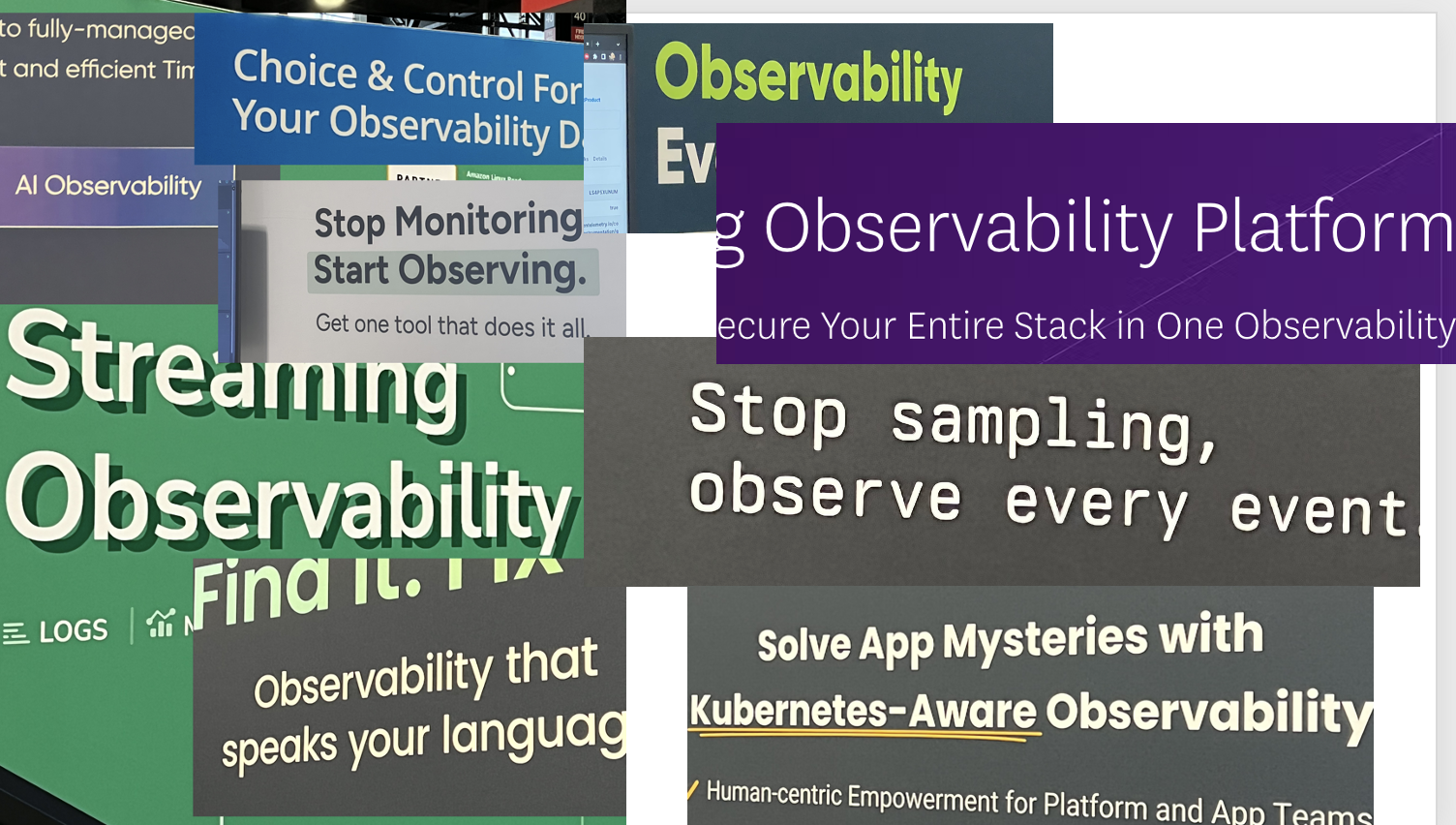 What is observability, actually? As one person said to me: "There are all these observability tools, but what do they actually do for you, other than get you to stare at a dashboard?"
Monday was declared "Observability Day!" (exclamation point is mine). In one interesting presentation I attended, Alolita Sharma, an AI/ML observability engineer with Apple (yes that's a title!), said that observability is an evolving area that needs more work. Observability will be crucial to cloud costs and management, but she said the data needs to be integrated with more cost management tools. For example, managers now want to connect observability with real-world business operations, including cloud financial operations (FinOps).
Laurent Gil, the cofounder and chief product officer of cloud management company CAST AI, noticed the same thing – but had stronger words. "Observability is no good if you can't use it to automate," he said. "We're going to be using observability for automation."
In short, observability is nice, but if you don't tie it to real-world use cases and automation, it can be useless. It's just a lot more data. And the dirty little secret of cloud is that pulling and moving data costs money.
Cost Management and Repatriation Rule
That brings us to the next topic: money. There has been a rising concern over the cost of cloud services and a push in today's slowing tech economy to cut costs.
This space is picking up steam. CAST AI is one of the companies pursuing this goal. Here at KubeCon, the company announced a new Series B round of funding as well as new features for its cloud cost management product -- Automated Workload Rightsizing and PrecisionPack.

Additional companies I saw talking about cloud cost management here included Chronosphere, Fermyon, Kubecost, Platform9, Virtana, Zesty, and Vantage – among many others. Our Cloud Cost Management Report covered more than 20 companies tackling cloud-cost management, and it looks like that number will grow substantially.
Cloud repatriation has also become a big issue, as enterprises start to compare the cost of private infrastructure with public infrastructure. Our recent research shows an uptick in user interest in hybrid infrastructure – blending on-premises private infrastructure with cloud services -- with more than 57% of polled enterprise users saying the future is hybrid.
Suda Srinivasan, VP of strategy and marketing at Yugabyte, told me the company is seeing similar moves toward repatriation and hybrid infrastructure: "We are seeing repatriation as a trend. If you have the need for unpredictability, the cloud is great. But if you have a steady state business, the cloud is not a great option at that point. You are better off doing it on-prem."
Srinivasan gave me an example: Walmart decided to build a multi-region distributed database on hybrid and private infrastructure. The project is detailed in the video below.
The bottom line is there is lots of flashy-looking Kool technology at KubeCon. But moving forward, serious enterprises are going to be more methodical about how they adopt cloud-native technology and services. And they're not just going to throw away their servers and virtual machines. They are going to look to preserve their investment and opt for technology that helps them gain the most efficiency and return on investment (ROI).

Related Articles