Cockroach Labs Scores $278 Million, Eyes IPO

Cockroach Labs, maker of the popular distributed database CockroachDB, has raised $278 million in Series F funding at a valuation of $5 billion. The move is the latest in a series of fundings and IPOs that highlight growing strength in the cloud data management space.
Cockroach, founded in 2015, has raised $633 million to date, and signs are good that this funding may be the final push the Futuriom 40 company needs to make its public debut.
Business is good: Cockroach says it's tripled its annual recurring revenue (ARR) over the last year. It claims a stunning 500% growth in adoption of its cloud-native database-as-a-service (DBaaS) offering, which over half of Cockroach's 200-plus customers have opted to use. And the company in October 2021 released CockroachDB Serverless, which eases developer access to its service and is billed on a consumption basis.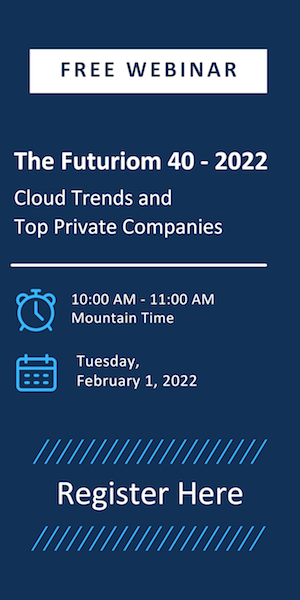 CockroachDB is also cloud-compatible with AWS and Google Cloud Platform. It also works with Azure, but it is not yet fully integrated off the shelf, though that work is underway, the company says. Ironically, Cockroach has been compared favorably against Google Cloud Spanner, allegedly being easier to use for data exporting.
Ready for IPO?
An initial public offering (IPO) is something Cockroach has been rumored to be considering for months. And management acknowledges this. "​​So that's our expectation," CEO and company co-founder Spencer Kimball told TechCrunch's Ron Miller. "What we're looking at now as a management team is what will it take to get there."
Judging by market forces, it may not take much more to get there. Rival Couchbase (Nasdaq: BASE) went public in August. That company had more customers (at 549) than Cockroach, and it boasted over $100 million in ARR, but its valuation at $1.2 billion was a fraction of Cockroach's.
The market itself is robust. According to MarketsandMarkets, the global cloud database and DBaaS market is expected to grow from $12 billion in 2020 to $24.8 billion by 2025 at a compound annual growth rate (CAGR) of 15.7%. The superset cloud data management market is even larger, expected by MarketsandMarkets to grow to $122.9 billion by 2025.
This kind of growth is reflected in the size of some current valuations in this space. Cohesity, which manages and analyzes stored data, claimed to be worth $3.7 billion when it was valued during a tender offer in April 2021. And Databricks, one of the leading cloud data management firms that's still private, raked in $1.6 billion in Series H funding this fall, achieving a mind-boggling post-money valuation of $38 million.
Startups Waiting in the Wings of IPO
With this kind of activity, it's interesting to see a handful of sizable firms, including Cockroach, still waiting in the wings of IPO. Inflation and market volatility don't help, and they could encourage some companies to continue to seek more funds instead of taking the public plunge. Competition is also fierce, but so far Cockroach has been able to differentiate itself sufficiently in terms of scalability and reliability to stay ahead of the game against a long list of players.
Despite the challenges, data continues to grow in size and importance for enterprises worldwide. And that's bound to strengthen the market -- and the lure of IPO. Going public is a big step and requires a rethinking of the challenges and corporate infrastructure required. But as momentum builds in this sector over the next year, we should see a fresh crop of public offerings in cloud data management, and Cockroach could be among them.
Cockroach's latest round was led by Greenoaks with participation from Altimeter, BOND, Benchmark, Coatue, FirstMark, GV, Index Ventures, J.P. Morgan, Lone Pine Capital, Redpoint Ventures, and Tiger Global.