Cato Networks Goes "Hands Free"
Cato Networks, a cloud-native software-defined wide-area networking (SD-WAN) carrier, today announced Hands-free Management for Cato Cloud, a secure managed SD-WAN service that enables enterprises to leave network and security configuration to Cato and partners. Cato claims this makes it the first global service provider to bring self-service, co-managed, and fully managed options for its global SD-WAN service.
Cato's offering is targeting a large need, because Futuriom research indicates that more simplified cloud management is frequently cited as one of the top attractions of SD-WAN technology, which enables network services to be easily provisioned with software from the cloud. A recent Futuriom survey of service providers indicated that ease of use and management was the third-highest driver of SD-WAN technology (see below).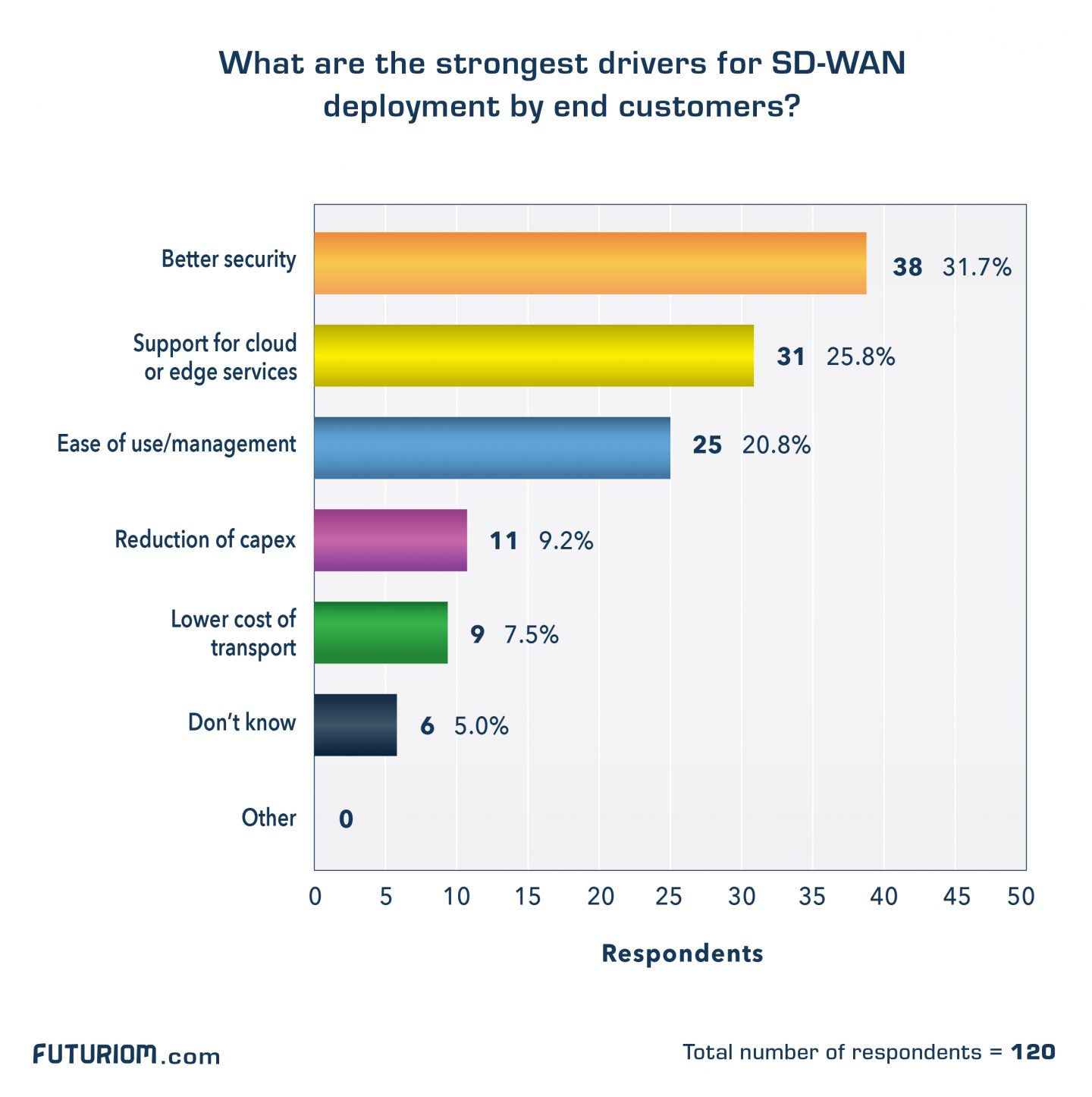 Cato had already provided the cloud-configuration features to enable enterprises to configure and troubleshoot networks themselves, saving time and operational costs. Now it provides the capability for IT to outsource all configuration management to Cato or its partners.

The new Cato Managed Services package also includes three other offerings:
• Managed Threat Detection and Response (MDR) continuously monitors the network for compromised, malware-infected endpoints. Cato MDR uses a combination of machine learning algorithms that mine network traffic for indicators of compromise, and human verification of detected anomalies. Cato experts then guide customers on remediating compromised endpoints .
• Intelligent Last-Mile Management provides 24×7, last-mile monitoring. In case of an outage or performance degradation, Cato will work with the ISP to resolve the issue, providing all relevant information and keeping the customer informed on the progress.
• Rapid Site Deployment provides customers with remote assistance in deploying Cato Sockets, Cato's zero-touch, SD-WAN device. Regardless of the management model in use, Cato retains responsibility for the underlying Cato Cloud infrastructure, so customers do not need to upgrade, patch, or otherwise maintain Cato software or hardware.
Cato has been unique in building its own IP transit network with cloud-based points of presence (POP) that are separate from the underlying physical infrastructure, which is supplied by global service providers. Cato believes this "cloud-first" approach is necessary to provide better service agility for WAN services, including security, which can be hosted in the cloud. Cato believes it's more efficient for enterprises to take existing last-mile connectivity and tie that to a cloud-based backbone, such as Cato's, which can provide them with management and valued-added WAN services.
This cloud model will likely be more attractive as SD-WAN services gain market-share and maturity, because enterprises are now becoming accustomed to the flexibility of buying and subscribing to IT services using the cloud.