Aviatrix Ups the Ante with CoPilot

The multi-cloud networking market is gathering momentum. Just a week after cross-town rival Alkira publicly launched its product, multi-cloud networking pioneer Aviatrix has hit back with the release of its CoPilot visibility and troubleshooting tool.
Avatrix's upgrade shows where the multi-cloud will likely be going in the future: to feature upgrades that allow networking managers to monitor and repair multi-cloud networking connections. IT and network managers don't always have visibility into the behavior of applications inside the various public clouds, a problem that Aviatrix has been focused on.
Telemetry and Analytics via APIs
CoPilot provides network intelligence using telemetry and data gathered via native public cloud APIs. The tool provides visualizations of multi-cloud network activity, including topology maps, FlowIQ intelligent traffic flow analytics, global traffic heat maps, time series trend charts, and a complete cloud network monitoring dashboard.
Aviatrix customers say CoPilot provides benefits in viewing, monitoring, and managing multi-cloud networking interactions that weren't visible before.
"I really like the added visibility that CoPilot has brought to my cloud network operations team," said Toby Foss, director of cloud network operations at software provider Informatica, in an Aviatrix statement.
Aviatrix has a long roster of customers, including Informatica, Hyatt, Yahoo, Teradata, IHG, and Netflix, among others. This is an area in which it has a significant lead on Alkira, which has yet to announce its customers.
The screen shot below provides an example of how the CoPilot heat map enables the tracking of network topology showing resource information and connectivity status. It also enables customized layouts, direct troubleshooting, and global search.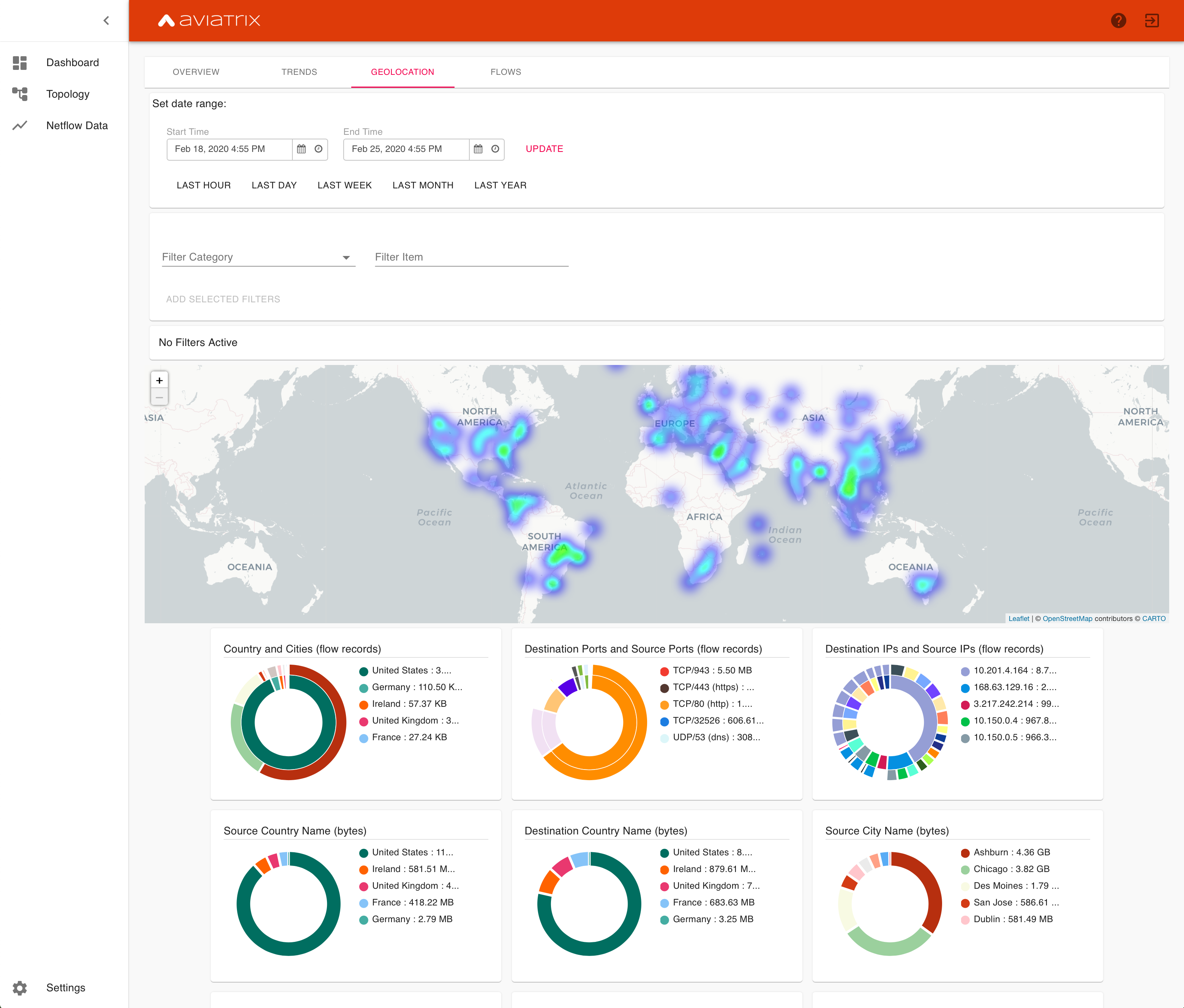 Customers Embrace Multi-Cloud Visibility
At an event hosted by Aviatrix in early March, several customers told me that one of the challenges in cloud networking is getting better visibility into the behavior of applications across multi-cloud networks.
Multiple clouds, or multi-clouds, will become key to IT strategy, as organizations figure out the best way to leverage and balance their applications and data in the cloudscape. But the network has fallen behind. Cloud networks will need to evolve to support the scale of data movement and processing, but the tools to connect multiple clouds are limited.
One of the reasons that these multi-cloud networking tools will be important is that companies will need a framework, or architecture, for managing how the network connects multi-cloud applications. Network architects have expressed the need for an abstracted framework for managing these environments.
"I would start with looking at an architecture model that can give consistency across the cloud vendors," said Luis Castillo, head of technology architecture with National Instruments, at the Aviatrix Altitude event in early March. "It's important to talk about automation and focus on value. When you have automation it adds a lot of value."
Network managers also talk about the challenges in operationalizing multi-cloud networks once they are set up. The key elements are visibility, monitoring, and troubleshooting. Legacy networking tools are not designed to provide visibility and management of networks in and across various public clouds.
"What we're really talking about is Day 2 [operations]," said Bobby Willoughby, network architect with Aegon, in March. "How do I do Day 1 work so I'm not spending eighty percent of my time managing the network? How do I make this as low maintenance as possible?"
The bottom line is that provisioning cloud network services is often easier than managing the operations. With CoPilot, Aviatrix is providing tools to do that with a consolidated, abstracted view of the multi-cloud environment.
This is an exciting time for multi-cloud networking. The significant addition of CoPilot shows this market will likely heat up fast, as startups race to rapidly innovate for managers of multi-cloud networks.