Maximizing Success with SONiC

Futuriom worked with Aviz Networks to examine a deployment by a major Fortune 500 e-commerce company and how it helped streamline, optimize, and manage a large networking fabric installation using the open-source Software for Open Networking in the Cloud (SONiC) Network Operating System (NOS) . We have produced a white paper on the topic which you can download here.
SONiC is experiencing rapid adoption by enterprises and webscale cloud providers, who are looking for an economical, multivendor and developer-friendly networking ecosystem that can scale. SONiC is widely available on switches from many original equipment manufacturers (OEMs).
Why SONiC Needs Better Support and Automation
With the introduction of a robust multivendor networking stack, enterprise-grade support, diagnostic tools, and remediation tools, SONiC will be a cost-effective and robust networking system at scale.This Leadership Brief looks at the full suite of management tools and support processes required from the SONiC ecosystem. SONiC customers need a network stack and support partner that can help them vet software deployments, detect potential failures in production, and immediately isolate root causes of any failure.
One of the most important factors in addressing these challenges is to identify a neutral partner that can bring the expertise, tools, and to facilitate a successful transition to SONiC with a full support stack, as illustrated below.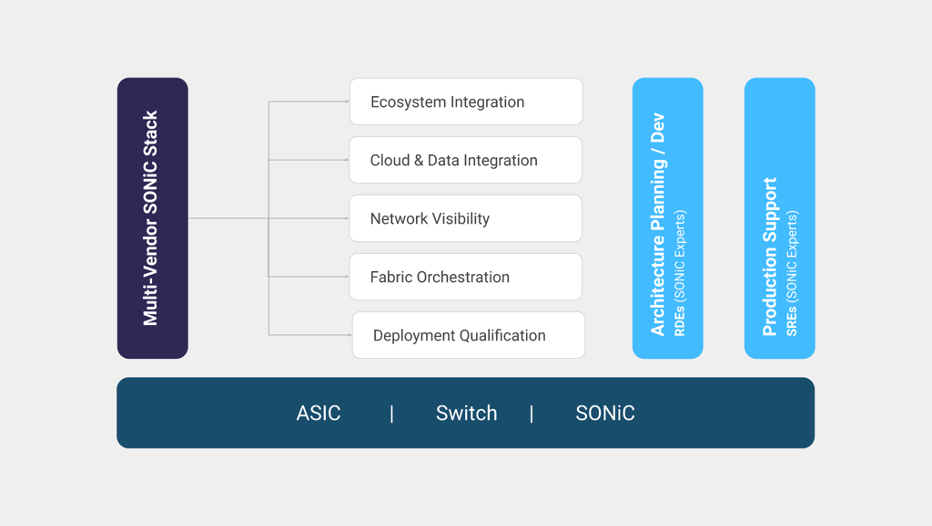 Key Challenges for SONiC
In looking at the SONiC market, it's clear that the the large installed base has much potential, but it could be improved with better packaging, support, and management tools.
Before deploying SONiC, an organization needs to have a vision for their open-source
network, a strategy for how it will be built, and a thorough plan for the transformation. To be prepared for the SONiC journey, enterprises need to have a good understanding of the technology readiness for their architecture and use case, multivendor NetOps tools, multivendor SONiC solution procurement, TCO analysis, SLA backed 24/7 multivendor support, a migration plan, and take stock of their resources and capabilities and determine whether they are prepared for the deployment and whether to go SONiC with an in house team or to partner with a neutral, third-party management and support vendor that is dedicated to SONiC.
So read the full case study, and learn how Aviz Networks implemented its Open Networking Enterprise Suite (ONES) to help the customer with the full SONiC process, including evaluation, testing, deployment, QA, production, issue resolution, and remediation of the networking fabric. The customer, who owns and operates data centers across three regions, originally ran their data centers mostly with black boxes from two vendors. However, they eventually moved to white boxes with SONiC to beat vendor lock-in, drive innovation, and overcome supply chain constraints from the global chip crisis.