Cloud Tracker Pro
5G Standalone Networks Grow Slowly

As high-speed 5G networking services continue to roll out planetwide, more attention is drawn to the underlying infrastructure. Where initially 5G services typically shared core networking with 4G LTE, service providers interested in the enterprise market are shifting to 5G standalone (SA) service, designed from edge to core specifically for 5G traffic. And the upgrade could help telcos realize some of the "monetization" that's eluded them up to now.
5G SA is the future of 5G enterprise services for several reasons. It is cloud native and flexible. 5G SA can, for instance, allocate "slices" of network bandwidth to enterprise customers to achieve private wireless networks. Its structure improves security, allows providers to assign service levels, and delivers lower latency for edge applications.
All of these capabilities could play to service providers' growing requirement to leverage 5G for a variety of enterprise applications, including smart manufacturing, healthcare, retail, and transportation and logistics. These kinds of apps are all geared to being more lucrative than delivering consumer broadband alone because they have the potential to offer higher revenue streams when deployed in volume.
The Progress of 5G Standalone
Futuriom's research shows that more telcos are adding 5G standalone (SA) cores to their services. Still, since more providers are entering the 5G market overall, it still looks as though roughly one-third of all telcos we track offer SA. As of this writing, 31% of the 159 services we track are based on 5G standalone service. Last quarter, the percentage was 30%. Below is a view of the standalone providers currently in our database: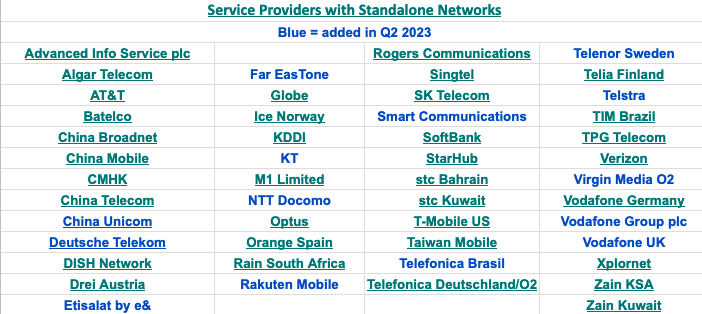 To access the rest of this content, you need a Futuriom CLOUD TRACKER PRO subscription — see below.