Cloud Tracker Pro
Who's Supporting the Most AI Startups and Why

Artificial intelligence (AI) is a booming market for startups, with an estimated 2,000 new firms underway worldwide. Of that, a handful have already garnered several multimillion-dollar funding rounds, many on billion-dollar-plus valuations.
All of which raises the question of who is subsidizing these high-profile startups -- and why?
An examination of a representative sampling of generative AI startups reveals a cadre of venture capital firms and investors leading the pack. These include the venture arms of key industry vendors, most notably Google (Alphabet – Nasdaq: GOOG), Microsoft (Nasdaq: MSFT), NVIDIA (Nasdaq: NVDA), Salesforce (NYSE: CRM), and SAP (NYSE: SAP).
These are joined by a range of other vendors and telcos, venture firms, and individual investors. In the charts below, we have highlighted in boldface blue the investors who've committed funds to two or more of our AI startups: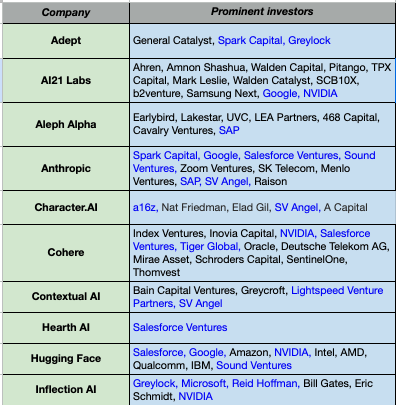 To access the rest of this content, you need a Futuriom CLOUD TRACKER PRO subscription — see below.