The 2018 SD-WAN Growth Outlook Is Here!
Networks are more important than ever, connecting consumers with digital content and enterprise users with critical business applications. Software-defined wide-area-networking (SD-WAN) technology represents a step forward in building adaptive networks to suit these needs while lowering operating expense (opex).
As bandwidth demands soar from both consumer and business needs, businesses are looking for better ways to manage, route, and secure the bits. SD-WAN enables network managers to plan network needs with software-based design and configuration that can be changed and managed centrally. It also enables IT and network staff to leverage growing broadband Internet capabilities to lower the cost of opex.
Futuriom's new report, the 2018 SD-WAN Growth Outlook, details the trends that are driving SD-WAN technologies into the market as well as the SD-WAN products and services that enable this application-aware, adaptive WAN.
Findings in the SD-WAN Growth Report
We spent months analyzing the market, talking to dozens of sources at enterprises, service providers and technology companies. The report covers the development of SD-WAN technology strategies and investment, including how fast you will see this technology grow in the market.
Some key findings in the report:
• Growth in the SD-WAN market is now accelerating. SD-WAN technology is receiving broad market acceptance as enterprises see direct return-on-investment in implementing cloud-managed WAN.
• The top drivers of SD-WAN growth are service agility and opex cost savings including bandwidth costs.
• Futuriom expects the market for SD-WAN tools and network-as-a-service (NaaS) revenue (non-legacy service provider) to reach $1.5 billion by 2019 and $2.5 billion by 2021. Our data was gathered from both SD-WAN software and services players and industry sources.
• At least three SD-WAN platform and NAAS vendors could exceed $100 million in annual revenue in 2018. The vendors most likely to do this are Aryaka, VMware/Velocloud, and Silver Peak.
• Many of the private SD-WAN companies are gaining momentum and have potential for an initial public offering (IPO) or major acquisition in the next few years. The leading candidates include Aryaka, Cato Networks, Cradlepoint, FatPipe, Silver Peak, and Versa Networks.
• Cato Networks and Versa Networks are focusing on security specialization. This has elevated the need for security integration into SD-WAN portfolios.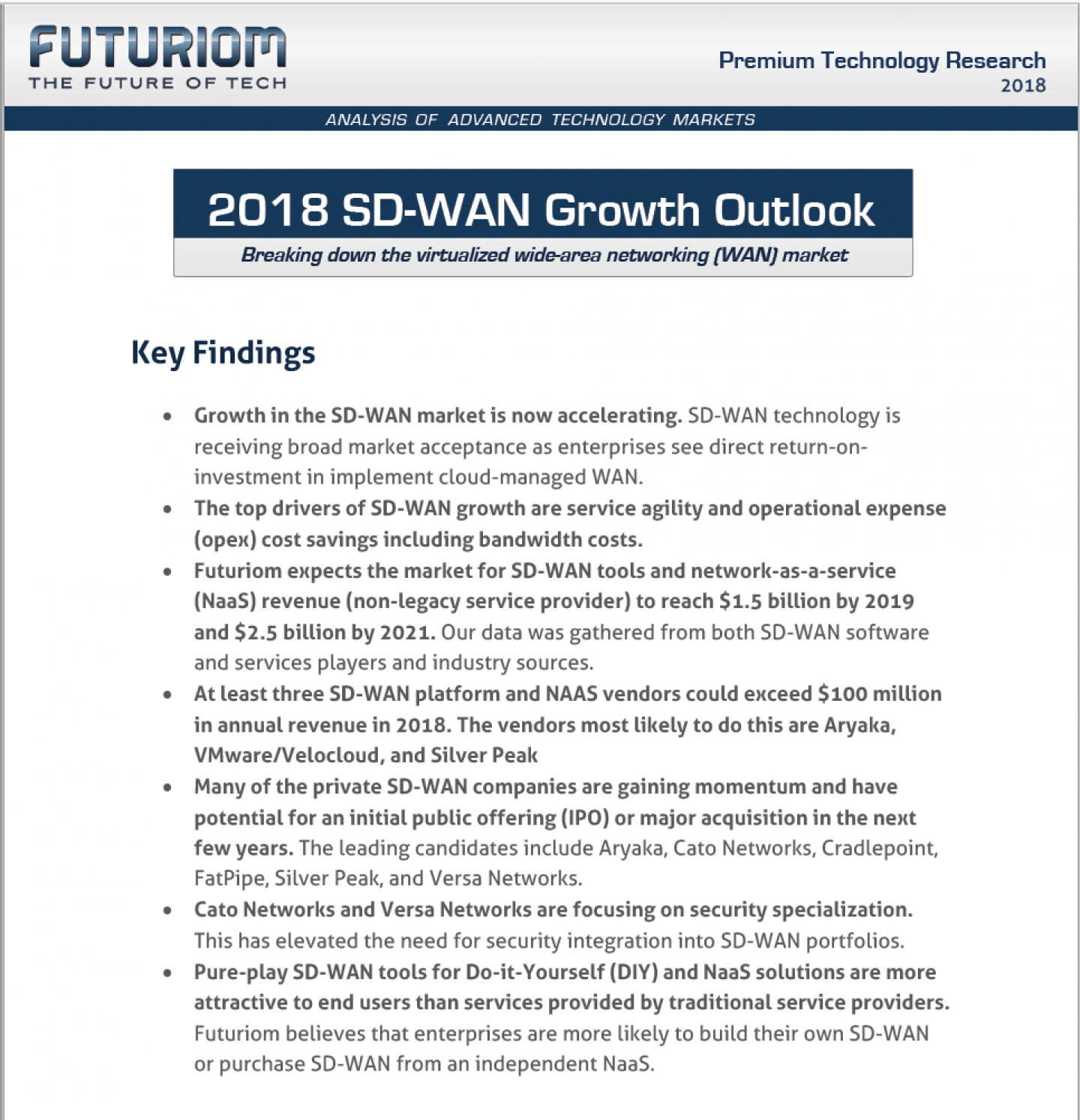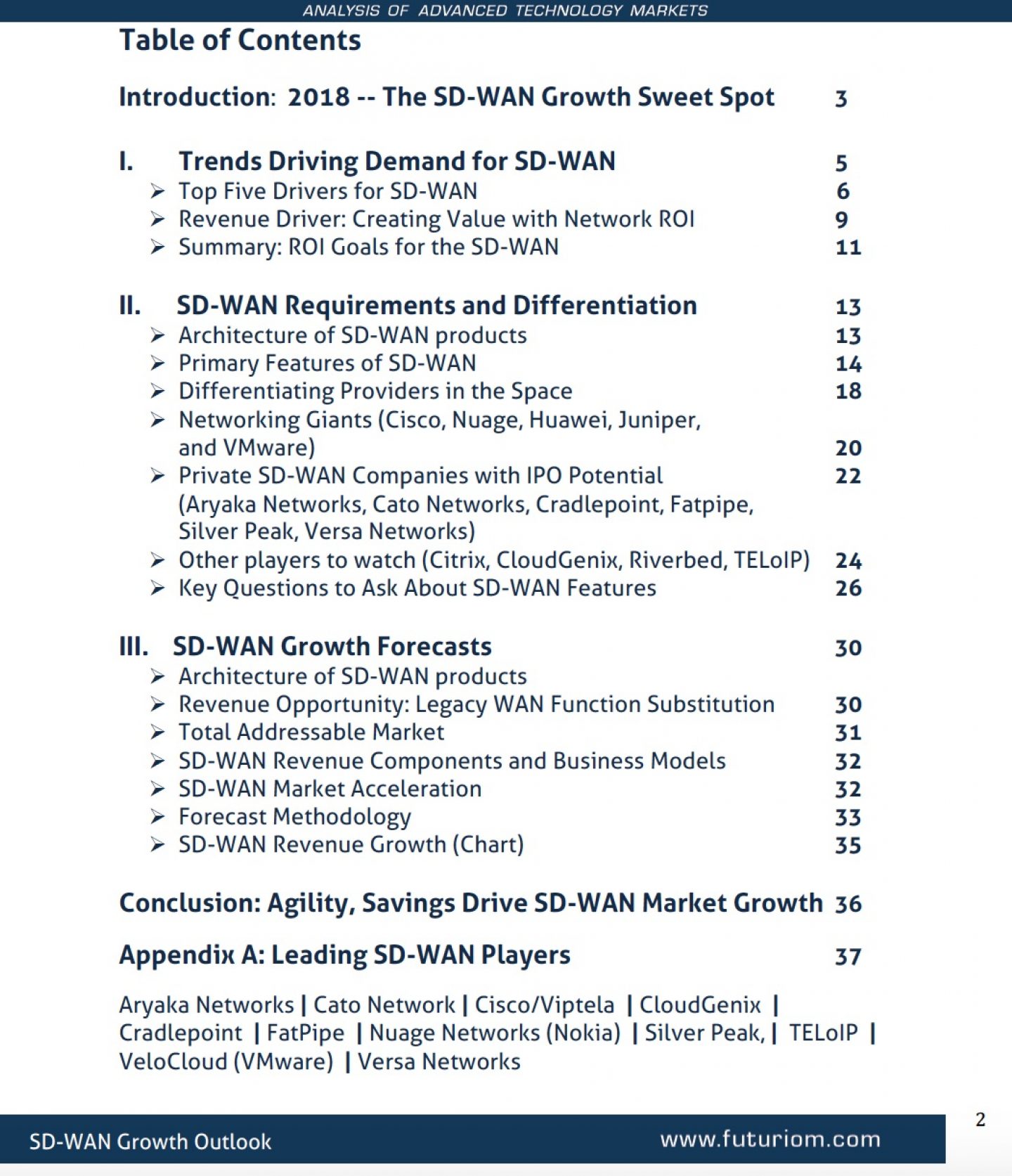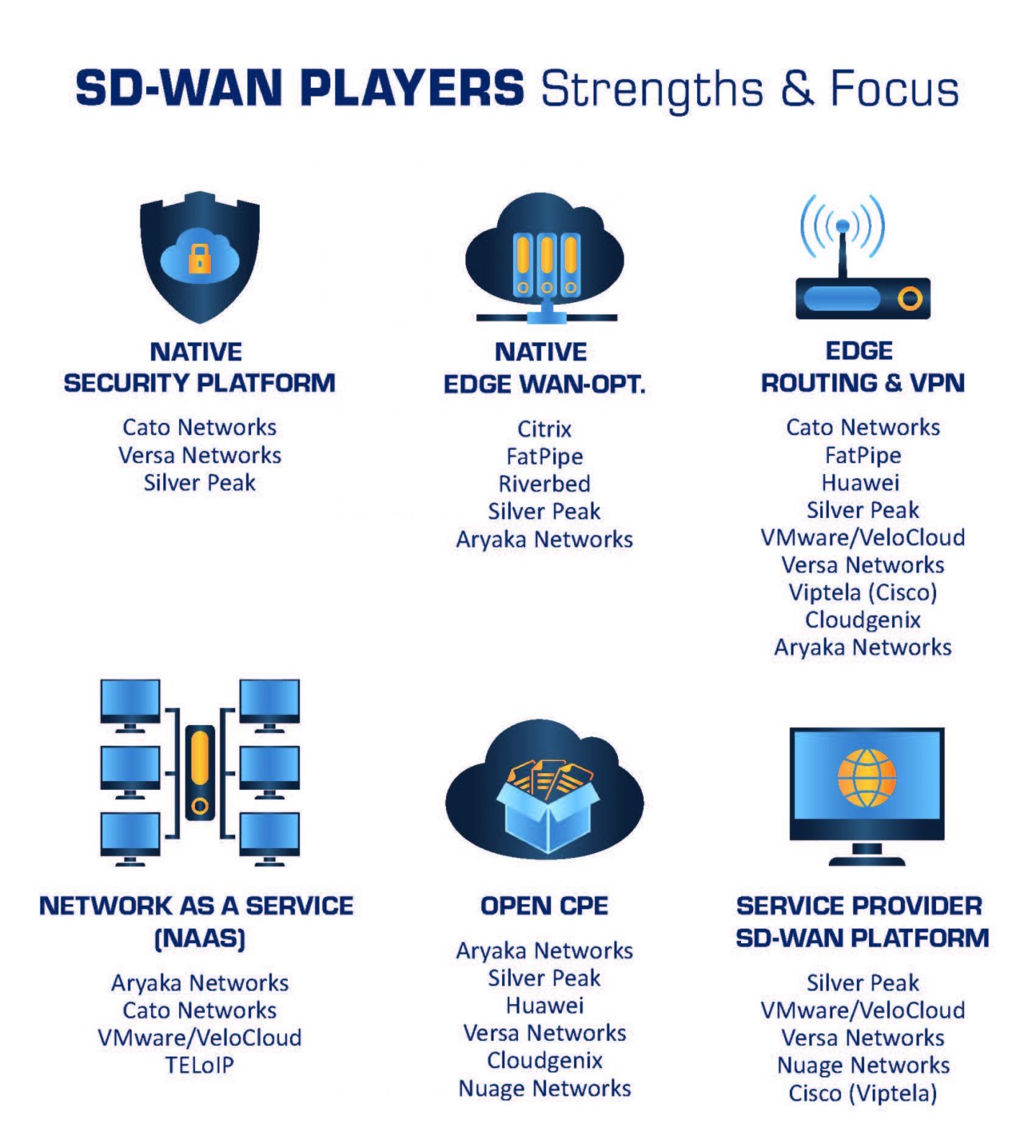 SDN-WAN Growth Outlook Details
You can purchase this premium Futuriom report by clicking on the button below. Use the discount code "FOFU" to get a 10% Friends of Futuriom discount.
Report Title: 2018 SD-WAN Growth Outlook
Length: 41 pages
Companies included: Aryaka Networks, Cato Network, Cisco/Viptela, CloudGenix,Cradlepoint, FatPipe, Nuage Networks (Nokia), Silver Peak, TELoIP, VeloCloud (VMware), Versa Networks
Price: $695
Terms: This is for a single-user license. Please contact sales at futuriom dot com for multi-user or enterprise license.