Survey Shows Frustration Over Lack of Cloud Control

Enterprise adoption of hybrid and multicloud environments remains strong, but control over managing and visibility over these resource is weak, and companies are reassessing their cloud use. That's the general finding of a survey of 350 information technology (IT) professionals in the U.S. and the U.K. undertaken in October 2022 by Virtana, a vendor of capacity, performance, and cost optimization services.
According to the survey results, cloud environments are the new norm, though IT remains burdened with managing costs and capacity planning, FinOps adoption is weak, and cost analysis is uncoordinated and lacking in detail.
Let's check out the results.
Cloud Use Is Up
Virtana's survey shows that 84% of respondents are running at least one-quarter of their corporate workloads in public cloud services; 45% are running over half their workloads there. Private cloud is similarly popular, with 72% reporting using it for over one-quarter of their workloads, and 33% saying they use it for over half.
Notably, respondents reported their use of the usual cloud titans, though Google Cloud Platform outdid Azure by a percentage point: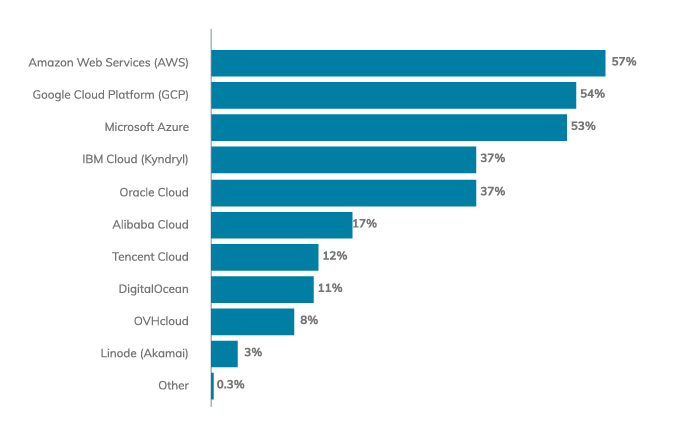 Though cloud adoption is the norm, coordination of costs and capacity optimization are not. While 73% of those surveyed said that tracking costs was somewhat or very important, more than one-quarter reported that cost tracking was neither important nor unimportant (15%) or that it was actually unimportant (12%).
Cloud Costs Rise in Importance
Given these figures, it's not surprising that 56% of respondents who use more than one public cloud provider track costs based on each separate monthly invoice – no coordination across invoices. Though 44% consolidate multiple cloud bills, 29% do so manually.
Further, IT is taking the responsibility for tracking the costs for 89% of respondents. FinOps is active in just 17% of the companies surveyed. Just 24% of respondents report having a mature FinOps division in place. At the same time, over one-third (38%) say they have FinOps deployed, though there's room for improvement.
Difficulties with capacity planning mirror the lack of cost controls: 87% claim to be over- or under-provisioning their cloud resources, with just 13% getting it right most of the time.
When asked to choose their number one challenge in managing their hybrid/multicloud infrastructure, "Keeping rising costs under control" came in first, with various aspects of control and capacity planning following closely, as shown in the chart below: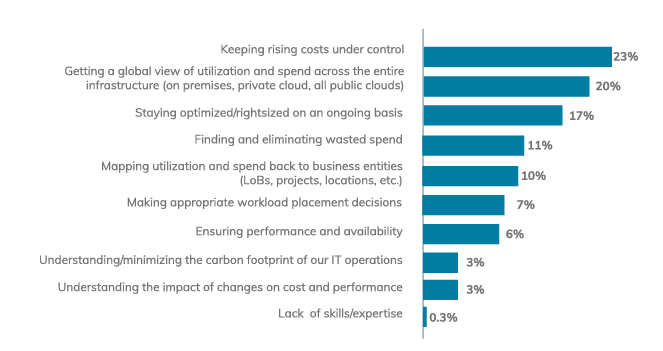 Answers to "What is your number one challenge in managing your hybrid/multi-cloud infrastructure?" (n=350). Source: Virtana: "The State of Multi-Cloud Management 2023."
Public Cloud Retreat Coming?
The upshot of all this may be a slight retreat from public cloud services. While 14% of companies surveyed by Virtana in February 2021 said they were putting over 75% of their workloads in the public cloud, in October just 8% said the same. At the other end of the scale, 32% of companies reported running 1% to 25% of their workloads in public clouds in 2021; in October 2022, that cohort accounted for just 16%.
Further, there seems to be a move toward private cloud services. Asked "What are your plans for future cloud migrations?" 62% reported that "We will be migrating workloads from public cloud to private cloud/on premises."
This movement to private cloud comes as 59% reported they will be moving new workloads to the cloud.

Ultimately, the Virtana survey depicts an enterprise market frustrated by a lack of tools to control costs and capacity optimization – and one that may cause a small contingent to move off public cloud services to gain better oversight.