Oracle Booms on Cloud Gains
Oracle's share price hit new all-time highs this week, up more than 10%, since Oracle announced earnings Wednesday night. The company's growth in cloud computing has the market newly excited about the tech giant.

Oracle (ORCL) shares this morning were trading at $51.45, up $1.15, (1.5%) on the day, near its all-time high hit in intraday trading on Thursday. Oracle's software-as-service (SAAS) business is up 75% year-over-year, which is making up for the decline in its on-premises software business, which is declining at about 1% per year. Platform as a service (PAAS) and infrastructure as a service (IAAS) are also growing fast, at a 45% year-over-year.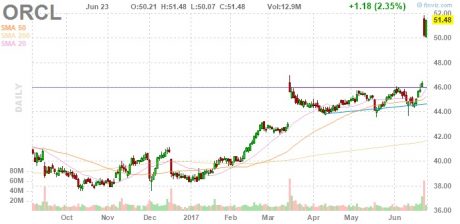 Oracle's fiscal fourth quarter results, announced Wednesday, beat analyst expectations across the board. The company's overall revenue grew by 3%, hitting $10.9 billion, up from the $10.5 billion expected by analysts. Earnings per share came in at 89 cents vs. the 78 cents expected by analysts.

Cloud has been a huge boon to other mature technology companies such as Microsoft (MSFT), which has successfully converted its cloud acumen into investor excitement. Oracle is positioning its cloud offerings as flexible and broad, targeting enterprises that may want multiple SaaS, PaaS, and IaaS services across public cloud and hybrid cloud environments. It also has a large swaths of applications that it can convert to a cloud model, for example, ADP payroll processing.
Although Oracle still lags behind cloud giants Amazon, Google, and Microsoft, it has been shrewd about leveraging its deep relationship with corporate customers in the database, back office, and supply-chain software markets to convert them to cloud. Because Oracle has so many customers in these markets, it makes it easier to convince them to host their applications on the Oracle cloud, rather than moving to competitors.
The research giant Gartner recently recognized Oracle as a player in the cloud market for the first time. Oracle was named as a "visionary" in Gartner's famous Magic Quadrant nomenclature for IAAS -- meaning it's in the lower right square of the quadrant, with Google and IBM. The upper-right square of "leaders" includes Amazon and Microsoft. Oracle was also added to Gartner's PAAS quadrant in April, as a leader.
The next thing to watch will be Oracle's positioning in the Internet of Things (IoT), including the Industrial IoT . As a large controller of enterprise resource planning (ERP) and supply-chain software, it's in a good position to add analytics capabilities to build on its cloud momentum. Oracle is in a good position to host cloud-based IoT applications for large industrial companies.
Become a Futuriom Elite member. Check out Futuriom's premium analysis of technology's leading growth markets. Our latest premium report is the 50-page Ultimate Industrial Internet of Things (IIoT) Report, which covers a wide range of communications and cloud technologies that are being applied to businesses around the world to provide connectivity, analysis, automation, and optimization of a range of industrial applications. Use code "IIOT" to get a 15% discount.