The Ultimate Industrial Internet of Things (IIoT) Report

Futuriom has launched our premium research service, which includes deep dives into the fastest growth markets in technology. Our first report is the Ultimate Industrial Internet of Things Report, which covers a wide range of communications and cloud technologies that are being applied to businesses around the world to provide connectivity, analysis, automation, and optimization of a range of industrial applications.
What This Report Covers:
An overview of the IIoT ecosystem
The growth opportunity of IIoT
Leading IIoT business models
IIoT hardware players, including chips, sensors, and gateways
IIoT communications platforms
IIoT cloud management platforms and applications
Where investment is happening in IIoT
The strategies of the leading IIoT players
Industry standards driving IIoT communications networks and cloud platforms
Key Partnerships
Key Findings:
The market impact of new efficiencies in IIoT is trillions of dollars.
Fortune 500 companies are already moving to create this value, with more than $50B in M&A activity in IIoT companies in just the last two years
IIoT could create billions of dollars in market value for leading companies such as Amazon, AT&T, Cisco, Dell, HPE, IBM, Microsoft, Qualcomm/NXP, Ingenu, Verizon, and others.
More than $1 billion has been invested in IIoT startups creating technology platforms for the future. Many of these startups have the potential for multi-billion dollar valuations
The focus of VC investment in IoT is shifting from consumer IoT to IIoT
IIoT communications networks are growing at double-digit annual rate
Wireless technologies such as NB-IoT, LoRa, and LTE-M are emerging as key pieces of IIoT infrastructure
Length: 50 Pages
Click images to zoom-in: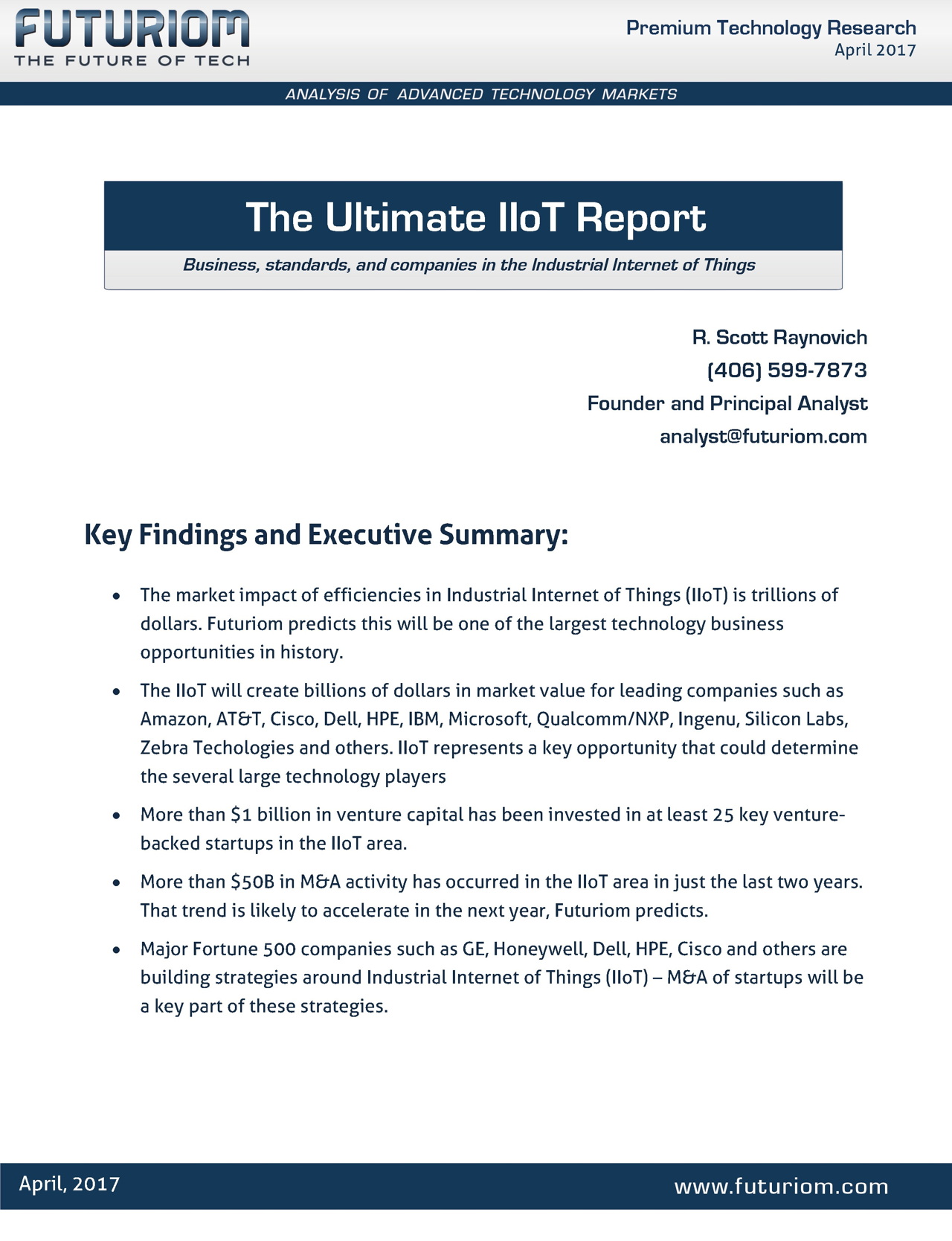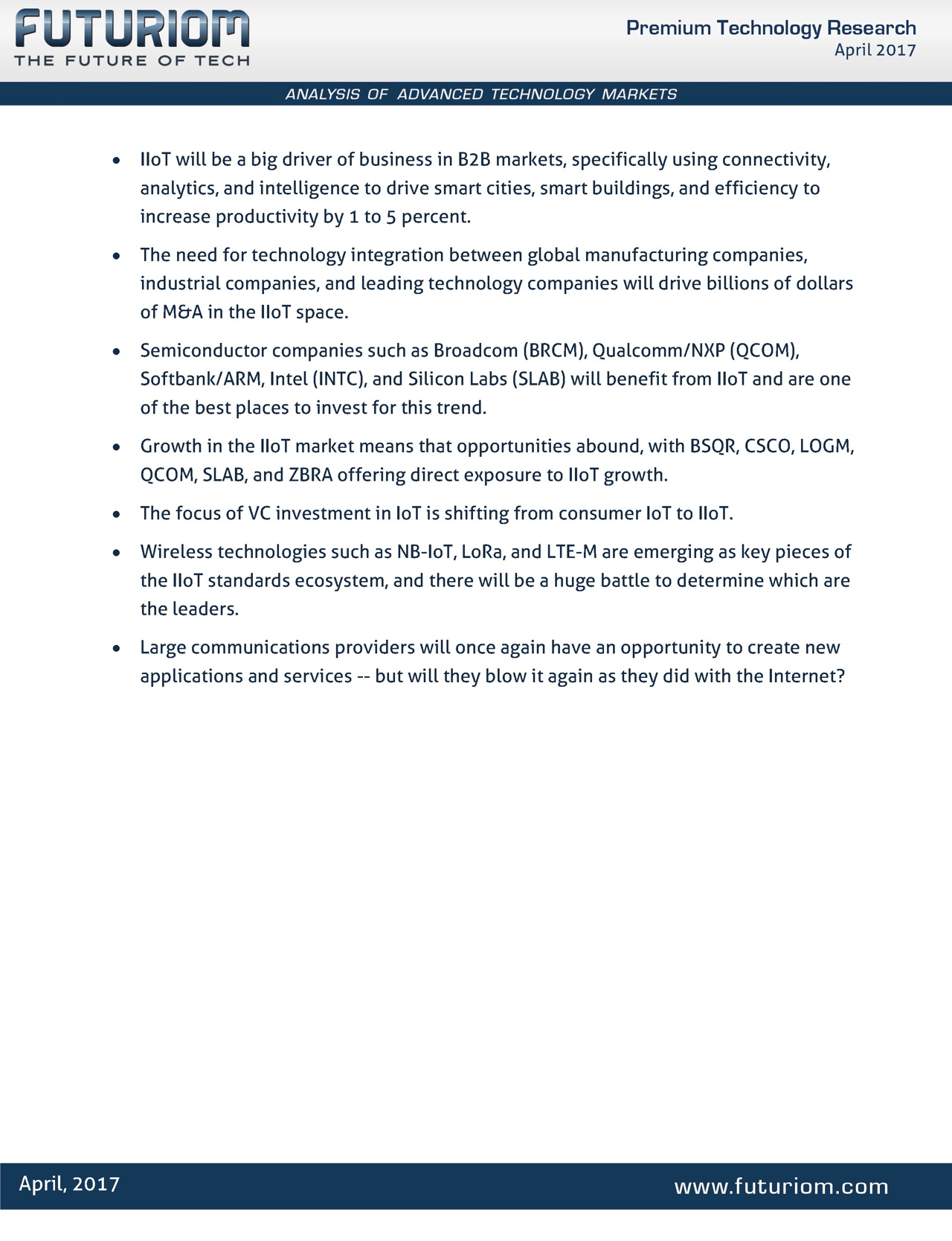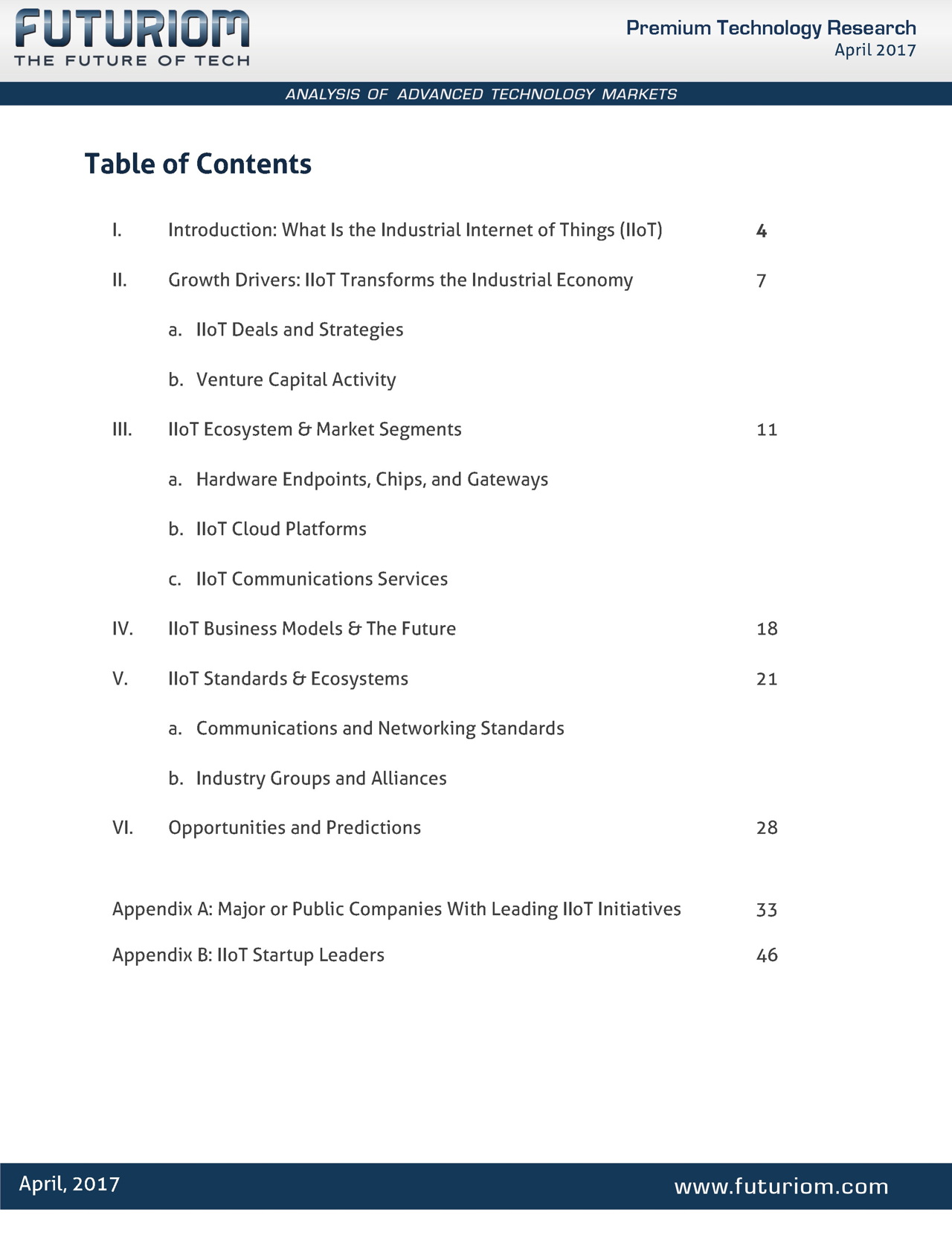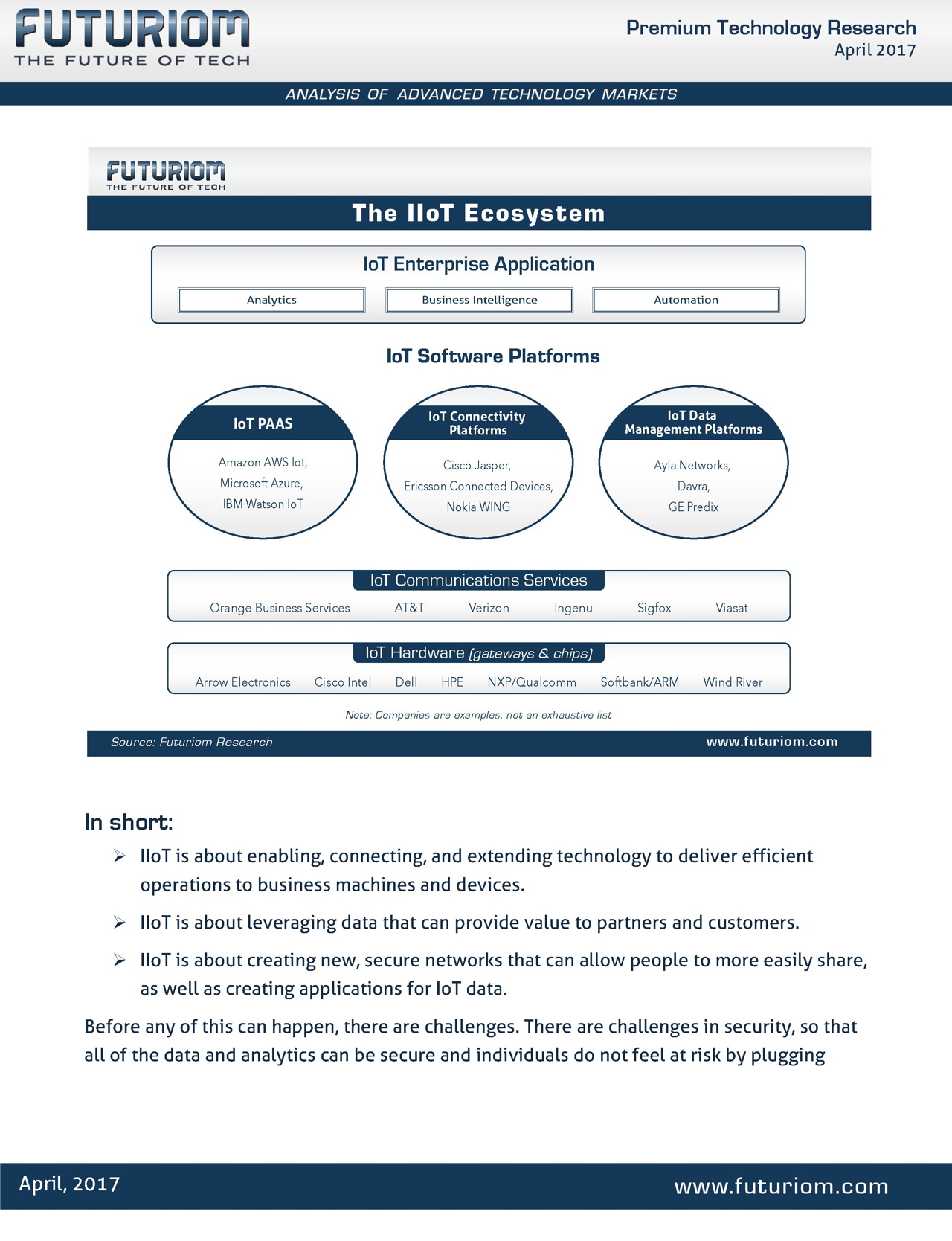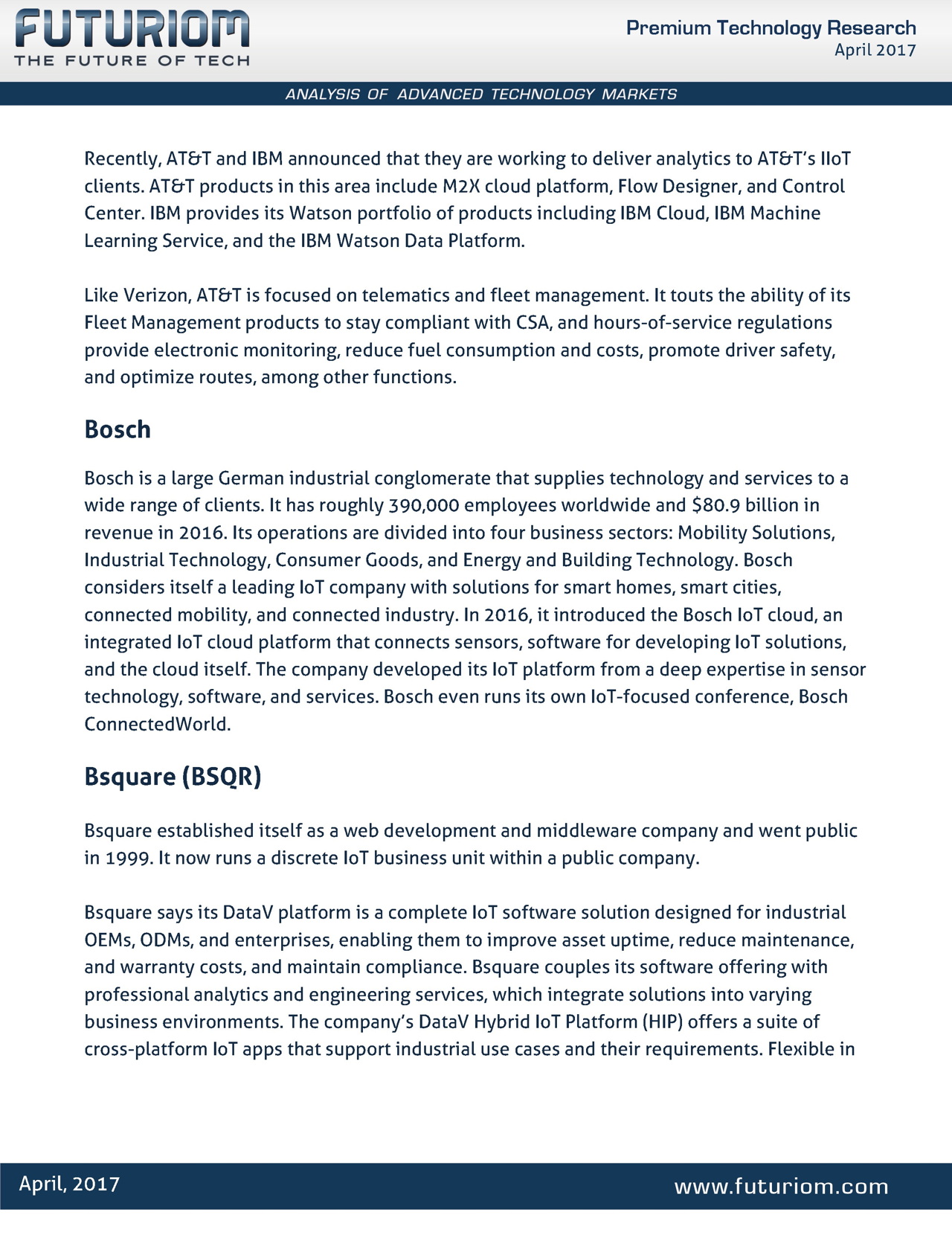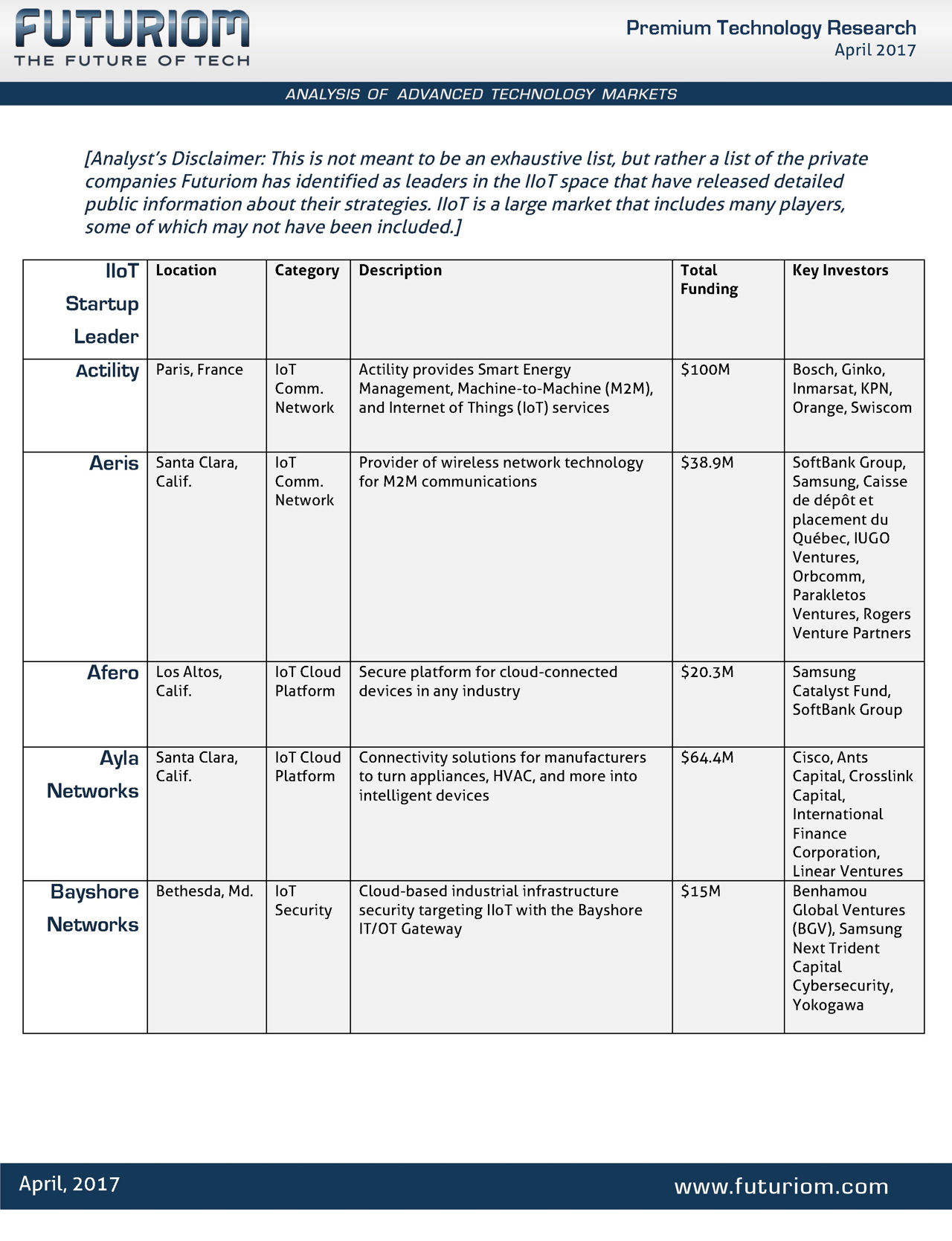 Companies Included:
AT&T, Actility, Aeris, Afero, Amazon, Ayla Networks, Bayshore Networks, Bitstew (GE), Bosch, Bsquare, Cisco, Davra Netwworks, Dell, GE, Google, Ericsson, Electric Imp, Filament, HPE, Helium, Hologram, Honeywell, Huawei, IBM, Ingenu, Intel, Konux, Logmein, Microsoft, Lucid Ventures, NXP Semiconductor, mPrest, Nokia, Oracle, Orange, PTC, Silicon Labs, Qualcomm, Relayer, Resin.io, Roambee, Samsara, Samsung, Senet, Siemens, Sigfox, Sight Machine, Tachyus, Telefonica, Zebra Technologies, Ubidots, Verizon, Xometry
Pricing
$950 single-user license / $3K group license (up to 5 people) / $6K small company license (up to 100 people) / $15K enterprise license (100+ people on one domain) / $25K global distribution (distribute to multiple domains including partners and customers). For enterprise licenses, please contact sales@futuriom.com.
Single-user licenses are available below.
Special Offer
All purchasers of a company license (small company, enterprise, global distribution) will receive a custom 5-page Executive Summary of the report highlighting their company in the report. This piece of content can be distributed as you see fit. Contact sales@futuriom.com.
Single-user downloads can be purchased below.
Purchase a Single-User Copy