Nutanix Surges on Software Strategy

Everybody is running away from hardware and toward software these days. Cloud infrastructure provider Nutanix embraced this trend yesterday after the company said in its quarterly earnings release that it's moving toward a software-only business model.
"Over the coming quarters we will thoughtfully adopt a software-centric strategy," said Dheeraj Pandey, Chairman, Founder and CEO of Nutanix, in a statement. "Customers will continue to experience the same simple purchasing process and high-quality customer service. With a strong instinct for go-to-market, an imminent and differentiated roadmap for hybrid cloud, and a diverse executive team, I'm very much looking forward to a strong performance in the remainder of fiscal 2018."
The move was announced with the company's earnings after the market closed on Thursday. Its share price today surged +3.15 (9.60%) to 35.95 in midday trading.
The company reported a fiscal first-quarter loss of $61.5 million, or 39 cents a share, compared with a loss of $140.3 million, or $1.89 a share, in the year-ago period. The company reported an adjusted loss of 16 cents a share. Analysts had estimated a loss of 26 cents a share, according to FactSet research. Revenue grew to $275.6 million from $188.6 million in the year-ago period, or 46% annual growth. Analysts expected revenue of about $267 million.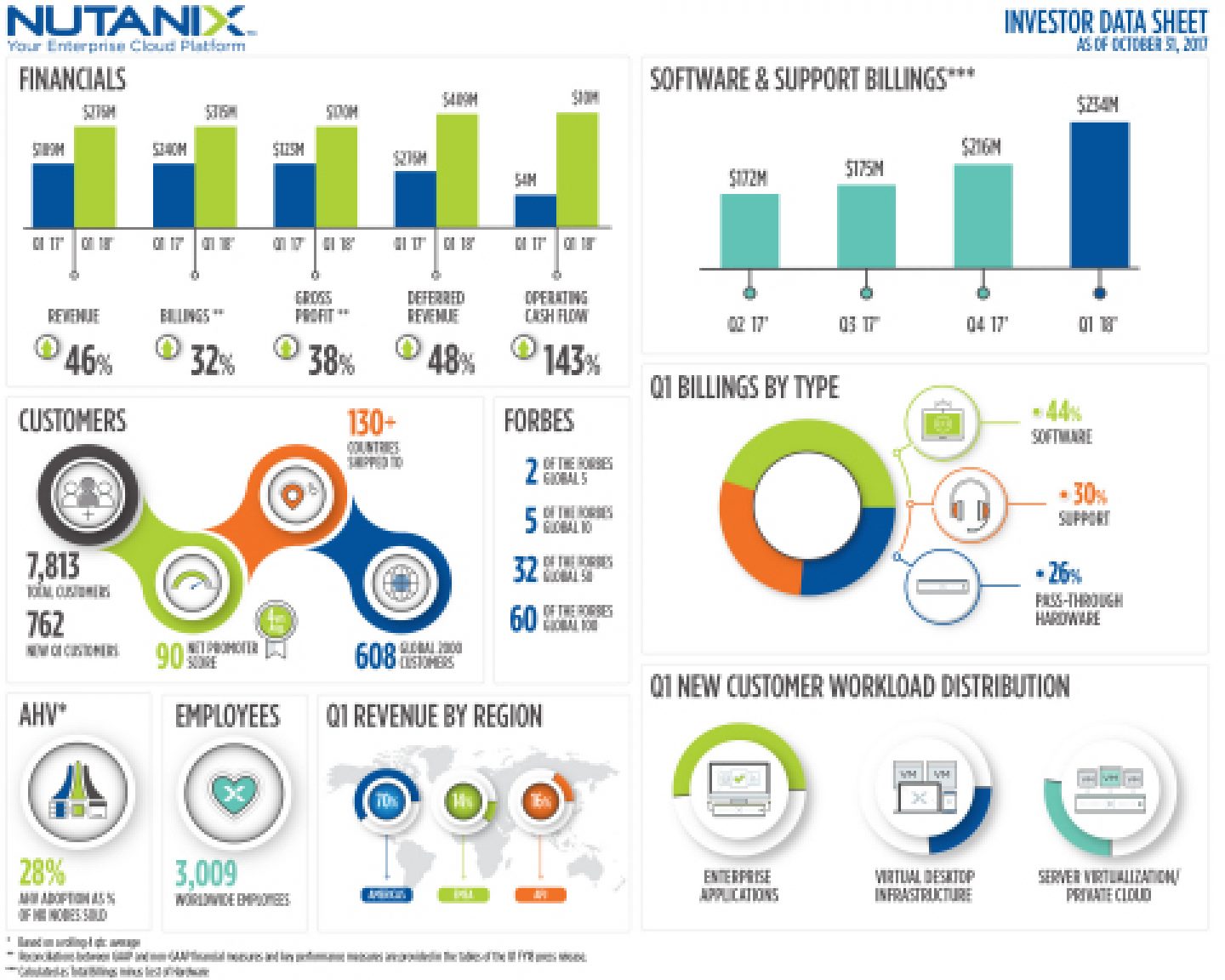 Nutanix is still losing money as it invests in growth, but when you strip out costs related to this growth, on an operating basis the company is starting to make money. Investors appear to like the story as the company is growing nicely and moving to a software model that could produce higher margins over time. Nutanix is one of the leaders in the hot market of hyperconvergence software, which provides compute, networking, and storage management on a single software platform running on commodity hardware. Going forward, Nutanix would like to ship the software only to keep the hardware off its balance sheet, relying on its partners to bill the hardware. Company executives said on the conference call that the gradual shift to software could deliver gross margins of 80% or higher.
Software is all the rage these days because it produces higher margins and more predictable revenue over time, as more revenue is booked on a subscription or annual license bases, rather than being attached to a hardware element. Nutanix reported that deferred revenue came in at $408.8 million, up 48% from the first quarter of fiscal 2017, indicating that its software pipeline is growing nicely.
Duston Williams, Chief Financial Officer of Nutanix, said that the company focus on software will lift margins and result in higher software and support billions.
"While we will be focusing even more intently on selling software going forward, it's worth noting what the past twelve months would have looked like had we chosen not to bill any pass-through hardware-related transactions, Nutanix would have recorded nearly $800 million in pure software and support billings and delivered gross margins above 80%, while continuing to be a leader in very large market," said Williams. "Looking forward, we expect continued strong top line growth in the remainder of fiscal 2018."
As networking, compute, and storage hardware becomes increasingly commoditized, more traditional hardware companies are trying to focus on software. For example, Cisco (CSCO) has announced a strategy to growth software sales and recurring revenue as a percentage of sales.
Cloud is changing the way networking connectivity is delivered. This is driving growth in the SD-WAN market. For more information on the fast-growing SD-WAN market, including profiles of all the leading players, you can purchase the premium Futuriom research report, "The SD-WAN Growth Report," which includes an overview of the leading vendors as well as a market growth forecast. Use discount code "FUTU" for a 10% discount on a one-user license for the report, which retails for $595.