Fortanix Secures $90 Million Series C

Fortanix, the security startup credited with developing confidential computing, has raised $90 million in a Series C round, validating the importance of its technology even in a subdued funding environment. The input brings Fortanix's total raised to date to about $122 million.
Founded in 2016 in Mountain View, Calif., Fortanix has risen to prominence by combining encryption, confidential computing, tokenization, and key management in a multi-layered approach to provide a single point of control for managing security across applications and data sources in multiple cloud environments.
A "Data-First" Approach
To achieve its multipart aim, Fortanix deploys cloud-native key management and encryption, along with the Software Guard Extensions (SGX) provided by Intel (Nasdaq: INTC, whose venture arm is also a Fortanix investor) for x86 CPUs. The software works with Microsoft Azure confidential computing infrastructure or AWS Nitro Enclaves. To these technologies Fortanix has added at least 25 patented techniques that establish trusted execution environments (TEEs) within the CPU that protect data not just at rest or in transit but when it is in use as part of an application or memory process.
The philosophy behind Fortanix's approach is to focus on the data, not only the perimeter around it. CEO and co-founder Ambuj Kumar explains it in a recent blog as a "data-first approach to security" that "decouples security from the infrastructure" so that even if the environment is compromised, the data remains untouched in its secure enclave. An encrypted system code provided by a trusted user is needed to access the data.
Fortanix's approach has been adapted for use with artificial intelligence (AI) as well as blockchain applications. In addition, partnerships help fuel the startup's integration strategy. Its ecosystem includes all major public cloud players, along with Cohesity, Cloudera, HashiCorp (Nasdaq: HCP), Hewlett-Packard Enterprise (NYSE: HPE), NetApp (Nasdaq: NTAP), Oracle (NYSE: ORCL), Rubrik, ServiceNow (NYSE: NOW), and Snowflake (NYSE: SNOW), to name a few.
Momentum for Multicloud
Fortanix's data-first approach is well suited to complex virtualized environments, in which firewall and encryption alone won't protect sensitive data assets.
"When Anand [Kashyap] and I co-founded Fortanix in 2016, cloud migration was still in its infancy, and few imagined just how distributed and multi-cloud the nature of computing would become," wrote CEO Kumar in his blog. "Similarly, while we understood the inadequacy and incompleteness of network and infrastructure security, few could envision a solution to keep data secure and private in a perimeter-less world." Hence the move to confidential computing.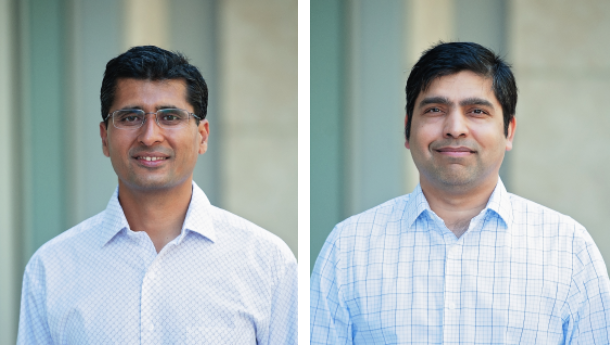 Fortanix co-founders Ambuj Kumar (left, now CEO) and Anand Kashyap (right, now CTO). Source: Fortanix
Growth and Competition
Fortanix claims to have realized "more than 500%" growth over the past three years, with adoption by over 150 enterprises, including top banks in five countries, along with names such as the U.S. Department of Justice, GE Healthcare, Adidas, AlgoMedica, Google, and IBM (NYSE: IBM), to name a few. The vendor also has stated that it's grown its employee roster 70%, to a headcount of 225 and growing.
While it helped pioneer confidential computing, Fortanix isn't alone in developing and offering it. Besides the cloud hyperscalers, companies such as Accenture (NYSE: ACN), Arm, Baidu, Meta (Nasdaq: META), and Red Hat are active in the space – and in the Confidential Computing Consortium. Startups are proliferating, including Anjuna (like Fortanix, a Futuriom 40 company), Cosmian, Decentriq, and Edgeless Systems, to name a few. The segment seems robust, and investors are betting on it despite negative macro trends.
So far, though, Fortanix, has a bit of a head start, and with its new influx of cash, it should be able to build on its momentum.
Fortanix's Series C round was led by Goldman Sachs Growth Equity, with participation by new investor GianLeap Capital along with existing investors Foundation Capital, Intel Capital, Neotribe Ventures, and, interestingly, In-Q-Tel. Soumya Rajamani, Vice President at Goldman Sachs, will join Fortanix's board of directors.