Cloud Tracker Pro
Cloud Hyperscalers Cut Capex
The latest spate of earnings reports show hyperscaler cloud provider capital expenditures (capex) continue to grow overall, though upward progress is slowed and individual suppliers have cut back substantially on spending.
An exception to the trend is Meta Platforms (Nasdaq: META, formerly Facebook), whose capex has advanced dramatically while that of other cloud hyperscalers has shrunk.
Third-quarter 2022 reports reveal that Alphabet (Nasdaq: GOOGL), for instance, grew third-quarter capex 7% year-over-year (y/y) compared with 26% growth y/y for the same quarter in 2021. Amazon's (Nasdaq: AMZN) capex grew 7% this quarter y/y, compared to 42% for 2021's third quarter. IBM's went startlingly negative. But Meta's capex increased even more surprisingly, as shown in the chart below:
Cloud Capex Growth 3Q2020 - 3Q2022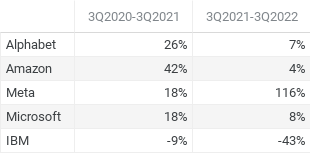 To access the rest of this content, you need a Futuriom CLOUD TRACKER PRO subscription — see below.