Ciena Hits Metro Market with IP/Optical Router

Ciena (NYSE: CIEN) has released WaveRouter, a metro router that blends optical and IP networking on a single platform managed by one pane. The move highlights Ciena's push into the routing/switching market dominated by the likes of Cisco (Nasdaq: CSCO), Juniper (NYSE: JNPR), and Arista Networks (NYSE: ANET), as well as by newer suppliers such as DriveNets.
So what's different about WaveRouter? Its architecture, says Ciena. The router has no backplane and scales via modules that offer 6 Tb/s to 192 Tb/s of capacity in increments of 6 Tb/s. It also supports pluggable coherent optical modules available from 400 Gb/s to 1.6 Tb/s – including Ciena's WaveLogic 6 optical components.
All WaveRouter slots are "universal," capable of handling I/O and fabric interfaces. Management is via a single-pane system called the Ciena MCP (for Manage, Control and Plan). The new WaveRouter is compatible with Ciena's 5100 and 8100 metro optical switches and routers.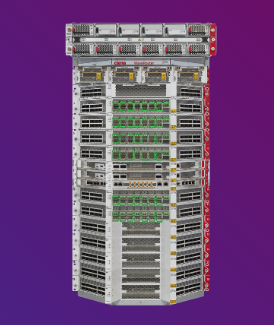 Ciena WaveRouter. Source: Ciena
Ciena Claims a First
"Up until now, as operators look to competitively evolve their metro architecture to meet new demands, they have had a choice of three options: big chassis (ortho-direct chassis), leaf-spine, or distributed disaggregated chassis (DDC)," stated Scott McFeely, Ciena's SVP of global products and services, in a blog.
Each of these approaches has its drawbacks, McFeely says: Big chassis are limited in their overall scalability and upgradability; leaf-spine setups are cumbersome to manage; DDC solutions (such as DriveNets') can require users to juggle whitebox cooling, power, and cabling, McFeely maintains.
Ciena claims to overcome the drawbacks of each of these approaches by combining the management of the router's coherent optics and IP routing capabilities in a single, high-capacity configuration that requires no capacity planning up front.
"If you are interested in not having a backplane, slot tradeoffs, or stranded capacity, WaveRouter features a unique, extensible router switch fabric for in-service hardware upgrades without performance degradation," boasts McFeely (boldface emphasis is his).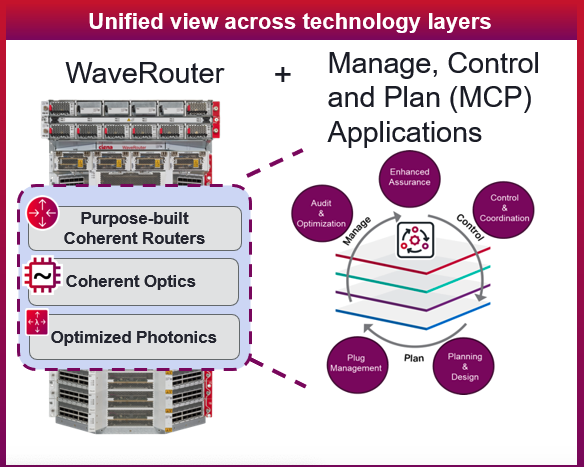 Ciena's depiction of WaveRouter management. Source: Ciena
Splashy Entrance to a Hot Market
Ciena's WaveRouter, due for availability in the third quarter 2023, responds to telco demand for products capable of supporting the higher volumes of traffic caused by 5G, cloud computing, and general broadband requirements. The engineering sophistication required to produce these router/switches limits the providers to a handful of the market's biggest and fiercest competitors – Cisco, Juniper, Arista, as well as rising stars like DriveNets.
Ciena has reason to shoulder in. The company's recent earnings reports show considerable growth in routing and switching. For fiscal 2022, for instance, Ciena saw sales in this segment grow 46%. And Ciena's strength in optics makes its foray into higher-end metro routers all the more practical.
At least one carrier is ready for Ciena's WaveRouter. "Advances in IP/optical convergence in the metro, as Ciena announced today, are critical to network evolution," said Glenn Wellbrock, director of network planning at Verizon, in a press release. "As the telecom industry manages to move vast amounts of data over 5G, between machines and to the cloud while reducing our carbon footprint, continued innovation in this space is critical."