Augtera Extends NetOps Solution to AMD DPUs

Startup Augtera Networks, which uses artificial intelligence (AI) and machine learning (ML) to improve network operations, has extended its sources of network data to include Pensando data processing units (DPUs) from Advanced Micro Devices (AMD, Nasdaq: AMD).
The announcement results from a collaboration between Augtera and AMD, which acquired the DPUs from its $1.9-billion purchase of Pensando Systems Inc. last spring. Those smartNICs power switches such as Aruba's CX 10000, a top-of-rack switch designed to alleviate the east/west datacenter traffic congestion and insecurity associated with legacy setups of centralized networking gear and security appliances.
"We are excited to collaborate with AMD to bring Network AI to their vision of the 4th generation Data Center, enabled by switches such as the Aruba CX 10000," stated Augtera CEO and founder Rahul Aggarwal in a press release. "Telemetry from the CX 10000 provides rich and granular data that our ML/AI platform can leverage to provide NOC with proactive operations for the east/west data center traffic that all workloads rely upon."
An Extended NOC Intelligence Platform
Augtera, founded in Palo Alto, Calif., in 2016, emerged from stealth in 2021 armed with a suite of NetOps automation tools dubbed Network AIOps that gather streaming log data produced by network devices and applications and apply AI/ML to turn it into actionable information about network performance. Applying network-specific algorithms to log data allows visibility into problems that would otherwise go undetected, the vendor says.

For instance, the platform can gather information about the sources of network brownouts, or reductions in performance, saving the network from potential outages. It can detect optical signal degradation, VLAN errors, IP traffic anomalies, BGP session errors, and application response time impacts, the vendor maintains. It detects policies and enforces them, and it stifles multiple maintenance tickets.
All information is presented in graphical format in an easy-to-read single user interface.
Augtera presents support for AMD DPUs as the latest of its series of solutions aimed at these and other problems in today's enterprise networks. Support for AMD DPUs augments Augtera's Data Center Solution, announced in July 2022, which Augtera says has been deployed by large-scale customers with multiple datacenters supporting equipment from all standards-based vendors, including Cisco, Arista, Juniper, and Dell, to name a few.

Augtera Addresses an Expanding Market
The shift to multicloud and hybrid cloud deployment has increased demand for products such as Augtera's. Gaining control of NOC information is essential to maintaining performance and ensuring security as hybrid environments continue to grow. This is a trend that is expected to continue. In Futuriom's latest 2022 Multicloud Networking Survey and Report, a plurality of IT professional surveyed said they planned to continue to invest in a hybrid environment, as shown in the chart below: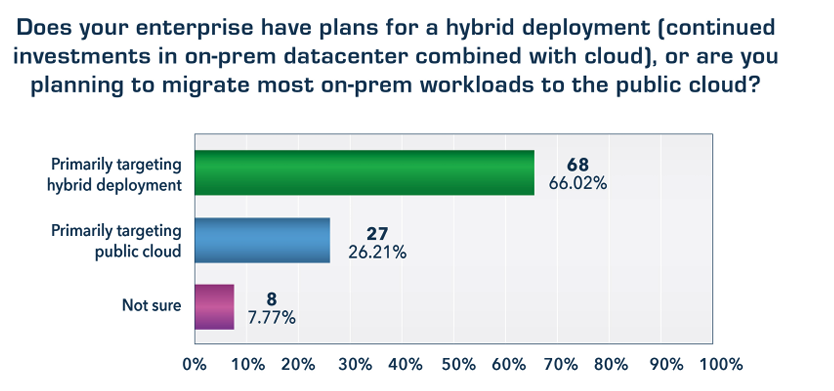 Source: Futuriom, 2022 Multicloud Networking Survey and Report
Augtera is one of the most recent additions to the growing market for network operations automation in multicloud networks. Its competition includes Itential and a variety of other MCN multicloud networking (MCN) players, a list that is set to increase over time.
But with connections such as AMD and Dell (which is also an investor in Augtera), and customers that include Colt Technologies and Orange, Augtera seems well positioned to hold its own.