2023 Multicloud Networking and NaaS Survey Report

It's that time of year. In what has become a Futuriom tradition, we have completed our annual end-user survey on multicloud networking (MCN) and network-as-a-service (NaaS) technology and services. The survey data has strengthened our view that networking will come to be regarded as the linchpin to multicloud and hybrid cloud strategies – as all distributed applications and data must be connected by secure, intelligent networks.
For this year's survey, we reached out to hardcore networking, security, and operations teams using a variety of methods, including social promotions, our newsletter, and our website. The annual survey included responses from a total of 125 qualified IT and network managers (more on the survey in the link below). To supplement our knowledge and analysis for this report, we conducted interviews with end users and technology providers.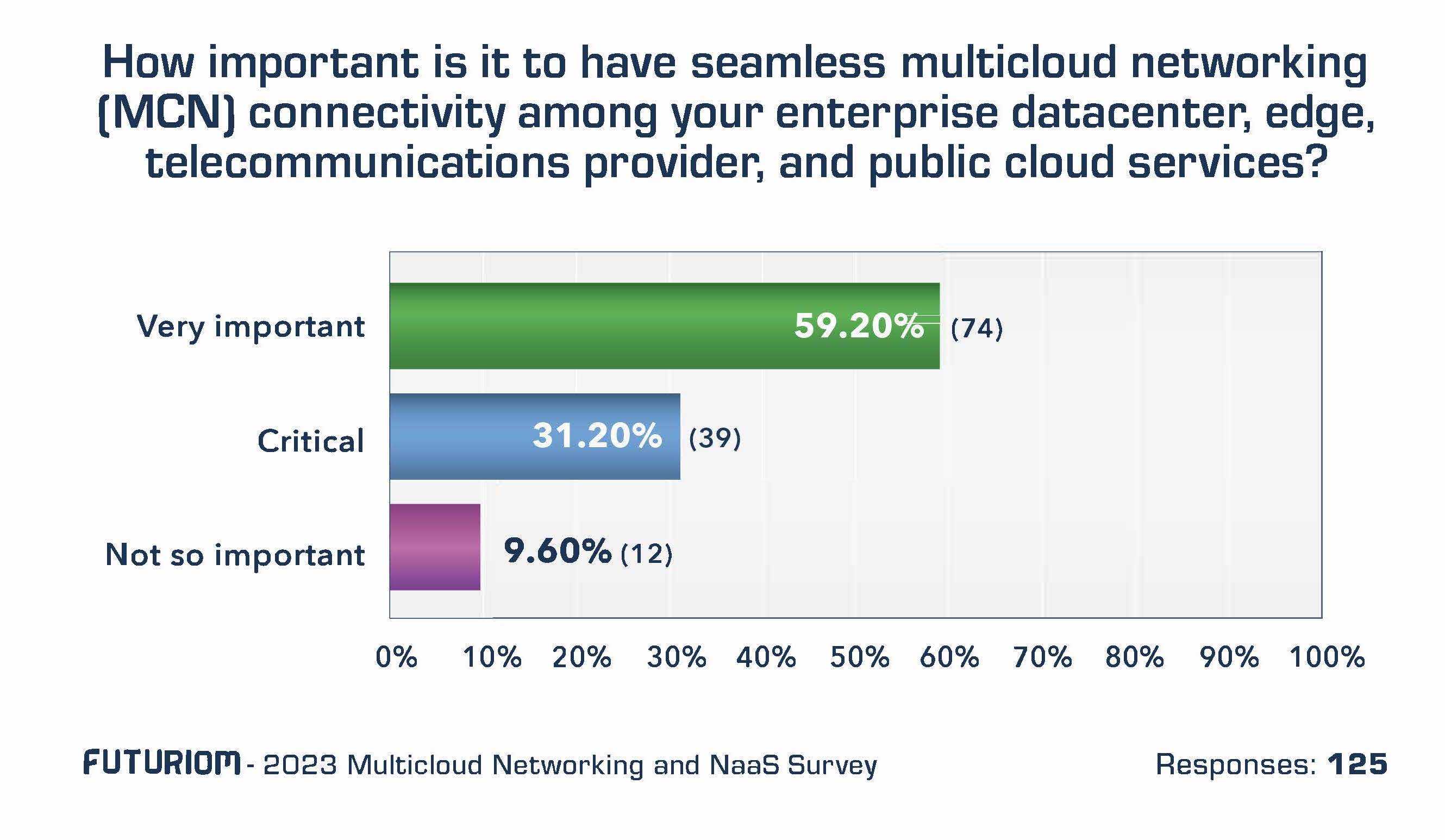 Key Findings
This report details the full findings of our research, some of which can be found in some of the "Key Findings" below.
A majority of respondents in networking and IT roles (90%) said there is a "critical" or "very important" need for MCN connectivity. These technology platforms and services will help build secure, virtualized networking across enterprise datacenter, edge, service provider, and public cloud services.
Networking and MCN is needed for hybrid and multicloud environments. A large majority of survey respondents (78%) believe MCN will help simplify or accelerate hybrid cloud and multicloud adoption.
The top ROI metrics for MCN include improved applications performance (selected by 37%), speed and agility in deploying applications (28%), and cost savings (26%). The results show a balanced need across those top three.
Managing applications across clouds is crucial. In addition to seeking better multicloud applications performance, end users see MCN as playing a critical role in managing applications policy and security across clouds.
Network operators would like to integrate cloud, service provider, and enterprise networking resources. Forty-one percent of survey takers said they would like to integrate traditional networking infrastructure with networking from public cloud services. Also, 59% of respondents said it's important to have MCN connectivity among datacenter, edge, telecommunications provider, and public cloud services.
AI, 5G, and edge applications are big drivers of MCN. A majority of respondents (66%) expect the arrival of services such as 5G networks, edge compute, and private wireless to increase their need for MCN solutions.
Investment in MCN technology is expected to grow, but at a measured pace. Seventy-six percent (76%) are expected to make investments in MCN and cloud-native networking.
Companies Covered in the MCN Report
This report contains a wide variety of companies in the MCN and NaaS ecosystem, because the market is broad and includes many types of providers, ranging from large public cloud providers to Content Delivery Networks (CDNs) and networking startups.
Some of the companies highlighted in this report: Alkira, Arrcus, Aviatrix, Amazon (AMZN), Aryaka Networks, Cisco (CSCO), Digital Realty (DLR), Equinix (EQIX), F5 Networks (FFIV), Google (Alphabet - GOOGL), IBM (IBM), Itential, Juniper Networks (JNPR), Megaport, Microsoft (MSFT), PacketFabric, Prosimo, Tata Communications, Versa Networks, VMware (VMW).
Report length: 30 page
Thank you to our sponsors: Itential, Aviatrix, Versa Networks, Prosimo, Arrcus, and F5.