What I Learned At Mobile World Congress
In a world of technology conference overload, Mobile World Congress (MWC) remains consistent and important to attend. Grounded in real-world applications and big business, it attracts a large number of people looking for the trends in global networking and communications. This year, 107,000 people and more than 7,700 CEOs flocked to the conference, which follows mobile networks, the cloud, and service provider technology.
As one colleague remarked, it's also impressive how organized MWC is. When you show up at the Barcelona airport, you can flash your QR code at the MWC stand and collect your badge, along with the included weekly pass for the efficient Barcelona metro. This year had the interesting backdrop of the protests by Catalonian separatists and featured a visit from the King of Spain, Felipe VI, who was swarmed by the media (photo below).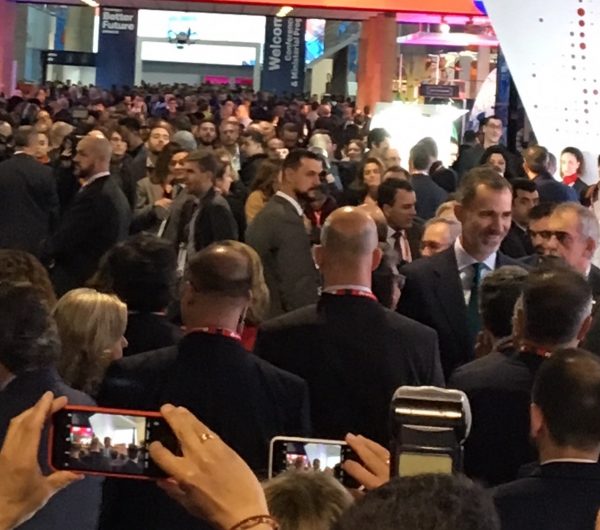 Then there's the food and wine -- endless presentations of delicious Spanish (and Catalonian) ham, seafood, and Rioja.
After last week's four days of meetings and numerous business dinners as well as casual encounters, I went through my notes -- as well as notes from others -- to come up with some key takeaways. Here goes:
5G, the next-generation wireless technology that could deliver multi-gigabit speeds using a variety of licsensed spectrum, is coming closer to reality as service providers plan rollouts in the next year in North America and Asia and key chip companies demonstrated prototype base stations and devices chips. But we still don't know how service providers will pay for the massive investment in 5G communications networks -- which the GSMA estimates will result in $500 billion in capital spending between 2018 and 2021.
Carve-out next-generation wireless standards such as Cat-M LTE and Narrowband Internet of Things (NB-IoT) -- which will have the benefit of sharing 5G infrastructure -- will have the potential to connect billions of IoT devices, including automobiles, and will threaten existing proprietary IoT networks such as Sigfox and Ingenue, which have garnered hundreds of millions of dollars in investment.
5G wireless offers compelling opportunities for startups that are looking to take advantage of the shift to the new bandwidth. Some examples include Affirmed Networks, a mobile core virtualization specialist that announced a deal with SoftBank, and Cradlepoint, which is using LTE wireless to deliver business-quality bandwidth through the air.
So far, Nokia seems to have a slight edge against beleaguered Ericsson for next-generation wireless deployments. According to Simon Leopold with Raymond James, Nokia has announced 50 5G trials, while Ericsson has signed 38 operator agreements. Huawei has announced 13 operator engagements (two in Canada, three in Japan/Korea, three in China, five in Europe). Nokia's new wireless chipset, ReefShark, was also impressive.
But what about Samsung? The Korean wireless vendor landed a deal with Verizon and could be a dark horse to pick up market share in North America and Europe while Ericsson and Nokia duke it out.
If you want circumstantial evidence to handicap Ericsson versus Nokia, Ericsson's booth food was in serious decline. In past years, Ericsson hosted a lavish buffet with hot meals and fresh-cut sushi. This year it was reduced to a collection of cold sandwich carts (see photo). How sad. Ericsson also drastically reduced its program for analysts. The food indicator might need to be heeded.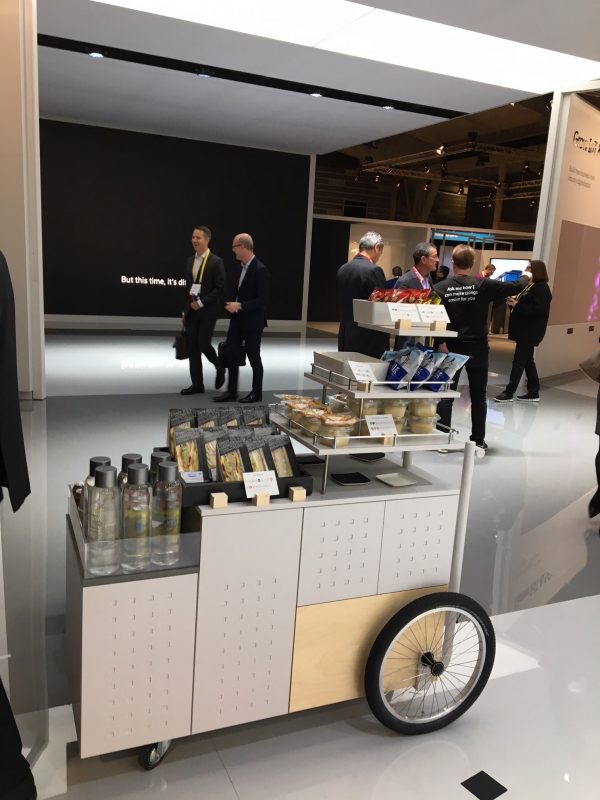 Virtual Reality is still boring. There were dozens of demonstrations. I found none of them compelling.
Meetings with software and hardware companies working on the edge of the networks including Ruckus Wireless, EdgeConneX, and Cradlepoint have me convinced that the network edge is a hot place to be -- and 5G and IoT will only make it hotter. Many companies are figuring out innovative ways to handle and analyze data at the edge.
Cisco plastered 5G throughout its marketing in a way that I found superficial. It's hard to believe that Cisco is going to be a big player in 5G mobile by announcing virtual Radio Access Network (RAN), when in fact Cisco does not have a lot of 5G infrastructure assets. 5G washing in full form.
Security is still one of the number one barrier to the adoption of IoT, and still nobody seems to have an answer. Check out this demo of devices being taken over by a mining hack.
Connected autonomous drone taxis, anyone?
The mainstream press continues to see MWC as a "phone show," which seems kind of silly. MWC is about much more than phones, with a wide range of technology addressing how the underlying communications infrastructure enables a wide range of new applications from consumer devices and connected cars to industrial analytics. But, go ahead, write your sexy phone stories, phone geeks.
MWC officially reported 107,000 attendees, down 1,000 from last year. Some reported this as the potential start of a decline, but it's likely this show will continue to be huge for many years.
Those are some of the thoughts on the top of my mind as I recover from jetlag and Rioja. And it's always fun to visit the Sagrada Familia (see below). Check back as Futuriom continues to cover many of these trends.