Are We Really Getting Excited About IBM Again?

Getting excited about the IBM turnaround is a tradition dating back to the days when the Chicago White Sox were winning the World Series. Is IBM fool's gold or is the turnaround for real this time?
About year after the company spun off its managed services business, Kyndryl, there have been many false starts. Take the ranting and raving last fall when the share price climbed to $140 – only to fall again back toward $115 (IBM's share price has been stuck in a range of $100 to $150 for more than five years).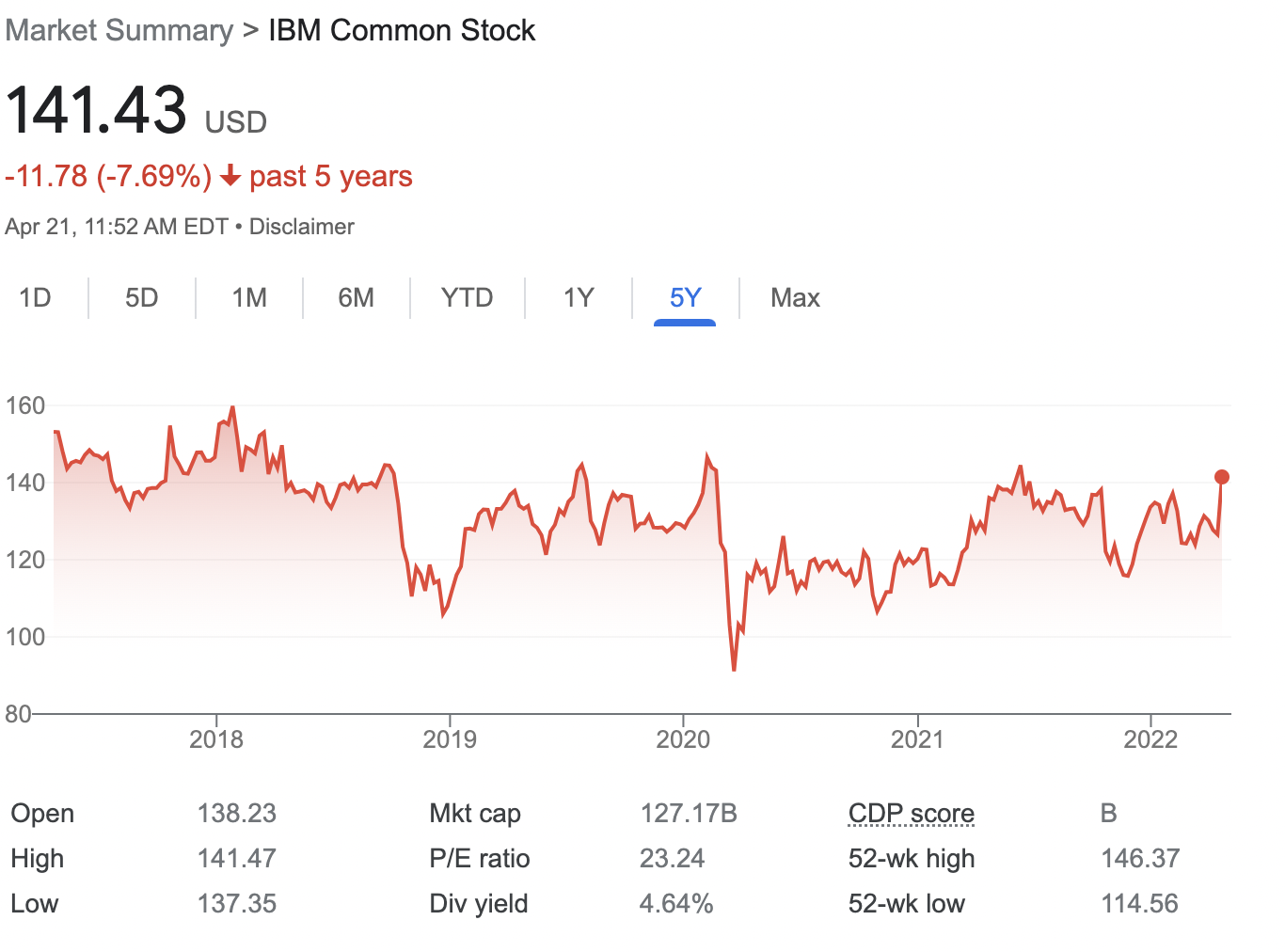 This week investors got excited again when the company showed signs of life in its Tuesday earnings announcement. IBM shares vaulted nearly 8% on Wednesday after it posted revenue growth of 11% year-over-year, hitting $14.2 billion, excluding currency fluctuations. This was ahead of Wall Street consensus forecasts of $13.8 billion. Non-GAAP profits for IBM were $1.40 a share, one cent ahead of expectations.
More importantly, people were excited about growth in software and hybrid cloud. IBM's software revenue totaled $5.8 billion, up 7% in constant currency and excluding sales it gets from its Kyndryl cousin. Consulting grew 17% y/y in the quarter and infrastructure declined 8% y/y. Hybrid Cloud Revenue totaled $5 billion in the quarter, representing 15% y/y growth excluding currency changes and Kyndryl revenue contribution.
Can IBM Beat the Big Blue Hype?
Despite all this excitement, there are many reasons to be skeptical. The technology megacompany, which has suffered stagnation for decades, is still opaque and hard to understand. The company compounds this with banal, vague marketing.
The earnings call is a great example. You can't have a technology earnings call without buzzword potpourri. IBM CEO Arvind Krishna can toss the buzzwords with the best of them: hybrid cloud, AI, cybersecurity – you name it, IBM has got it!
"Harnessing the power of technology such as Hybrid Cloud and AI remains essential as our clients face a number of strategic challenges and opportunities, whether it's competing for talent, supply chain issues, inflation, cybersecurity or geopolitical instability," said Krishna.
When I read those words in the transcript I cringed – this in a nutshell was the root of IBM's evil over the years: "Bluewashing," as IBM employees call it (IBM is traditionally known as Big Blue).
Take Watson, IBM's mass-marketed artificial intelligence (AI) technology, which over the course of the previous decade had TV ads plastered all over the planet but on average grew less than 3% annually. It was just a lot of hype that didn't pan out in financial gains.
Ultimately, IBM's success will come down to one thing: taking the goliath $35 billion Red Hat acquisition from the Ginni Rometty era and integrating it with cloud infrastructure, as the two top players, Amazon Web Services (AWS) and Microsoft Azure, have done.
This was the brilliance of Microsoft's strategy -- to move everything it owned onto Azure, and as they say in technology, "eat its own dogfood."
You see, with Amazon AWS or Microsoft Azure, I understand how all the pieces fit together. Microsoft is a better analog to IBM, because like Microsoft, IBM has legacy technology businesses from past eras. But Microsoft has masterfully blended everything into Azure. You want Microsoft Office? That runs on the Azure cloud. You want to run AI? It's on our Azure cloud – including both the infrastructure and the service.. Do you want to use a cloud WAN or networking services? They have that on Azure. Microsoft and AWS don't think of infrastructure and software as separate elements – they are all the same platform.
IBM hasn't done that yet. If you ask somebody what the IBM Cloud is, it's not clear. This much is obvious from the fact that IBM's Red Hat business is growing while its infrastructure business is not. If IBM has built a coherent, integrated cloud (or "hybrid") cloud strategy, they would be growing together.
Growth Is Uneven
If you read through the IBM results, you can see that this integration hasn't happened and that most of the growth is coming from Red Hat. If you drill down into the IBM results, you get this:
Software (includes Hybrid Platform & Solutions, Transaction Processing) — revenues of $5.8 billion, up 12.3%, or 15.4% at constant currency (over 8 points from incremental sales to Kyndryl).
Hybrid Platform & Solutions up 7 %, up 10% at constant currency (about 1.5 points from incremental sales to Kyndryl).
Red Hat up 18%, up 21% at constant currency.
Automation up 3%, up 5% at constant currency
Data & AI up 2%, up 4% at constant currency.
But when you look at infrastructure, you get this:

Infrastructure (includes Hybrid Infrastructure, Infrastructure Support) — revenues of $3.2 billion, down 2.3%, up 0.3% at constant currency (over 8 points from incremental sales to Kyndryl).
Hybrid Infrastructure down 5%, down 2% at constant currency (over 8 points from incremental sales to Kyndryl).
IBM z Systems down 19%, down 18% at constant currency.
But if you drill into "infrastructure," you get this:

Why is software and Red Hat going up but infrastructure going down? To me, this shows that IBM still doesn't have an integrated, coherent cloud platform like AWS and Azure. Reading through the materials, I still have trouble understanding what exactly its cloud play is. What is hybrid cloud? What is software? What is infrastructure?
IBM Has Become Red Hat
With the bulk of growth coming from Red Hat and its description of its various market divisions, it's clear to me that the key to IBM is Red Hat.
This chart is helpful: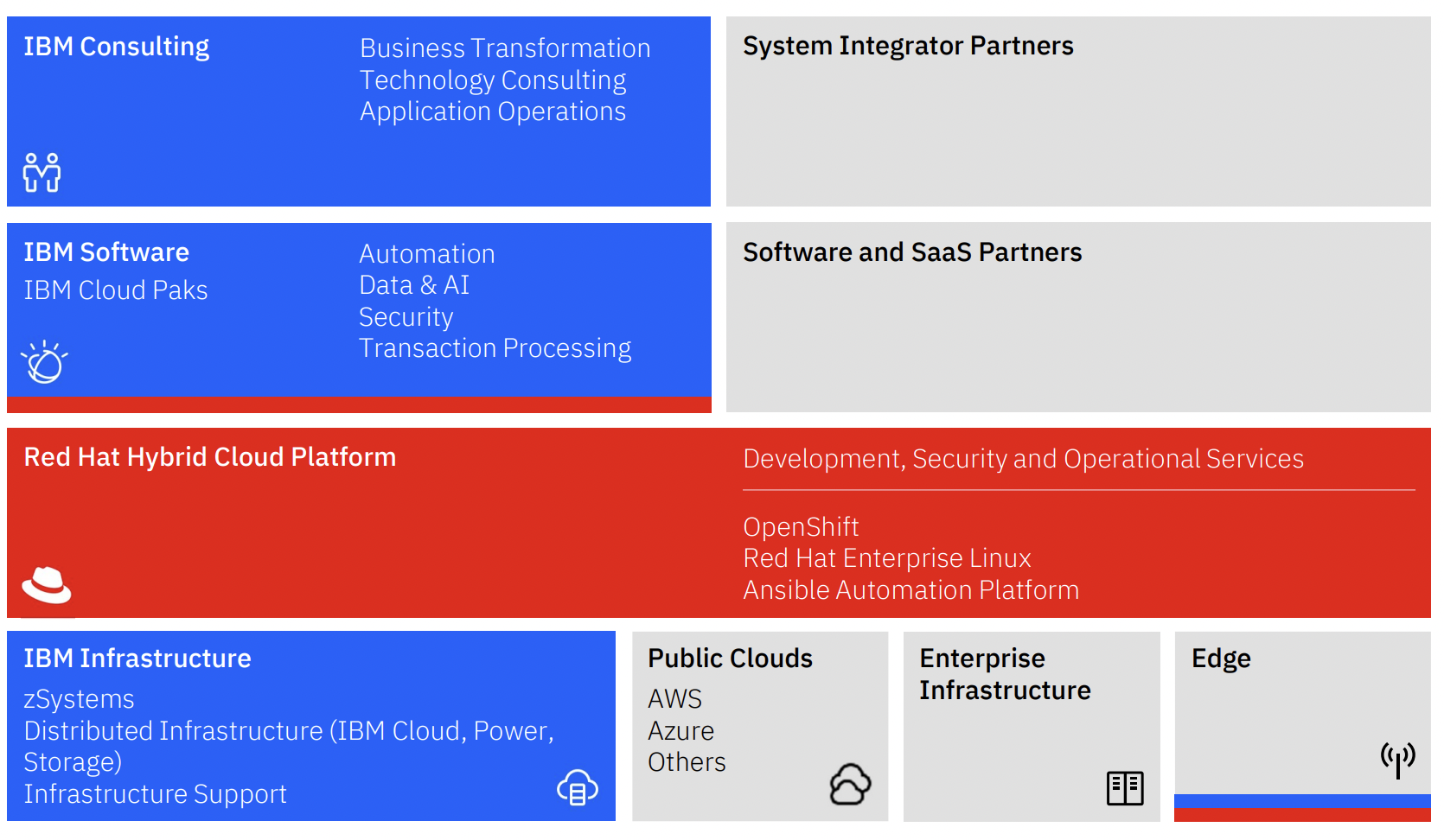 This is why the stock price went up. The stock market sees that it's going to generate a relatively small amount of cash flow while it ramps up "hybrid cloud." IBM has gotten the financial wonks excited about IBM again because it saw an uptick in growth.
But there is still a massive platform and marketing problem. And its conflating Red Hat with Big Blue. The difference between the two is not clear. Are they the same or not?
For example, let's go to this page:
https://www.ibm.com/cloud/learn/hybrid-cloud
"Hybrid cloud combines and unifies public cloud, private cloud and on-premises infrastructure to create a single, flexible, cost-optimal IT infrastructure."
That's great. But what is the product? I read the whole page and I don't know. Is this Red Hat OpenShift? It's not clear. It's Bluewashing.
I spent another couple of hours reading through the IBM investor deck and earnings results and I still can't tell where they are growing. "Software" and "Hybrid Cloud" are simply too vague.
IBM may have succeeded in making the numbers look good and the stock price go up – but it still hasn't convinced this analyst that it has a coherent cloud platform strategy. From what I can tell, the bulk of the growth is coming from Red Hat OpenShift and Ansible product lines, but integration with a greater cloud infrastructure is hard to detect.